Amazon Updates the Fire HD 10 Tablet with a Lower Price and a 1080p Display
For the past several years Amazon has been shaving the price of their new Fire tablets without significantly improving the specs. They bucked that trend today with the launch of the new Fire HD 10 tablet.
This tablet is the first Amazon tablet in a very long time to live up to its HD branding. It features a 1080p (1920 x 1200) display, a slightly faster CPU, twice the RAM, and a lower price tag.
This $150 tablet ships on 11 October 2017.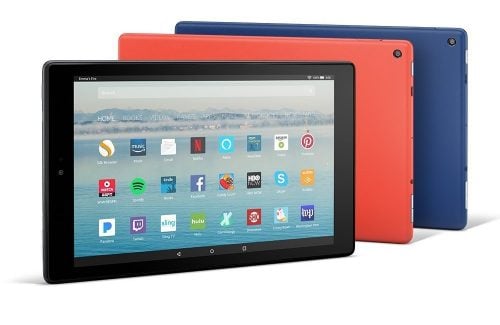 The Fire HD 10 runs the latest version of Amazon's Android OS on a quad-core 1.8GHz CPU with 2GB RAM and either 32GB or 64GB of storage. It has Wifi, Bluetooth, stereo speakers, and a microSD card slot.
The cameras aren't quite as good as before (the front camera is still VGA, but the rear has been downgraded from 5MP to 2MP) but in just about every way this tablet is a lot better than its predecessor. Amazon claims it is 30% faster and yet still offers up to 10 hours of battery life.
Like Amazon's other tablets, the Fire HD 10 ships with Alexa, Amazon's in-home spy. But where I have to press and hold the home button on my Fire tablet to trigger Alexa, the Fire HD 10 will be getting a hands-free mode similar to the Amazon Echo (it's coming in a later update).
In the hands-free mode, your tablet is listening to you all the time so that Alexa can answer any question as soon as you (or a TV show) mention its name. You can ask Alexa to play a song, pause a movie, read audiobooks, answer questions, show your calendar, or control your smart home from your Fire tablet.
For the first time in several years, Amazon has released a tablet that is clearly worth upgrading to.
Will you be getting one?