Apple is Now Discounting eBook Pre-Orders that Amazon Won't Sell You
Remember the good old days when Apple didn't want to compete in the ebook market?
I hope you remember them well, because they're long gone.
Apple has joined Walmart, Books-a-Million, and Zola Books in making hay from the ongoing Amazon-Hachette contract dispute.
Re/Code has noticed that Apple has reorganized the iBookstore and brought a new section to the front of the store. The gadget maker is now highlighting a new section called"Popular Pre-Orders: $9.99 or Less". There are 26 titles in this section, and they are all published by Hachette, including Invisible by James Patterson, The Silkworm by J.K. Rowling, The Burning Room by Michael Connolly.
Apple is encouraging pre-orders of these books while at the same time Amazon has disabled the pre-order buttons from Hachette titles as a pressure tactic in its 8 month long contract fight with Hachette.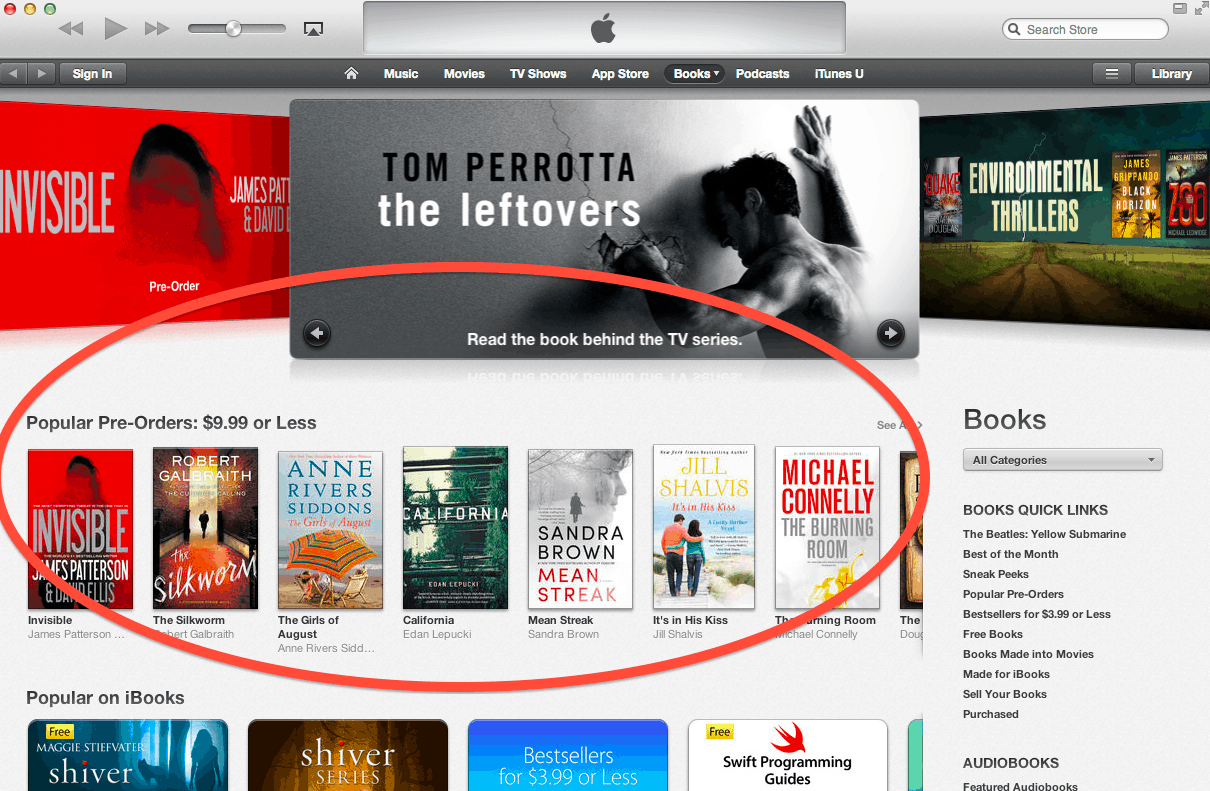 Re/code has confirmed with Apple that the promotion is ongoing, but no one is talking about the prices or exactly who authorized the discounts. At this point it's not clear whether Apple is eating the cost or if Hachette is footing the bill in order to tweak Amazon's nose, but I would say that this is point is unimportant.
IMO the important point is that Apple, a company that wasn't going to have to enter the ebook market if they had to compete on price, is now discounting ebooks. Apple, a company known for making the $14.99 price point an industry standard, is pushing ebooks which cost under $10.
Sure, Apple has been discounting ebooks ever since the major publishers negotiated their post-agency contracts in late 2012 and early 2013, but those discounts were relatively mild. Today Apple is discounting ebooks like there is no tomorrow.
Black is white, folks. Up is down. Left is right. Dogs and cats, living together. And Apple is discounting ebooks while Amazon won't let you order them.
We live in a mad, mad world. Pass the absinthe; I think I might be going sane.