B&N is Not Getting Out of eBooks, Expands "B&N Education" Team at Nook Media
With many
managers leaving, revenues down, and news of nearly 100 people being laid off, Barnes & Noble's ebook division looks to be in disarray. This has led many pundits to assume that B&N would either sell off or shut down Nook Media, and there has even been speculation that B&N might simply walk away or be acquired as a unit by Walmart.
It now looks like none of the crazier possibilities are going to happen, and in fact B&N is showing signs that they plan to stay in ebooks. While investigating the departure of the most recent Nook Manager, last night I came across evidence that there is a team at Nook Media that has a new manager, new focus, and several job openings.
Barnes & Noble Education Technology is described as "an exciting incubator at the heart of Nook Media". I have found signs (a job listing on LinkedIn) that suggest this team has been around for a year or more, though what brought it to my attention was that the team got a new manager.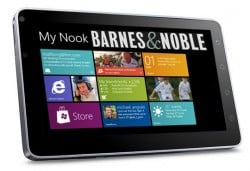 Roger Bishoff, formerly of Microsoft, is the new Engineering Manager at B&N Education. According to his LinkedIn profile, he took on the job in late January, and is still based near Seattle.  Given that Nook Media is based in NYC and Palo Alto it is rather curious that a new manager would be based in Seattle, but apparently he's not the only one.  LinkedIn is showing that there is at least one other ex-Microsoftie working for B&N in the Seattle area, and there's also a new job listing for B&N Education based in Redmond.
There is also a spate of job openings in both NYC and Palo Alto which mention B&N Education, though of course that doesn't tell us much more than, like most tech companies, Nook Media is hiring.
But I can report that my other sources have been telling me that B&N was working on a new and expanded version of Nook Study, the digital textbook app which B&N launched in mid-2010. A rumor to this effect has been circulating since at least the summer of 2012 (and was apparently started by B&N saying that a Nook Study iPad app was coming soon).
I'm told the new Nook Study will also show the influence of Pearson's investment in Nook Media in December 2012. That educational publisher bought a 5% share of Nook Media for $90 million. According to my source Nook Study will be integrated with Pearson's OpenClass LMS product, with the goal of providing a new product to college campuses that would combine Pearson and B&N college stores.
This may or may not have been one of B&N's long term goals when Nook Media was spun off in early 2012, and it would explain why the 700 odd B&N College stores were included in Nook Media at the time.
So what does all this mean?
Other than B&N isn't planning to sell off or shut down Nook Media, not much. I doubt that the rumored MS acquisition is still in the works; if that were the case I would expect to see dozens of jobs based in Redmond, not a handful.
Update: I also don't believe the wild speculation coming from Business Insider that B&N had fired the Nook Hardware team; that has already been denied by B&N.
But as for what B&N is planning to do next, only they know.