Boyue T62 6″ Android eReader Now Available at Amazon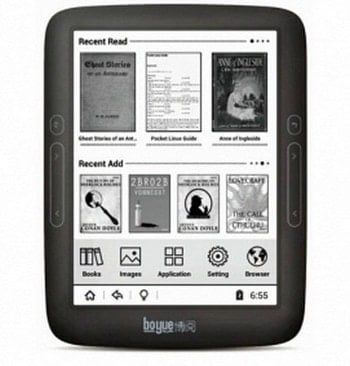 Remember that 6″ Android ereader I reviewed a few weeks back (the one with Android 4.2 and a bad frontlight but otherwise appealing design)? My competitor noticed yesterday that the new and improved model, the T62, is now available on Amazon.com.
The Boyue T62 features much the same hardware as the T61, but it comes with audio support and twice the storage – plus a hefty markup which puts it well into the range of premium ebook readers like the Kobo Aura HD, Aura H2O, and within shouting distance of the Kindle Voyage.
This device runs Android 4.2 on a dual-core 1GHz CPU with 512MB RAM and 8GB internal storage. It has the same Pearl HD E-ink screen found on the T61, and like that earlier model the T62 also has a frontlight and two-point touchscreen. (There's no info on whether the T62's frontlight is as poor as the one on the T61, and that's something to look out for.)
The Boyue T62 has Wifi, a microSD card slot, and a headphone jack for audio, and it also has the excess of page turn buttons found on the T61 (this, I like).
You can find it on Amazon for $169 plus shipping.  That's pretty expensive, IMO, and I'm not sure it's worth that much. At that price I think the Kobo Aura H2O, which costs $10 more and has a bigger and sharper screen, is more attractive.
On the other hand, the Boyue T62 does run Android. That gives you the option of installing just about any reading app which can be downloaded from Google Play (or the Amazon Appstore). The Boyue T61 worked with virtually all the apps I tried when I reviewed it, and many of the reading apps also worked with the page turn buttons (an unexpected bonus).
Perhaps the best compromise might be to buy the T62 from a Chinese retailer like BangGood (where I bought my T61). They have the T62 for $117 with free shipping. At that price, I'm tempted to get one.
Do you have one? What do you think?