First Impressions of the Boyue T62 Android eReader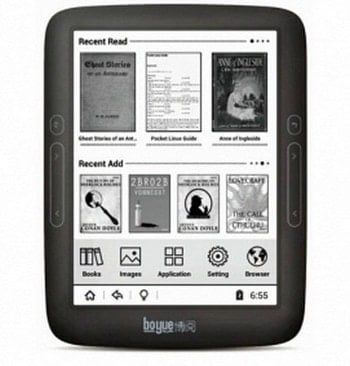 After 3 weeks of impatient waiting, my newest ereader has finally arrived.
The Boyue T62 is the next gen follow on to the T61, aka the Icarus Illumina, aka my preferred ebook reader. According to the specs it has twice the storage and audio support with basically all the same buttons, ports, and card slots as the T61 (more details here).
Now that it is sitting on my desk, I can tell you that the T62 is a somewhat thicker and somewhat heavier sibling to the T61, and that the T62 has a sleeker and more curved design.
The T62 is on the left, aand on the right is the T61 which I reviewed last month.
Most importantly , I can also say that it has a somewhat improved frontlight. This last is not as good as on last year's Kindle Paperwhite, but it is noticeably less splotchy and more evenly white than the frontlight on the T61.
In use, the T62 is more responsive than the T61. It seems to either have a better touchscreen or a better driver for the touchscreen, but either way it works better.
Speaking of which, I have also been playing around with the software. While the T62 and the T61 both run Android 4.2.2, they do not run the same firmware. I've already noticed that the newer model has a couple features that I don't have on the T61, including the option to remove the taskbar from the bottom of the screen. (I think there is supposed to be a trick to make it pop up, but I can't figure out how.)
And while we're on the topic of software, does anyone want me to test any Android apps?
I was thinking of repeating the tests I ran for the T61. Or do you think it is safe to assume the T62 can run all the same apps as the T61?
The T61 was already my preferred ebook reader; I like the page turn buttons, case, and the ability to install Android apps. But after a day I think I may have found a replacement. It's a shame I didn't also order a case; I think the T62 could be a permanent addition to my gear bag.
A full review will be up the weekend after next. Until then, here is a demo video from Banggood, the Chinese retailer which sold me my T62. (You can also find the T62 on Amazon.)