40 Beautiful Engagement Quotes + 20 Wishes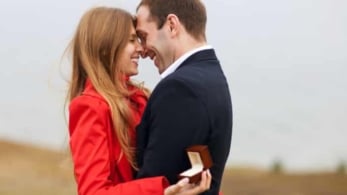 The engagement is the promise of two people to enter into the bond of marriage together. This important step in life may be celebrated with friends and relatives. We have interesting facts about the tradition of engagements as well as quotes and helpful templates for proper congratulations of all kinds.
For a while, engagement was virtually out of fashion, but today many lovers get engaged again according to the old tradition. Often the engagement is a real event, which includes a marriage proposal, an engagement ring, and a celebration.
Quotes about Engagement
If you want to congratulate a couple on their engagement, here are some suitable sayings on the topic of relationship, love, marriage, and future together.
You can very well combine them with some congratulations or print and frame them as an engagement gift.
In our congratulations, we have some examples of how you can take a quote or a saying as inspiration for your text.
This way, writing will be much easier for you and you can write a personalized message that will surely please the newly engaged couple.
Romantic Engagement Quotes
Romantic quotes are perfect for congratulating someone on their engagement. They highlight how special the bond between the two lovers is and at the same time are an appreciation for it.
Love does not consist in gazing at each other, but in looking outward together in the same direction.
(Antoine de Saint-Exupéry, French writer and pilot, 1900-1944)
Love rests on no foundation. It is an endless ocean, with no beginning or end.
(Rumi, Persian Sufi mystic, 1207-1273)
Being deeply loved by someone gives you strength, while loving someone deeply gives you courage.
(Lao Tzu, Chinese philosopher, 365 B.C.-290 B.C.)
Love is a canvas furnished by nature and embroidered by imagination.
(Voltaire, French writer, 1694-1778)
I like the way you make me feel even when I'm nowhere near.
(Unknown)
I look at you and see the rest of my life in front of my eyes.
(Unknown)
I choose you. And I'll choose you over and over and over. Without pause, without a doubt, in a heartbeat. I'll keep choosing you.
(Unknown)
Where there is love there is life.
(Mahatma Gandhi, Indian revolutionary, 1869-1948)
Every heart sings a song, incomplete until another heart whispers back.
(Plato, Greek philosopher, 427-347 B.C.)
You don't love someone for their looks, or their clothes, or for their fancy car, but because they sing a song only you can hear.
(Oscar Wilde, Irish poet, 1854-1900)
Engagement Quotes for Her
If you're looking for cute quotes that you can send to your friend or write in a congratulations card, we got you covered.
Let there be spaces in your togetherness, And let the winds of the heavens dance between you. Love one another but make not a bond of love: Let it be rather a moving sea between the shores of your souls.
(Khalil Gibran, Lebanese-American poet, philosopher and painter, 1883-1931)
If I had a flower for every time thought of you… I could walk through my garden forever.
(Alfred Lord Tennyson, British poet, 1809-1892)
I love her and it is the beginning of everything.
(F. Scott Fitzgerald, American novelist, 1896-1940)
The minute I heard my first love story I started looking for you, not knowing how blind I was. Lovers don't finally meet somewhere. They're in each other all along.
(Rumi, Persian Sufi mystic, 1207-1273)
You come to love not by finding the perfect person, but by seeing an imperfect person perfectly.
(Unknown)
Here's to love and friendship!
(Unknown)
Remember tonight… for it is the beginning of always.
(Dante Alighieri, Italian poet and philosopher, 1265-1321)
Love is just a word until someone comes along and gives it meaning. Your love paints a beautiful picture of what love really means.
(Unknown)
Marriage is when you find your better half, your soulmate.
(Unknown)
May your joining together bring you more joy than you can imagine.
(Unknown)
Engagement Quotes for Him
If your buddy got engaged and you want to congratulate him, you can do it with quotes from famous authors or sayings that are suitable for your relationship.
My heart is and always will be yours.
(Jane Austen, British writer, 1775-1817)
I love you, because I could watch you for a single minute and find a thousand things that I love about you.
(Unknown)
We loved with a love that was more than a love.
(Edgar Allan Poe, American writer, 1809-1849)
You don't need to be on the same wavelength to succeed in marriage. You just need to be able to ride each other's waves.
(Unknown)
May you bring each other as much happiness as your friendship has brought to my life

–

and more!
(Unknown)
Best wishes for a fun-filled future together.
(Unknown)
Congratulations to the future bride and groom! I'm excited about this new chapter in your life. (Unknown)
Wishing you both the happily ever after you so very much deserve.
(Unknown)
You don't marry the person you can live with, you marry the person you can't live without. (Unknown)
My whole heart for my whole life.
(French Proverb)
Beautiful Engagement Quotes and Captions about True Love
For many people, finding true love is a goal. At the same time, not everyone manages to find their true love.
So if you know someone who is very happy with his or her partner, quotes about true love and happiness are appropriate.
True love is like ghosts, which everyone talks about and few have seen.
(François de La Rochefoucauld, French author, 1613-1680)
True love is eternal, infinite, and always like itself. It is equal and pure, without violent demonstrations: it is seen with white hairs and is always young in the heart.
(Honoré de Balzac, French novelist, 1799-1850)
True love cannot be found where it does not exist, nor can it be denied where it does.
(Torquato Tasso, Italian poet, 1544-1595)
For true love is inexhaustible; the more you give, the more you have. And if you go to draw at the true fountainhead, the more water you draw, the more abundant is its flow.
(Antoine de Saint-Exupéry, French writer and pilot, 1900-1944)
Love is a great master. It teaches us to be what we never were.
(Molière, French actor, 1622-1673)
One word frees us of all the weight and pain of life: that word is love.
(Sophocles, Greek poet, 496-406 B.C.)
Love is of all passions the strongest, for it attacks simultaneously the head, the heart and the senses.
(Lao Tzu, Chinese philosopher, 365 B.C.-290 B.C.)
Scarcely had I passed them when I found him whom my soul loves.
(Song of Solomon 3:4)
You see, there is not much that I want to share with you but my love that is true.
(Unknown)
Time is too slow for those who wait, too swift for those who fear, too long for those who grieve, too short for those who rejoice, but for those who love, time is eternity.
(Henry van Dyke, American poet, 1852-1933)
Here you will find more love quotes suitable for congratulations.
Congratulations on Engagements: 10 Templates
Wedding proposals are an important step towards a future together. The lovers announce that they want to get married and most likely move in together, if they don't already live together.
We have created congratulations of all kinds for you to use as a template for your greeting card. Some of them are based on a quote and are personalized.
Others are rather short and general. Thus, both acquaintances and friends and relatives of the couple will find due congratulations on the engagement.
When I look at you both, I am sure that you have found peace in each other and that you will use this peace, this having arrived, to always stand by each other in the future, mastering the ups and downs of life.
Dear newly engaged couple, I am glad that you are now perfect. From me there are the best congratulations on your joint decision to go through life together from now on.
You have now embarked on this journey of discovery with your engagement. As is necessary for any great journey, I wish you much ambition, forbearance, perseverance, trust, courage, confidence, a sense of adventure and, of course, lots and lots of love.
Love has turned your friendship into a relationship, your relationship into an engagement, and your engagement will become a magical marriage.
I wish you both all the happiness in the world.
"Love does not consist in gazing at each other, but in looking outward together in the same direction."
(Antoine de Saint-Exupéry, French writer and pilot, 1900-1944)
You have always stood side by side and had the same expectations from life. You have always looked together in the same direction to achieve your dreams.
Your gaze always went where it was needed the most and that's how you managed to stay together for so long and get engaged. I am sure that this look, side by side, will also accompany you through your marriage.
My congratulations on your engagement and all the best for the future.
He finally dared and she finally said "yes". It has always been clear to me that you two belong together and have a bright future ahead of you. For this I wish you all the happiness in the world.
The most beautiful declaration of love is still the engagement of two people who want to stay together for life. I wish you that your present feeling, will accompany you for a lifetime and you will have a wonderful marriage.
Congratulations on your engagement! With or without children, marriage is always the creation of a new family and for this little family I wish you all the happiness in the world.
You don't have to search anymore, you have found each other.
I congratulate you warmly on your engagement.
Your engagement did not surprise me, you are made for each other now. I wish you all the happiness in the world and look forward to your wedding.
Important
Often, children are also in the planning stages. Here, however, you should be careful as a well-wisher. If the couple doesn't want children at all, or may not even be able to have them, it's inappropriate to extend best wishes for future children or jokes with hidden expectations. If you're sure the couple wants children, feel free to refer to that. Otherwise, you're better off leaving out statements along those lines.
Funny and Happy Engagement Wishes
Depending on how well you know the engaged couple, you can also resort to shorter phrases to congratulate them on their engagement.
All of the following phrases are from unknown authors.
Congratulations on this sweet occasion of your engagement!
So happy for the both of you. and I can't wait to celebrate this new chapter of your lives with you.
Wishing you a lifetime of joy, love, and happiness.
Who said you guys were allowed to get engaged without my permission? Oh well, you can have my blessing anyway.
Of all the big life events we've celebrated together, this one tops the list. Congratulations!
I'm so happy for the both of you and very excited I have a permanent couple with whom I can be a third-wheel!
Heartiest congratulations to the beautiful couple.
Congratulations on finding each other. Your engagement is wonderful news.
May your love story continue forever.
I am so excited about your engagement and can't wait to congratulate you in person.
Tradition of Engagement
Traditionally, people get married within a year of their engagement. But today, as in the past, this guideline is not binding. In the meantime, attitudes regarding engagements have loosened considerably.
Many couples are engaged, sometimes for several years, and enjoy the anticipation of their marriage. Some couples also remain only engaged and never marry.
In the past, this included an official engagement party with family after a proposal of marriage. Today, engaged couples often just send a card or message saying "We're engaged."
A modern variation is to simply set one's Facebook status to "engaged." Today's trend, however, is moving back in the traditional direction. Celebrating the engagement in a big way with an eccentric ring and a big celebration is coming back into fashion.
Being Engaged: Legal Things about the Marriage Proposal
The engagement (legally correct "betrothal") is basically a verbal contract between two people who want to either marry or form a civil partnership. For this contract to come into existence, a simple "yes" is sufficient.
Theoretically, it is not necessary to get officially engaged. It is sufficient to make a so-called registration for marriage at the responsible office. From this point on, you are engaged anyway. So if you don't want to make an official marriage proposal, you can simply go to the office.
The age at which you can officially get engaged is decided by the state in which you live.
The engagement is valid either until marriage takes place, the engagement is cancelled or a death occurs. An engagement is not valid if one of the partners is already married or engaged, nor if one or both were drunk when the engagement was made.
Those who are engaged may retain the right to refuse to give a police statement against their fiancé. In addition, one is entitled to damages if the engagement is broken off without good cause and purchases for the wedding have already been made.
If the wedding is called off and the couple breaks up, the ring has to go back to the purchaser. If the bride can keep and sell it, is a personal decision.
Where to Wear the Engagement Ring
According to tradition, brides-to-be wear the engagement ring on the ring finger of their left hand. This custom goes back to a myth from ancient times, according to which the vein of love runs from the left ring finger to the heart.
Meanwhile, however, many engaged couples wear their ring on the right side. For some, this side is more comfortable. Sometimes it also depends on whether the bride-to-be is right- or left-handed. There is also no fixed rule where the ring must be worn.
In most Western countries, the wedding ring is traditionally worn on the ring finger of the right hand. But here, too, there are now variations. Young brides combine their magnificent engagement ring now and then also with a simple wedding ring and wear it on the same finger.