Got $1,100? Sony is Now Selling the 13.3″ Digital Paper Online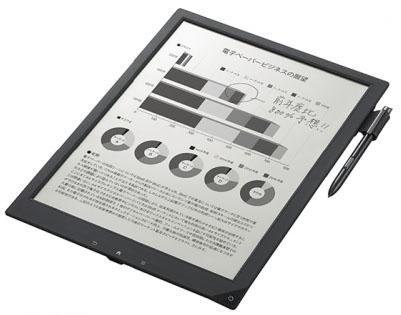 Sony's 13.3″ PDF reader is out of the reach of most of us, but if you're richer than Croesus and in the market and in the market for a limited function device then I have some good news for you.
Sony is now selling the Digital paper DPTS-1 online, direct. My competitor noticed the change earlier today, beating me to the story. You can find the Digital Paper on the Sony Style website, and if you are looking for one of their three resale partners then you should visit Sony's business/commercial sales website.
The Sony Digital Paper is a minimal function device which features an eye-catching one of a kind 13.3″ E-ink screen with two types of touchscreen tech (capacitive and Wacom). It ships with 4GB internal storage, a microSD card slot, Wifi, but not much else.
Thanks to its plastic construction, the Mobius screen on the DPTS-1 is both thinner and more durable than the E-ink screens found on most ebook readers. The Mobius screen is also why the DPTS-1 weighs in at a mere 12.6 ounces, which is impressive considering that it has a larger screen than most tablets.
Alas, while the hardware is nifty, the software is not. This device is strictly a PDF-only reader, meaning that it does not even support Epub or office doc formats.
I think that rather limits its usefulness, which is why I always suggest that a tablet, even a Surface Pro tablet, would be a better buy than the Sony Digital paper DPTS-1.