Sony's 13.3″ Digital Paper Writing Slate Gets a $400 Price Cut – Now Costs Only $1,350
When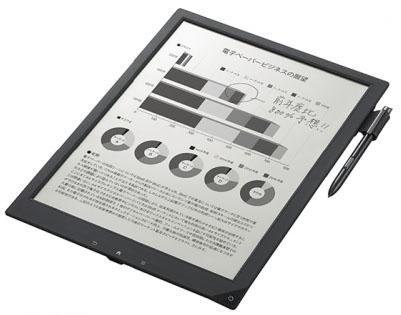 the Sony Digital Paper DPT-S1 was first launched in the US back in March, I knew few would be able to afford its $1,100 price tag. And when a 3rd-party importer first started selling the device on Amazon in late April (Thanks, M Singh!) for $1,750, it was even further out of reach.
But today I have some great news to share. That Amazon marketplace seller has put the Digital Paper on sale on Amazon. They've knocked $401 off of the price tag, lowering the price to a mere $1,349. What a bargain!
The seller Sony has knocked 23% off of the price of the price of the Digital Paper DPT-S1, so if you are in the market to get one you should act fast.
The Sony Digital Paper DPT-S1 is a one of a kind device both in terms of price and screen tech. This is the first device in the world to use the new Mobius E-ink screen, and it is the only one to use a 13.3″ E-ink screen. This is both larger and more rugged than your average E-ink screen, making it more durable than any other model currently on the market.
It comes with a dual-mode touchscreen (both optical touch and electromagnetic stylus), Wifi, 2.8GB Flash storage, and is limited to only letting users read and edit with PDFs. And with a screen of 1,200 × 1,600, the screen is going to appear dull both compared to the latest E-ink screens as well as cutting edge LCD screens.
The DPT-S1 is the perfect example of much that is wrong with Sony. After years of expensive research, Sony has a cutting edge tech which was then incorporated in a device no one is going to want to buy. The DPT-S1  is the Sony Librie all over again.