Sony's $1,100 Digital Paper Has Found a New Home: in HR
When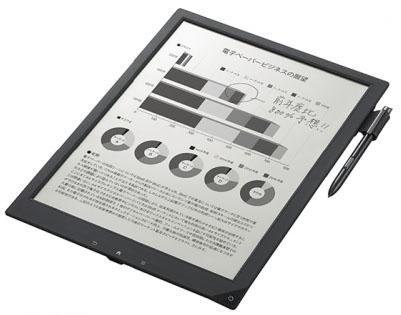 Sony's expensive Digital Paper writing slate launched in the US last month I knew that its $1,100 price tag and limited feature set would make it hard to find buyers, but it looks like Sony DPT-S1 has found a home where money is rarely a problem: Hollywood.
Sony put out a press release today, announcing a new deal with Ease Entertainment. This firm handles accounting and payroll for studios and other entertainment companies, and they think the Sony Digital Paper is a great idea.
"We are committed to taking what is still a 'paper and file box' industry and moving it into the current generation of tools, a key part of which is Sony's Digital Paper," said Michael Rose, Chairman and CEO of Ease Entertainment. "The combination of our technologies will substantially streamline and improve the onboarding process, which will ultimately lead to reduced production costs. The uses in and around a shooting set, within production offices and at the corporate and legal level, are countless: enhanced regulatory compliance, fewer errors, reduced environmental impact and an increased level of efficiency."
I really have to wonder about the CEO of an accounting company thinking that the Digital Paper is a good value.
The Sony Digital Paper DPT-S1 is based on a 13.3″ plastic-backed E-ink screen and comes with a dual-mode touchscreen, stylus, Wifi, 2.8GB Flash storage, and is limited to only letting users read and edit with PDFs.
At $1,100, the Digital Paper does not present a good cost:benefit ratio- not compared to tablets. You could get two $500 tablets for the same cost and show a much higher benefit from the many additional features and functions on the tablets that the Digital paper lacks.
With that in mind, I wonder just how many devices Ease bought and at what discount. Equipping all of their staff would leave a huge crater where their IT budget used to be, so I bet they only bought a handful of the writing slates.