Happy 40th birthday: 44 birthday wishes + 6 longer messages for celebrating the big 4-0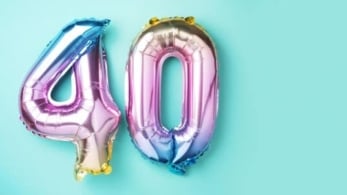 A 40th birthday is an important milestone. For many, it's their golden mean and a time when everything in life comes together. Here we have sayings, quotes and messages that will help you find a beautiful way of saying Happy 40th Birthday.
Like any milestone birthday, 40ths usually call for big celebrations. On this special occasion, why not write a birthday card or message that stands out and is a perfect fit for the birthday boy or girl?
Happy 40th birthday wishes
Like every milestone birthday, turning 40 encourages people to reflect. An important point in life has been reached and a whole decade has passed.
At this stage in life, most people are established and have already had many exciting experiences.
But turning 40 also means that there are many more exciting things to experience ahead. Life is stable and structured, and you can enjoy the security of your circumstances. Many people don't feel like they've really grown up until they're forty.
It is important to highlight this special occasion and share some kind words with the birthday boy or girl. After all, about half of their life still lies ahead of them and there is no reason to label 40 as 'old'.
Age is a funny thing. Some people let it affect their lives; others only see it as a new opportunity to live more.
Life's milestones are not supposed to be counted, they're supposed to be celebrated. Happy birthday!
At 40 you are not too old and not too young, at 40 you are just right.
Age is but a number that you don't have to reflect on the outside.
Turning 40 is like a piece of cake and a few extra candles.
40th birthday wishes
Below you will find different ways of saying Happy 40th Birthday split into three categories, so feel free to choose one that best suits the birthday boy or girl you want to congratulate.
Unless otherwise specified, all wishes and messages are from unknown authors.
Heart-warming 40th birthday wishes
It's always a good idea to put a smile on someone's face when wishing them a happy birthday, especially when they're turning 40 – it isn't always easy to estimate how sensitive they feel about their new age. These heart-warming wishes have the advantage of always sounding gracious and friendly.
You can't do much wrong with them, so use them for inspiration for writing your own message, as a little addition if you still have space on your card, write them on a gift tag or recite them as a small toast.
The slightly longer birthday wishes can also simply stand alone in a birthday card and do not always call for you to write anything else in addition.
40 years – how quickly they flew,
but the joy of life, you could always hold onto.
Good luck and joy, we wish you,
also over the next 40 years.
Wow, you have successfully got through 40 years and can really look back on your life with pride. It's amazing that you also still have so many great plans for the future. Keep up your strength and continue as before.
So a milestone birthday must be celebrated properly, that's why I'd like to wish you: 40 colorful balloons, so you never forget to reach for the sky; 40 thick wool socks, so you never get cold feet; 40 good books, so that your head, imagination and eyes stay fit; 40 great jokes, so that you always have something to laugh about, and of course 40 big birthday candles, so that a light always shines for you even on rainy days.
Congratulations on your 40th birthday!
May joy and peace surround you, contentment latch your door, and happiness be with you now and bless you evermore!
(Irish blessing)
40 years young. Happy birthday to you!
Yesterday is gone, tomorrow is not here, so live today and enjoy the year.
Look at all you've accomplished in a mere 40 years on earth. I can't wait to see what you do next.
At 40, life is quite pleasant.
Age is not a problem at present.
Do not chase after youth,
it's no use resisting the truth.
What an amazing life you have had, with even more awesomeness still to come. Happy 40th!
May this new decade be an upgrade. Happy 40th!
Heart-warming messages are suitable for almost everyone, because you can't do much wrong with them. Wise sayings, on the other hand, are great for professional contacts or acquaintances. You can also use them if you want to give a few pearls of wisdom to someone you care about.
Choose a message that appeals to you, but also keep in mind that it's important for it to relate to the birthday boy or girl.
These kinds of messages can also be used to balance out any funny remarks you might make. They show that you appreciate the seriousness of the joyous occasion and bring a smile to the face of the person who reads them.
Wise quotes for wishing someone a happy 40th birthday
This section includes some wise quotes for wishing someone a happy 40th birthday. They are a bit more serious and honor the occasion in a very special way. They are well worded, so most of them are even suitable for professional contacts.
They do not directly address the milestone of turning forty and are therefore particularly suitable for people who do not want to hear about their age on their birthday.
And in the end it's not the years in your life that count. It's the life in your years.
(Abraham Lincoln)
Old age is like everything else. To make a success of it, you've got to start young.
(Theodore Roosevelt)
We don't get older with the years,
we become newer every day.
(Emily Dickinson)
None are so old as those who have outlived enthusiasm.
(Henry David Thoreau)
Our birthdays are feathers in the broad wing of time.
(Jean Paul)
When everything seems to be going against you, remember that the airplane takes off against the wind, not with it.
(Henry Ford)
Of all the means to ensure happiness throughout the whole life, by far the most important is the acquisition of friends.
(Epicurus of Samos)
I am glad that you and I have a deep friendship and that you have all your dearest friends around you today. Happy 40th birthday! Here's a toast to the next 40 years of friendship with you.
Friendship improves happiness, and abates misery, by doubling our joys, and dividing our grief.
(Marcus Tullius Cicero)
Keep being consciously happy. It does not matter how old we are. We loving people are not interested in age. It is a figment of our imagination. Love knows no age, it is unconditional. So rejoice that on your birthday today, all the people who love you are thinking of you and celebrating with you.
Either write something worth reading or do something worth writing.
(Benjamin Franklin)
So far, you've had a lot of stories worth telling. Make sure it stays that way and don't let your new milestone age scare you away.
As soon as you feel too old to do a thing, do it.
(Margaret Deland)
Rather than just writing merrily away and not paying full attention to the content, wise sayings and quotes offer some worldly wisdom that won't simply pass the recipient by.
They give them the opportunity to really think seriously about their birthday and life. Why not write one on one side of the birthday card and fill the other side with your own message?
Feel free to take inspiration from your chosen saying and elaborate on what it means to you or why you chose it. We've included some short examples of this after some of the wise quotes so you can see what we mean.
Funny 40th birthday wishes
Cheeky, funny birthday wishes don't go down well with everyone. Choose who you send them to wisely so you don't hurt anyone's feelings. After all, everyone has a different sense of humor and not everyone can laugh at themselves.
Jokes about still not being an adult at 40, on the other hand, are fine. They emphasize that the birthday boy or girl is still youthful despite their age.
Finally 40. Finally grown up.
Welcome to 40, an age when you're still young at heart, but other body parts are starting to falter.
I hate to call you the F word, but… you're forty! Happy Birthday!
They are now gone, the storm and the urge.
And also the shackles of youthful constraint.
Hey you, now you're 40, you finally have an excuse not to party so often, but don't abuse this privilege. So don't forget to still come out with me and dance until dawn.
Ageing is not for cowards (from the U.S.) – good thing you're only a crisp forty and still don't need to be afraid!
You're just as good looking as two 20-year-olds.
You've turned 40, age now has you firmly in its grip. You're becoming frail, gray and stiff, but that's been a long time coming!
Now you're 40, do not be sour.
You're more mature, and you've got brain power.
You have overcome many a wall
and still you have it all!
No matter how hard it is to get out of bed, let 40 be the year you conquer it all.
Most people will now make fun of your age. But not me! Because I do not make fun of old people.
I'm really glad you haven't lost your sense of humor along with your youth.
If the years are passing too quickly for you,
let me provide some consolation;
forget for a moment the world,
come into my arms and then perhaps you'll find some elation!
The secret of eternal youth is to lie when you are asked about your age – everything else is no use!
People often make speeches and toasts on milestone birthdays to get people in the party mood and make the birthday boy or girl laugh.
If you can't think of a personal anecdote, you can simply use one of our funny phrases, and if you can't find what you're looking for, here are some more funny phrases and jokes that you can use to have a little 40th birthday fun.
It's best to use funny phrases for people you know well, so you can judge how they'll react. This way, you can guarantee that you won't put your foot in your mouth.
Still can't find anything suitable? Find more birthday wishes for all ages here.
Messages for wishing someone a happy 40th birthday
Life has its ups and downs, but by the time people's 40th comes around, many have reached a point where their everyday life has become a little calmer and steadier.
There is no question that you are still young and can still experience a lot, yet many find it difficult to accept their age on this birthday.
Therefore, be sensitive and choose your message with care so you don't spoil anyone's mood on their birthday. We have put together four sample messages which you can use for some guidance.
To your guy or girl pal
"To me, fair friend, you never can be old, For as you were when first your eye I ey'd, Such seems your beauty still."

(William Shakespeare, Sonnet 104)

I wish you only the best for your birthday and hope that our friendship will continue for the next 40 years. You are a great person, stay as you are.
To an older brother or sister
You have always been my role model. Even now, I want to turn 40 just because of you, because I see how beautiful it can be. You still look really great and I wanted to tell you once again on your special day how much you mean to me and how much I enjoyed growing up with you.

Even though we are both adults now, you always remind me of how wonderful it was to be a child and how important it is to remain a child at heart. I wish you all the love and happiness in the world on your 40th birthday.
To a younger brother or sister
You've finally made it, that went faster than expected. And even though you'll keep teasing me about the fact that I will always be older than you, congratulations on your 40th birthday. In return, I will always know what's coming at every age before you do and the things you will experience. So I am, first and foremost, a kind of wise oracle for you – and my second most important task is to make sure you keep feeling young.

Well, on that note, let's toast to you and your special day!
I love you very much.
To an acquaintance or colleague
"May you live all the days of your life."
(Jonathan Swift)

Take advantage of your new start today, let's celebrate you – enjoy your gifts, you deserve it. I sincerely congratulate you on your special day and wish you all the best for the future.