70+15 funny happy birthday wishes & more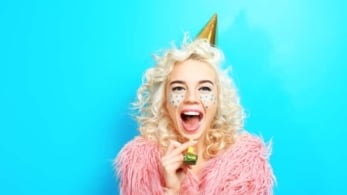 Funny happy birthday wishes conjure up a smile on the birthday boy or girl's face and spread good humor. We have versatile sayings and texts for every humor and give you funny gift ideas.
Funny birthday wishes are special and stand out from other happy birthday wishes. They are made even better with a funny gift. However, you should know the person celebrating well to hit the humor.
Funny happy birthday wishes
You can make the birthday boy or girl and the guests laugh with funny birthday wishes. Especially the sense of humor of your close friends and family is something you can surely appreciate.
Below you will find free funny birthday sayings, quotes and aphorisms for men, women and children. They're organized thematically so you can quickly find what you're looking for.
Send them via social media like Facebook, messengers like WhatsApp or by SMS. We also have 15 texts for you to use as templates and write in a birthday card.
Funny happy birthday wishes for men
The following birthday wishes for men play on funny stereotypes and prejudices about men. They are especially funny if they apply to the birthday boy or girl.
An example: the one who has a birthday is a gamer and gets a new console as a gift. A quote from Friedrich Nietzsche is suitable here: "There is a child hidden in the real man, and he wants to play."
Send these following sayings to your husband, boyfriend, brother, father, grandpa or uncle.
Happy birthday to a lifelong friend! I can't wait until we're old enough to be terrorizing the senior home nurses together!
Here's to many more rotations around the sun. May you live to be old and toothless – Jell-O is the caviar of the future! Happy Birthday.
"Let us celebrate the occasion with wine and sweet words."
(Plautus)
I don't think the hangover tomorrow morning was meant by that. But surely you'll have a nice evening that you'll hopefully remember.
At your age, people expect you to be calm, dignified and sober… Disappoint them. Happy Birthday!
From 50, it's your duty to do all the shenanigans you didn't have the money for when you were 20.
Congratulations on your 30th birthday, and pull yourself together a bit, the midlife crisis still has time!
At 66 years, that's when life begins. Be excited, you still have 6 years ahead of you!
A few words of wisdom for you on your birthday: "Smile while you still have teeth."
A wise man once said, "Forget about your past, you cannot change it". I'd like to add: "Forget about your present, I didn't get you one". Happy birthday!
At your age, the saying "beauty comes from within" is really gaining momentum. Happy birthday!
Let us never know what old age is. Let us know the happiness time brings, not count the years.
(Ausonius)
The past days of life have passed you without a trace. Unfortunately, the same cannot be said about the nights! Happy birthday, my friend!
Be proud of getting older. Soon you too will get the senior discount.
Birthday greetings for you: good wine is also old.
Everyone gets to be young once. Today it's official, your turn is over. Happy birthday!
Overall, funny sayings for men are usually more sarcastic and biting than those for women. Still, make sure they don't offend or hit a sore spot.
Funny happy birthday wishes for women
Every person deals with their birthday differently. Some dread the ever-increasing number, while others approach their new age joyfully.
We have compiled funny birthday greetings for women. They are less sarcastic than those for men and deal with the topic of aging a bit more sensitively, but in a cheeky and funny way.
They're also often worded in an uplifting and charming way, so you're taking less of a risk with them.
I can only hope to be as great a woman as you one day. But, obviously with better clothes. Happy birthday!
After 50, you often can't see the letters up close, but you can see the idiots from a distance!
"Being young is beautiful; being old is comfortable."
(Marie von Ebner-Eschenbach)
Let's get you so drunk that you end up believing it's my birthday and buying me drinks all night. Happy birthday!
Your birthday is the perfect excuse to get drunk on a weekday. Bottoms up!
You are an absolute dream girl. Or what's it called when you're always tired?
You know what they say about more candles… A bigger wish! Happy Birthday.
"The first forty years of life give us the text; the next thirty supply the commentary on it."
(Arthur Schopenhauer)
"Everybody wants to live forever, but nobody wants to grow old."
(Jonathan Swift)
Congratulations on being born a really long time ago.
You're not 30, you're 21 with nine years of experience.
"Age is an issue of mind over matter. If you don't mind, it doesn't matter."
(Mark Twain)
You don't have to be afraid of getting older – you can dye gray hair!
Women do not grow old. After a certain age, they only mature.
You shine so bright today that the number because of which we celebrate today is not even noticeable.
Cool birthday quotes for your best friend
If you don't feel like ordinary birthday sayings, we have some cool sayings for you. They show that birthdays basically don't mean much to you and sometimes sound slightly ironic.
For example, with the blunt saying "A birthday is a dress-up day!" by Karl Gutzkow, you're saying that birthdays are actually completely mundane and just meant to get dressed up and get together.
Breaking News: It's time to celebrate another birthday! I hope your big day is one for the history books, but this year, let's make it onto the news!
Happiest of birthdays to the "she" to my "Nanigans"!
I know you don't like to make a big deal out of your birthday. I just wanted you to know that you're a big deal to me. Happy Birthday!
You being 29, again, means that I'll never lose track of which birthday you're on, but I may have to explain it to the nursing home, someday. Cheers!
Be careful. Too many birthdays will kill you. Happy birthday!
Happy birthday — I'm so glad you'll always be older than me!
Just Happy Birthday. That will have to do.
Great news! You're still alive! Happy birthday!
You're not too old for this stuff. You're just very tired the next day – and the day after that.
We're so old now that we have to have a coffee after the pre-drink so we don't fall right asleep at the club. Happy Birthday!
Cool sayings take the excitement out of a birthday and probably speak from the soul of some celebrants who don't feel like so much attention and pageantry.
Witty birthday wishes for cyclists
Cycling is becoming more and more popular. Around 44 percent of people in Germany cycle regularly. On average, a household owns 2.4 bicycles.
Bikers are also plentiful: Four million motorcycles are registered in Germany alone. This chapter is suitable for anyone who prefers to get around on two wheels rather than on foot.
Life is like riding a bike. To keep your balance, you have to keep moving. Happy birthday!
Have a wheelie great birthday!
Your freedom has two wheels – good luck and health for the new year of life. Continue to be fast and stay as fit as ever.
My birthday wishes for you: no flat tire in the new year of your life and lots of good weather!
Happy birthday, you still have momentum! I guess your bike keeps you young.
Always on the go, downhill or uphill, rain or sunshine, you've got it. Cycling keeps you fit and lively. All the best!
Happy birthday, cyclist! I hope you have a great day and get to enjoy plenty of time on your bike!
I hope your birthday is as fun and adventurous as a cycling tour through beautiful scenery!
"A little rust, a dent here and there – what does it matter when someone has so many years… uhh.. kilometers behind them. Happy Birthday!"
(Unknown)
Take a step on the brakes today, the next road trip is coming for sure. Enjoy your birthday and let your loved ones celebrate you.
Funny happy birthday wishes and jokes for birthdays
Are you looking for a funny saying or even a real joke to go with the birthday theme, you've come to the right place.
We have jokes for different types of humor for you. So you bring the birthday child with certainty to smile.
Here's my advice for you on your birthday: with humor, self-irony, and enough wine, you can actually get through life quite well.
I will never be an old man. To me, old age is always 15 years older than I am.
(Francis Bacon)
Why do some people get heartburn every time they eat birthday cake?

–

They always forget to take off the candles.
Why did the birthday girl feel so warm at her birthday party?

–

Because people kept toasting her!
What kind of birthday cake do ghosts like?

– I scream cake.

Why did the woman celebrate her birthday for only 30 seconds?

– It was her 32nd birthday.

Michael has a birthday and his father congratulates him: "Happy birthday and today you can make a wish!"
– "I wish for a big St. Bernard."
– "Wish for something else."
– "Okay, I wish for us to switch roles for a day."
– "All right."
– "Good, now come on, we'll go to town and buy a St. Bernard for Michael."
Happy Birthday. Without you, it would be like you weren't there.
What do you say to a kangaroo on its birthday?

– Hoppy birthday!

The three-year-old unwraps his birthday present from Grandma and discovers a water pistol. He squeals with delight and immediately runs to the sink. His mother angrily says to her mother, "I'm amazed, have you forgotten how you used to get annoyed by these things?" Her mother smiled and replies, "No, I haven't forgotten."
Witty birthday wishes for kids
Especially for younger children, it is usually difficult to patiently read the card before they are allowed to open their gift. So all the better if you make the card a little fun. If the child is still learning to read, you can also read the birthday card to them.
For example, write in a joke question, a tongue twister or a word game. Also short jokes or riddles are popular with kids. We have also added a few funny birthday greetings for teenagers.
Joy and chaos go hand in hand with you around. Happy birthday naughty one!
Today you party all over the house. Better kick your parents out to do it.
Children do it better than adults: They just say straight what they think. In this spirit, I wish you a happy 9th birthday, dear Simon! Stay the way you are.
It's that time of the year when you are allowed to monkey around and no one will stop you. It's your birthday! Go bonkers! Happy birthday!
Today we celebrate your special day even though you were very naughty all year. Happy birthday to the naughtiest kid in the town.
Forget your homework and play lots of games. Have truckloads of fun on your big day. Happy birthday!
Why fit in, when you were born to stand out? Happy birthday to the one and only unique boy in the town.
Sometimes I do not want to be an adult. Then I just want to go to the ball pool and throw one at everyone who annoys me. Enjoy childhood as long as you can – Happy Birthday!
Finally 18! You finally get to do everything you've been secretly doing for years! Happy birthday!
What could be better than friends and cake? Happy birthday, dear Luke!
Funny birthday messages
In this chapter we have 15 different sample texts for a friend, buddy, son, daughter, child or godchild.
Some of the texts rhyme, others contain quotes and wisdoms – but all of them are phrased in a relaxed way and with a twinkle in your eye. Use them for a nice birthday card or send them on WhatsApp, Facebook, Instagram and Co.
Witty and funny birthday wishes for a friend
These birthday wishes are suitable for your friends.
1)
"One cannot think well, love well, sleep well, if one has not dined well."
(Virginia Woolf)

So for now, enjoy your birthday cake before you get hangry again and then think about what you want to experience in your new year of life. Happy birthday!
2)
Age is just a number after all. As long as you stay the way you are, you will be beautiful forever. So please stay unpunctual, messy and impatient, because that's how you're perfect.
3)
Friends are like shoes. When you are young you can't have enough and later you realize that they are always the same ones you feel comfortable with.

You have become my favorite shoe – Happy Birthday!
Funny congratulations for your buddy
Here we have some funny text examples for a good friend's birthday.
4)
"It is only with the heart that one can see rightly; what is essential is invisible to the eyes."
(Antoine de Saint-Exupéry)

So close your eyes now and drink a birthday beer full of pleasure. I wish you all the best for your new year of life!
5)
"What would life be if we had no courage to attempt anything?"
(Vincent van Gogh)

So be brave and stand by your new age. Risk that tomorrow you may not be so dazzling. But that's part of it and is unfortunately necessary, so that we can have fun today properly!

Happy Birthday!
6)
A guy named Cicero once said "Every man's reputation proceeds from those of his own household."
So for your birthday, I wish you to break your record of playing Fifa continuously and celebrate yourself for it! Happy Birthday, my friend!
Witty birthday wishes for your son or daughter
If your son or daughter has a good sense of humor, they might laugh about these funny texts.
7)
I was dreaming hard that morning and thought my child had turned 30 overnight. Then suddenly I see it's true: it's already looking for its first gray hair.
8)
Even if you don't make a face now, I'll tell you: I love you. Happy Birthday, my son / daughter!
9)
Dear Kris, / Dear Tim,

you have grown up, calmer and cooler, but I know deep inside you, it often looks different. Maybe I can make you smile by telling you that I wish you all the happiness in the world. I believe in you and will always be there for you, no matter what. You are a great and lovely person, never forget that.

Happy birthday and only the best for your new year of life.
10)
Not up for all the attention today? Keep smiling, nodding and replying nicely and you'll be left alone again tomorrow. Happy birthday, sweetheart.
More funny birthday wishes for kids with humor
Kids will laugh about the following funny birthday wishes.
11)
Dear Johnny,

on your birthday I wish you all the best! And since you should laugh a lot today, here's a short joke for you, which may also help you at school sometime:

The teacher asks: "Which one of you can name six animals that live in Australia?"
Comes Timmy: "A koala and five kangaroos."
12)
Dear Ashley,

nice that we can spend some time together today. I wish you for your birthday a lot of fun and some pocket money – and that the day holds many more beautiful things for you.

Happy Birthday!
13)
For your birthday

we wish all the best
to your new year.
It should be even better
than the old one was, my dear.

We have gathered
in this beautiful place.
And if there's nothing to eat now,
then we will hug you with grace.

(Unknown)
Congratulations to the godchild
These funny birthday wishes are suitable for your godchild.
14)
We met with a shout, but that time is long gone – you've grown into a great kid and I'm proud to be your godmother.

P.S. You can trust me with everything, your parents will not see through us.
15)
"The first birthday is celebrated with whines" (Jean Paul) – the 30th with wine!
It's been great to be your godmother all this time and watch you grow up. For the future, I wish you only the best!
Funny gift ideas
Below we have ideas for fun gifts that you can easily make yourself at home. These include, for example, a keepsake box for sharing funny moments, funny birthday pictures or even a birthday video.
A DIY memory box
With a homemade box for a birthday, you can simultaneously touch the birthday girl or boy and make them smile. It's a very personal gift with your funniest memories.
First, buy or make a small box or design a canning jar for this. Then write down shared memories that still make you smile today. Cut out the memories and fold them into small pieces of paper. The box should be well filled by the end.
Create funny birthday pictures
Combine your birthday message with a custom edited picture to give the birthday boy or girl a special treat. To do this, simply choose a funny picture and add some emojis or icons that match the birthday.
Especially funny is a childhood photo or a grimace picture where the birthday boy or girl is really having fun. You can also create a collage or take a photo of you together.
If you don't have an editing program on your phone or PC, you can download a free app or edit the picture on Instagram. There you also have the option to create funny short videos with moving GIFs.
A fun slideshow video is also a great idea to honor the birthday boy or girl. However, be careful here which pictures you choose. They shouldn't be too embarrassing and should be fun rather than shame inducing.
Make a video yourself
Another great idea is to make funny birthday wishes by video yourself. To do this, you can film a short video with your cell phone or a camera and send it to the birthday boy or girl.
For example, you could do short interviews with friends of the birthday boy or girl. Music videos where everyone gets a short sequence to dance to is also very special.
To do this, contact family or a few friends, give everyone 10 or 15 seconds of a song, and finally put the finished videos together in an editing program. Again, you can download a corresponding program in your Play Store (Android) Microsoft Store (Windows) or your App Store (Mac and iOS).
A gift within a gift
Give your friend something small that you then wrap in lots of boxes. Examples include a keychain, a photo in a frame, personal care products, or jewelry.
The more gift boxes the birthday boy or girl opens, the more the hope fades that there will actually be a gift in the box at the end. So the surprise at the end is even nicer.
Funny photo gifts
To tease the birthday boy or girl, but at the same time make him or her laugh, photo gifts are perfect. For example, have socks printed with your face, which the birthday boy or girl then has to wear. Even wrapping paper can be printed with faces.
Other examples are an anti-stress ball, a mouse pad, a T-shirt, a mug, a doormat or a pillow. Instead of your face, you can also have the birthday boy's face or a child's drawing of him printed on various things. It is best to talk to his parents and ask for a funny drawing.
Engravings with funny sayings are also a great gift idea. Do you have an insider or always make fun of a certain saying? Have it engraved on a keychain, glass or piece of jewelry and you'll have a personalized gift that's guaranteed to get a laugh.
Prepare a funny quiz
For the birthday party, you can prepare a funny quiz as a gift. This proves that you know the birthday boy or girl well and you have made an effort to prepare something personal.
For such a quiz you only need a few slips of paper with questions that can be drawn from a lottery pot or written on index cards. You yourself will be the moderator. You also need a bottle of schnapps. For every wrong answer you have to drink a shot.
It's most fun when the questions relate to common memories or useless knowledge. Plan for some easier questions and also a few that the birthday boy or girl definitely can't know. That way, it's the most fun for everyone.