Happy 90th birthday: 50 + 5 quotes & messages for your wishes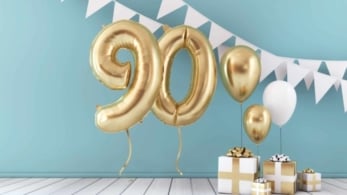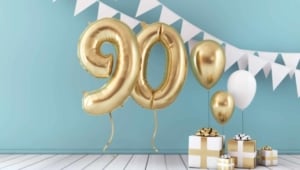 To make your 90th birthday wishes special, we've put together quotes, poems and messages for you. As a bonus, we also have a few individual gift ideas for you.
Whether for friends, family or acquaintances – our birthday quotes, poems and messages are wonderfully suitable as congratulations on the 90th birthday. Write them in a beautiful birthday card or frame them as a gift.
The most beautiful wishes on the 90th birthday
The best way to wish someone a happy birthday is to tailor your congratulations to him or her. The better you know the person, the easier it will be for you and the more personal the texts may be.
For a 90th birthday, a birthday card, a phone call or even both are appropriate in any case. If the birthday child is still fit and lively, a small celebration with the closest friends and relatives can also be organized.
About 16 percent of the men and 34 percent of the women in the U.S. live to be 90. So even though average life expectancy has increased in recent years, this age is still a rarity.
Short quotes for the 90th birthday
Sometimes a few short words express as much as several sentences. That's why in this chapter we have short sayings for 90th birthday. They are suitable for gift tags and small cards – or for the blank side of a double card.
Youth is happy because it has the ability to see beauty. Anyone who keeps the ability to see beauty never grows old.
(Franz Kafka)
On your 90th birthday, remember – age is only important if you're a cheese.
(Unknown)
You are like a good wine: the older you get, the better you will be.
(Unknown)
May your 90th birthday be filled with magic moments … and lots of merlot!
(Unknown)
Happy Birthday to you, my / dearest grandma / grandpa are you!
(Unknown)
Just think of 90 as 9 perfect 10s!
(Unknown)
Thank you for existing. I wish you a wonderful 90th birthday.
(Unknown)
With you, the world is a better place, stay as you are!
(Unknown)
Only the best wishes I send you, from my family and from me!
(Unknown)
God gave us the gift of life; it is up to us to give ourselves the gift of living well.
(Voltaire)
A short saying is always suitable also to add a few personal words afterwards. If you choose a quote or a life wisdom, you could then add their meaning for you, for example.
Beautiful birthday quotes
Below we have collected beautiful birthday sayings for 90th birthday for you. They are well-worded and positive. Some of them also contain quotes. You can always use these well as inspiration for your own little text.
The best ingredients for a long life are good friends, family, daily exercise and fun in life – you taught us that. Happy 90th birthday!
When you look back over 90 years, I hope that your memories are warm ones. When you celebrate today, I hope that your heart is filled with love and joy. When you look forward to the future, I hope that all your dreams and wishes come true.
(Unknown)
From your life experience we will still draw long. We thank you for that and wish you all the best for your 90th birthday!
I don't know anyone who deserves a wonderful day with family and friends today more than you. Happy Birthday!
(Unknown)
I wish you 365 days of joy, 8,760 hours of health and 525,600 minutes of happiness and contentment until your next birthday.
(Unknown)
A full life is like a treasure hunt, where every now and then you come across small treasures and great jewels.
(Unknown)
I hope your 90th birthday is just as special as you are.
(Unknown)
May you have a happy and healthy 90th birthday! I hope you enjoy many more beautiful days ahead of you.
(Unknown)
We shall find peace. We shall hear angels, we shall see the sky sparkling with diamonds.
(Anton Chekhov)
Character is like a tree and reputation like a shadow. The shadow is what we think of it; the tree is the real thing.
(Abraham Lincoln)
Wisdoms of life for the 90th birthday
In this chapter you will find wise sayings and life wisdoms for the 90th birthday. You can give them to the person celebrating his or her birthday, even though there is certainly not much he or she has not heard before.
Make sure the wisdom doesn't lean too much towards the future and focus on living a full life and being content. You can also encourage people to continue to persevere as well as have fun in life as they get older.
The human race has one really effective weapon, and that is laughter.
(Mark Twain)
Most folks are as happy as they make up their minds to be.
(Abraham Lincoln)
God gave us the gift of life; it is up to us to give ourselves the gift of living well.
(Voltaire)
It does not matter how slowly you go as long as you do not stop.
(Confucius)
It is only with the heart that one can see rightly; what is essential is invisible to the eye.
(Antoine de Saint-Exupéry)
Age is an issue of mind over matter. If you don't mind, it doesn't matter.
(Mark Twain)
We love life, not because we are used to living but because we are used to loving.
(Friedrich Nietzsche)
Good habits formed at youth make all the difference.
(Aristotle)
The time for action is now. It's never too late to do something.
(Antoine de Saint-Exupéry)
It is not necessary that whilst I live I live happily; but it is necessary that so long as I live I should live honourably.
(Immanuel Kant)
Wishing a woman a happy 90th birthday
In this chapter we have 90th birthday wishes especially for women. They are suitable for birthday wishes to mom, grandma, sister, a friend, neighbor or acquaintance. Just pick the saying that suits her!
Nobody is perfect, but at 90 you are already very close!
(Unknown)
Congratulations on your 90th birthday! You are truly an inspiration, and I feel so blessed to have you in my life.
Thank you for always being by my side and enriching my life with your love. You continue to be a beautiful woman – inside and out.
All that you have experienced lives on in many generations after you. You can be very proud of your age and what you have mastered. Here's to you. My warmest congratulations on your 90th birthday.
You are what I call a true friend for life! Incredible how long we have known each other and even more incredible that I was allowed to meet you at all. All the best for your 90th birthday!
Birthday wishes on the 90th birthday for a man
If you are looking for beautiful birthday greetings for your grandpa, dad, neighbor, friend or any other family member, we have the right sayings for you. Always make sure that the congratulations fit well with the celebrant and meet his taste.
You don't stop laughing when you get old. You get old when you stop laughing. So keep your wonderful laughter and you do not get old. Happy Birthday!
The world needs heroes and you are one of them. Happy 90th birthday!
May the joy that you have spread in the past come back to you on this day. Wishing you a very happy 90th birthday!
(Unknown)
You've gathered 90 years of amazing memories. I hope your birthday is a day full of new fun and surprises.
(Unknown)
Happy 90th birthday to the greatest man in the world: my friend, my protector, my father.
(Unknown)
Interesting
There are more than 300,000 people worldwide who are over 100 years old. The record for the oldest person in the world is 122 years and 164 days, set by Frenchwoman Jeanne Calment.
Stylish birthday wishes
In this section you will find 90th birthday wishes that are stylishly worded and suitable for different contacts. These can be, for example, former colleagues, acquaintances, neighbors or old friends who have not spoken for a long time.
Regardless of how close the relationship you have with the person celebrating, you will surely find a stylish saying that will suit the occasion.
May you be gifted with life's biggest joys and never-ending bliss. After all, you yourself are a gift to earth, so you deserve the best. Happy birthday.
(Unknown)
Count your life by smiles, not tears. Count your age by friends, not years. Happy birthday!
(Unknown)
Cheers to you for another trip around the sun!
(Unknown)
I hope your celebration gives you many happy memories!
(Unknown)
Health, happiness and well-being – so it should continue in the next year of life.
(Unknown)
Our age is merely the number of years the world has been enjoying us!
(Unknown)
Happy birthday! I hope all your birthday wishes and dreams come true.
(Unknown)
90 years are worthy of special honor to you. Congratulations and happy birthday!
Be happy! Today is the day you were brought into this world to be a blessing and inspiration to the people around you! You are a wonderful person! May you be given more birthdays to fulfill all of your dreams!
(Unknown)
Only ten more years and you are a real event of the century! I wish you good health, joy and serenity to the 90th anniversary.
Poems for the 90th birthday
For someone from the older generation, poems still have a higher significance than for us today.
For one thing, poems had to be regularly memorized in school – many of the elderly know them by heart to this day. On the other hand, back then, people still appreciated artful and embellished language in a completely different way.
Moreover, it is nice that poems are melodic and tactful, so that they create momentum in reading and lift the mood.
Funny birthday poems
Below we have some funny poems as 90th birthday wishes. They can stand on their own in a birthday card or you can add some personal words to them.
1)
Growing older

The aging you would like to postpone,
but today you sit on a throne.
We know you would rather run,
– but do not worry, even with 90 you still have a lot of fun!

(Unknown)
2)
Happy birthday, my dear friend
I'll be there for you, till the end.
Your love and kindness, shines right through
Our midnight talks, are never few.

(Unknown)
3)
Here's to a happy 90 years,
And cheers to many more.
Who cares that you are greying?
We love you to the core!

(Unknown)
4)
Birthday pride

With pride you look back today,
And enjoy your life's happiness.
Have accomplished much and spared no work,
and rejoiced over every small or great success.
If you look at your life balance today,
the autumn of your life is shining in the golden sunshine,
enjoy it with a glass of wine.
– it shall not be your last birthday!

(Unknown)
5)
It is so unfair that you manage to wear
Ninety years in a youthful way!
For your healthy glow and the spring in your step
Take many of those years away!
You age almost not with hardly a spot
I can scarcely believe my eyes
Please share how you manage, if only with me,
How you stay both good-looking and wise.

(Unknown)
Messages for the 90th birthday
In this chapter you will find ten free-form texts. You can write them, as they are, in a birthday card or rephrase them according to your wishes. They will do justice to the special occasion of a 90th birthday and will be remembered.
Personalized messages
The following texts are worded in a personal and emotional way. They are suitable if you are close to the person celebrating. It is especially nice when your own children or grandchildren address a few individual words to the birthday child. But friends also have the opportunity to pour out their hearts on this beautiful occasion.
1)
90 years – I can hardly believe it. You look back on a wonderful and full life, full of ups and downs. How on earth did you manage it? Have mastered every crisis and have always remained young in spirit. You can be really proud of that.
2)
Dear Grandma/Grandpa,

thank you for being there for me for so long and for letting me learn so much from you. You will always be a role model for me and I will take your philosophy of life to heart. Have a wonderful day today.

I love you. Happy 90th birthday!
3)
Do you know how grateful I am for you? And how much you have taught me? You're not just my mom – you're also my teacher, my friend, my role model, and my pillar of support – for as long as I can remember.

Thank you from the bottom of my heart, Mom, for allowing me to have such a wonderful person like you in my life.

All the best and love on your 90th birthday.
4)
N – Ninety years old.
I – I love you so much.
N – Never tired.
E – Eighty with ten years of experience.
T – Time cannot harm you.
Y – You are my favourite person on earth!

Happy 90th Birthday.
5)
On one person I can always rely.
To this person I could trust deeply.
This unique person, dear mother, that is you!
In your arms I always find comfort and rest.
When something didn't go right,
When I desperately called for you,
A person who was always ready.
A person who always had time for me.
For all this, dear mother, I thank you from the bottom of my heart.
A happy birthday I wish you and a long life without pain.

(Unknown)
Contemplative messages for the 90th birthday
The following texts reflect on the great achievement of having turned 90. In most cases, it is not only genetics that play a role, but also a certain lifestyle, health consciousness and, of course, the attitude towards life.
These texts radiate calm and are harmonious. They are free of wit and are easy to read.
1)
Old age also has beautiful sides. You can look into the future with serenity and into the past with pride. Nothing can surprise you anymore, you are prepared for everything. Stay as young and happy in your heart as you are today.

I wish you all the best for your 90th birthday.
2)
In 90 years you learn many things about life. Your wisdom can no longer take away from you and we appreciate you for that you always have to each of our experiences a good advice in stock.
3)
Throughout your life you already radiate this calmness that manages to cope with any problem. This wonderful quality has led us to celebrate with you today. You are a great role model and such a great person. I wish you only the best and good health on your 90th birthday.
4)
Today is your day. All your life you've taken care of others, now it's your turn. Fulfill your every wish today – I'll be happy to help you.

Congratulations on your 90th birthday – what an achievement!
5)
Even if you don't like to celebrate your birthday, we want you to know how much we love you. You have already achieved a lot in the 90 years and can be proud of it. May you live many more years and stay healthy and lively. Happy birthday!

(Unknown)
Gift ideas for the 90th birthday
When someone turns 90, it's not always easy to find a suitable gift. After all, the person has celebrated his or her birthday so many times that he or she has already received all sorts of great gifts.
Nevertheless, there are some ideas that are particularly suitable for such a round anniversary. We have collected the most beautiful gift ideas for the 90th birthday for you. They are personal and show the birthday girl that you have thought about.
Historical newspaper from the year of birth of the jubilarian
Memorabilia album with photos of the whole family
Framed saying, life wisdom or poem to hang
A "What I like about you" box with lots of paper scraps in it with the birthday boy's good qualities written on it
Homemade or purchased "tell me" book with questions about childhood, adolescence and adulthood
Bench for the garden with engraving or comfortable chair for indoors
Engraved champagne glasses, wine glasses, carafe or breakfast board
Imprinted mug, cushion or T-shirt with saying or photo