44 Best "Happy Birthday" Wishes for your Girlfriend + 3 Texts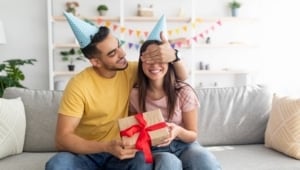 Is your girlfriend's birthday approaching and you still haven't found the right words for her birthday card? Well, we've got the most loving, funniest and nicest birthday wishes for your girlfriend, fiancée or wife here, so you can make sure your loved one has a perfect day.
Finding the right birthday wish isn't always so easy. Sometimes words can fail us, especially when it comes to someone very important to us. To help you out in this task, we've prepared some tips and recommendations for you.
Best "Happy Birthday" Wishes for Your Girlfriend
Finding the right birthday wish for someone you love can often prove to be quite the challenge.
To make sure you don't spend a lifetime racking your brains over the matter, we've gathered a varied, diverse range of loving and funny birthday wishes for your girlfriend here.
It goes without saying that you are free to switch up, combine and adapt our greetings to however best suits you and, more importantly, your girlfriend.
Here you'll find more quotes for her.
Romantic Birthday Messages to Your Girlfriend
Loving and emotional birthday messages naturally go down particularly well. Even if you're someone who normally doesn't express feelings or display affection so openly, you can still make the extra effort to treat your girlfriend on her special day.
Another year older, but that's irrelevant. No matter your age, you'll always be the greatest, most beautiful girlfriend in the world. Happy birthday, my love.
You've been through years like this before. Friends come and go, but I will always be here by your side to experience each new year with you.
Another year with you gone by. A year full of love, happiness and joy. I've enjoyed every single day with you, I am forever grateful and looking forward to the next year with you. Happy birthday, my dear.
You have enriched the world with your existence. And my life, too. Wishing you a wonderful day today and the warmest of wishes on your birthday.
If you didn't exist, someone would have to invent you. But even the world's greatest genius couldn't possibly come up with something as wonderful and unique as you. I love you. Happy birthday.
The world is full of so many beautiful places, but the most beautiful spot is the one by your side. Let's celebrate your special day together today! Happy Birthday!
Age is just a number. As long as you stay the way you are, you will always be beautiful. So stay messy, impatient and always late, because you're perfect just like that. [alternatively, replace with other suitable characteristics]
I hope all your dreams come true, just like you made my dreams come true when you became my girlfriend. Happy Birthday, my love!
Happy Birthday to the wonderful woman that fills my heart with love and joy every day.
Today is a very special day for you. Just like how every day with you by my side is a special day for me. Happy birthday!
Here you'll find lovely birthday card messages.
Emotional and Heart Touching Birthday Wishes for Your Girlfriend
If you want to make sure your girlfriend knows exactly how much she means to you, her birthday is the right time to deliver the message. The following birthday wishes are heartfelt and expressive and will show your girlfriend just how much you care for her.
When writing heart-touching birthday wishes, a poetic touch can really show your sweetheart the depths of your love.
I hope you know my love for you is as immense as the universe. Wishing you a lifetime of happiness with all my love on your birthday.
I can't imagine my life without you, and I want you in my life forever. May we spend every one of your birthdays together.
Many things have changed over the years, but you're still the same wonderful person. Happy birthday, baby.
"Our love is like a sea and an endless sky. Love is all that we need. Love is a stream that flows from heaven, and a kiss is the lane that connects two hearts. For me, love is all that you are." (Unknown) Happy birthday, darling.
I never knew it was possible to love someone so strongly, so deeply, and so unconditionally. You complete me. Happy birthday, sweetheart.
Knowing we're as strong as ever makes me even happier on your birthday. I can't stop loving you.
It's hard to find the words to express exactly how much you mean to me. All you really need to know is you make every moment better just be being you. Happy birthday from the bottom of my heart, my love.
You are the best thing that has ever happened to me. You are the sweetest girl who always deserves the best things in the world. Happy birthday, my love.
I will never get tired of loving you. I wish you the brightest and most colorful celebration on your birthday. All my love, [name].
Happy birthday to my best friend, my agony aunt, my support system and my soulmate.
No amount of words can ever be enough to express my feelings for you. Happy birthday to the love of my life. Wishing you all the happiness in this world!
To the world, you might be just an ordinary person. But this ordinary person makes my life extraordinary! Wishing this ordinary person an extraordinary birthday!
"Happy Birthday to My Girlfriend": Short Quotes
Maybe you have already drafted half a novel full of loving words or you just need a quote that is short enough to fit on a garland, cake or the gift tag on a bouquet of flowers. There are many reasons for needing short birthday wishes and we have a few suggestions for you here.
Wishing you a day that is as unique and beautiful as you are.
"Love is composed of a single soul inhabiting two bodies."
(Aristotle, Greek philosopher, 384-322 B.C.)
With you by my side, the world shines bright.
Once a year simply isn't enough to celebrate somebody as fantastic as you.
Come cuddle, kiss and hug. May all your goals, wishes and dreams come true.
A flower blooms such a short time, our love remains for eternity. Happy birthday!
The world is beautiful because that's where you live. Happy birthday!
The birthday of an extraordinary woman always calls for flowers.
There are no better words than "I love you more than anything."
I'm so happy to be able to celebrate another birthday by your side. Happy Birthday!
Here you'll find more short birthday wishes.
"Happy Birthday to The Love of My Life": Quotes & Messages
Sometimes, a few words from a famous writer or poet can express our feelings better than we ever could. These romantic quotes below are perfect for adding to a birthday card addressed to the love of your life.
Be sure to add a few of your own words when using quotes for your girlfriend's birthday card. A personal touch is always appreciated.
"A hundred hearts would be too few to carry all my love for you."
(Henry Wadsworth Longfellow)
But I'll try, my love. Happy birthday.
"You don't love someone for their looks, or their clothes or for their fancy car, but because they sing a song only you can hear."
(Oscar Wilde)
Your love is music to my ears. Have a wonderful birthday, darling.
"Every heart sings a song, incomplete, until another heart whispers back. Those who wish to sing always find a song. At the touch of a lover, everyone becomes a poet."
(Plato)
I didn't understand poetry till I met you. Happy birthday to the love of my life.
"I love you with so much of my heart that none is left to protest."
(William Shakespeare)
You're the Juliet to my Romeo. You deserve the best on your birthday. I love you.
"I wish you to know that you have been the last dream of my soul."
(Charles Dickens)
May all your birthday wishes and dreams come true, just like you've made mine come true.
"For you see, each day I love you more, today more than yesterday and less than tomorrow."
(Rosemonde Gerard)
May we continue to love each other more and more for many years to come. Happy birthday, sweetheart.
"You are the finest, loveliest, tenderest, and most beautiful person I have every known – and even that is an understatement."
(F. Scott Fitzgerald)
Words can't express how amazing you truly are. Have a wonderful birthday, my dear.
You are in my heart and in my mind all day long. Aren't you tired? Happy birthday to the love of my life.
"We loved with a love that was more than love."
(Edgar Allen Poe)
Our love is more than love. May your birthday be filled with it, my angel.
"Thinking of you keeps me awake. Dreaming of you keeps me asleep. Being with you keeps me alive."
(Unknown)
I hope we spend many more of your birthdays dreaming of each other. Happy birthday to the love of my life.
"There are only two times that I want to be with you. Now and Forever."
(Unknown)
Let's celebrate Now and look forward to Forever. Happy birthday, baby.
"I love all the stars in the sky, but they are nothing compared to the ones in your eyes."
(Unknown)
I can't wait to see the stars in your eyes on your birthday today. I love you.
Birthday Texts and Wishes for Your Special Person for WhatsApp
Sending a WhatsApp message to someone you love so much on their birthday is, in principle, quite thoughtless and doesn't go down well with many people.
Of course, there are also exceptions – such as long-distance relationships – where there's no need to avoid affectionate WhatsApp messages.
Preferably, you would write your girlfriend a longer text with loving words and then add one of our messages.
Using lots of emojis is always a good idea for WhatsApp messages. We've got a few sample texts to help set you on the right track, which you can supplement and adapt as you see fit.
1)
My dearest treasure,

Wishing you all the best on your birthday. May all your wishes and dreams come true. Unfortunately, I can't celebrate this extra special day with you, but we'll make up for that. I have already thought of something and let me tell you, you're going to love it. I'm already looking forward to it. For now, let me just wish you a wonderful day surrounded by loved ones – minus me.

See you soon,

Your [name]
2)
Good morning, my love,

We'll see each other this evening, but I couldn't wait to deliver my warmest wishes. So the happiest of birthdays to you and all my love for the coming year. I am so pleased to have you by my side and spend even more years with you until we are old and gray. Looking forward to this evening.

Till then,

Your [name]
3)
Dear [name]

The time has come and you are another year older. Regardless, you are and always will be the most beautiful woman in the world to me and that won't change with age, either. Have a wonderful day today. I miss you very much and can hardly wait to have our own belated birthday celebration together.

I love you,

Your [name]
Tips for Sending Birthday Wishes to Your Girlfriend
Romantic relationships are often particularly intimate. Many people couldn't even imagine their lives without their partner. So important events such as birthdays are naturally celebrated together.
So a simple "Happy Birthday" as a birthday wish is rather unspectacular and boring. Why not try out something more creative instead? We'll show you how this might look in the following tips.
Write Something Personal
Personal texts are always a highlight. This is true regardless of whether it's for a family member, a friend, or even your sweetheart.
A heartfelt letter can be a real treat on your girlfriend's birthday, especially if you tend to find it hard to offer her some affectionate words or show your feelings from time to time.
Write about what you feel for her, what you especially love about her, and everything you wish for her. And, of course, you should be yourself while doing so.
If you like to tease each other, then incorporate that into your text. If you share some inside jokes, use them. Maybe she doesn't like lovey-dovey thing or displays of affection so much – then be aware of that when writing.
Only you will know which words will please her best. But whatever you write: as long as you use personal words, you're sure to melt her heart.
Deliver Your Birthday Wish to Your Girlfriend Orally
If you're good with words, you don't even have to wrap your words up in a long letter. Perhaps you could spend your girlfriend's birthday with a picnic or dinner.
How about reciting your personal words or even a self-written poem to her there and then?
Of course, that isn't going to appeal to everyone. You have to know how you feel and if you're ready to step outside your comfort zone. After all, wishing your girlfriend a happy birthday shouldn't be embarrassing for you. But your girlfriend will certainly be happy to hear these beautiful words from your mouth instead of reading them from a card.
Present Your Birthday Message Nicely
Delivering your birthday wish orally is, of course, already a great thing. If, however, you would rather stick to the written form, then why not consider a nice wrapping for your birthday wish?
This could be, for example, a homemade birthday card. Of course, it doesn't have to be perfect. Even if you're not much of a craftsman, the gesture will mean much more to your girlfriend. If she knows you don't like arts and crafts so much, then your effort will please her even more.
Another example could even be writing some sweet words on different slips of paper and throwing them in a glass. That way, she can pull them out one after the other and delight in the many small affectionate and funny messages.
Perhaps you have even more of your own great ideas. Your creativity knows no bounds.
Talk about The Future
If you're short of topic ideas for your birthday wish, why not mention your future life together.
Maybe you want to move in together soon, are expecting a child, or are even building a house. Perhaps she's after a new job or was promoted.
Mention these events, tell her how much you're looking forward to them and how much you want to take these steps with her. If you've only been together a few months, then you should, of course, make some adjustments here. Discussing children, houses and marriage after only a few weeks together can be overwhelming.
Compliment Her
What woman doesn't like to hear and read compliments from their sweetheart? Even on their birthdays, many women struggle with aging.
Curves aren't quite where they should be anymore, and more and more wrinkles are making an appearance. Obviously, this varies from woman to woman and some become more confident with age, but others also fear they won't be attractive enough for their partner.
That's why your girlfriend will appreciate a nice complement all the more on her birthday. Tell her what you love about her, whether it's visually or character-based. She is sure to be pleased about that.