Happy birthday wishes for her: 70 birthday wishes + some gift ideas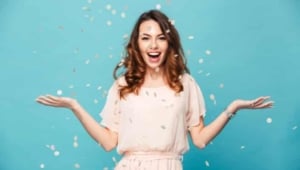 Our birthday wishes have been specially selected for women and include heart-warming, cheeky, funny, short, and unusual sayings and messages for you to choose from.
Our birthday wishes for her are suitable for all your female contacts. Send them to your mother, partner, daughter, sister or girlfriend, for example.
Happy birthday wishes for her
Write these birthday wishes in a birthday card or send them via Facebook or other social media platforms. Frame and decorate them or add them to a beautiful picture and give this to a woman in your life who is celebrating her birthday.
Funny or cheeky birthday wishes often play on stereotypical female qualities or make jokes about men, but we also have an array of heart-warming wishes that may touch the birthday girl on a personal level.
The most important thing is to tailor your message to the woman you want to congratulate. She should be able to identify with it, it should fit with her age group and be in line with her sense of humor too.
Short birthday wishes for her
If you're looking to say happy birthday to a girl in your life, then this section is the place to go. Here we have put together a selection of concise-yet-meaningful phrases and sayings for you to choose from.
Today I hope you have a smile on your face, a well-chilled glass of champagne in one hand and a delicious piece of cake in the other.
Wishing you a beautiful day and may you have good health and happiness forever. Happy birthday!
You can treat yourself to a little champagne today, no doubt – dear [name], knock yourself out!
The best birthdays are still the ones we have not yet celebrated!
Finally 18! Finally you're allowed to do everything you've been secretly doing for years! Happy Birthday!
I know your past, believe in your future and love you today just as you are. I will always be here for you. Happy Birthday!
May your birthday be blessed with many happy hours and your life with many happy birthdays. Happy Birthday!
Sending you a birthday wish wrapped up with all my love. Have a very happy birthday!
If life is getting you down, sprinkle glitter on it!
You look younger than ever! Happy birthday!
Short birthday wishes are especially good for gift tags or messaging apps like WhatsApp, because you don't have to write out anything long and they are written in a colloquial style.
If you want to share a pearl of wisdom or wise saying, however, these are better suited to a birthday card. Combine your wishes with a picture, GIF or emoji to make your message more personalized.
Heartfelt birthday wishes for her
Below are some birthday wishes that are written with an extra dose of love. They are positive and you're sure to make the birthday girl feel warm and fuzzy inside. They have a personal touch and show her your gratitude.
Tag them on the end of a simple "Happy Birthday" and turn your wishes into something special.
On your birthday, you deserve only the best. I wish you a bright, sunny day filled with good food and as much time with your loved ones as you can get. Happy birthday!
I can't believe how lucky I am to have found a friend like you. You make every day of my life so special. It's my goal to make sure your birthday is one of the most special days ever. I can't wait to celebrate with you!
Hope your special day brings you all that your heart desires! Here's wishing you a day full of wonderful surprises! Happy birthday!
On your birthday, I hope you enjoy your past, present and look forward to your future. I hope you have no regrets and are proud of what you have accomplished.
I hope that today, at your party, you dance whilst others sing and you celebrate your best birthday with a smile on your face.
Here's some birthday love from me… To wish you a day that brings the same kind of happiness and joy that you bring to my life. Happy birthday!
Wishing you a day filled with happiness and a year filled with joy. Happy birthday!
Sending a bouquet of happiness your way… To wish you a very happy birthday!
Many years ago on this day, God decided to send an angel to earth. The angel was meant to touch our lives and that's exactly what happened! Happy birthday my sweet angel!
A friend like you is more priceless than the most beautiful diamond. Not only are you strong and wise, but kind and thoughtful as well. Your birthday is the perfect opportunity to show you how much I care and how grateful I am to have you in my life. Happy birthday!
Top Tip
It's always nice to add a few words of your own to the sayings and phrases found here. That way, your birthday wishes immediately become more personal and the person celebrating can see that you've put some thought into things.
Birthday wishes for her that stand out from the crowd
The birthday quotes, sayings and short messages in this section are not like the others. Not only do they wish the birthday girl health and happiness, but they also include some wishes that are more down to earth.
What's more, they highlight the birthday girl's best sides and may even describe some of her real character traits. They are especially suitable for women you're a little closer to and who you know might appreciate a more unusual saying with a twist.
Age is just a number. As long as you stay the way you are, you'll be beautiful forever. So please stay unpunctual, messy, and impatient, because you're perfect that way.
"No wise (wo)man ever wished to be younger."
(Jonathan Swift)
I like you for who you are, but mostly for who I am when I'm with you. Happy Birthday!
This year, for your birthday, I have one wish – that you stay with me as long as possible.
"Age merely shows what children we remain."
(Johann Wolfgang von Goethe)
"Age appears to be best in four things: old wood to burn, old wine to drink, old friends to trust and old authors to read."
(Francis Bacon)
Here's a pearl of wisdom for you on your birthday: Nutella has very few vitamins, so you need to eat much more of it to get some!
Some well-intentioned birthday advice: life is short. Eat the fries! Buy the shoes! Book the trip!
"The age of a woman doesn't mean a thing. The best tunes are played on the oldest fiddles."
(Ralph Waldo Emerson)
"Women are meant to be loved, not understood."
(Oscar Wilde)
Fun birthday wishes for her
In this section we have put together a selection of fun birthday wishes for women. They're sure to make the birthday girl smile and put her in a good mood.
You could even think of a few in-jokes you share or come up with a cheesy rhyme of your own and write these in your birthday card.
Ironic or sarcastic phrases can also be used as funny ways of saying happy birthday – as can jokes and puns. Why not combine your fun wishes with a funny card, photo or GIF to make the birthday girl laugh?
It's your birthday – I hope there's some food left over today so you can enjoy a yummy hangover breakfast in bed tomorrow.
Working out makes you feel better about yourself – but so does champagne. On that note, cheers and happy birthday.
Here's a recipe for a happy birthday: 1 new pair of shoes, 1 new dress, 3 bottles of champagne, 1 birthday cake, 20 candles and lots of love.
Love and the juice of the vine – enjoy it for a lifetime!
You're older today than yesterday, but still younger than tomorrow. Happy birthday!
There's no equal opportunities for men and women. After all, a man has the opportunity to get a woman. And what do we women get? Men.
(Unknown)
You are only young once, but you can be immature for a lifetime. Happy birthday!
Happy birthday to someone who is forever young!
To quote Shakespeare: "Party thine ass off!"
When the little kids ask you how old you are at your party, you should go ahead and tell them. While they're distracted trying to count that high, you can steal a bite of their cake! Happy birthday!
Cheeky birthday wishes for her
Below we have put together a selection of cheeky birthday wishes for women that you can use if you're feeling mischievous. However, only send them if you have a close relationship with the birthday girl and you know she understands your sense of humor.
For example, you could tease a close friend who has a problem with ageing by saying:
"It's not how old you are, it's how you are old."
(Jules Renard)
Here are some more phrases for you to choose from.
When you hit 50, you may not be able to see any letters from up close, but you'll still be able to make out idiots from a distance!
"None are so old as those who have outlived enthusiasm."
(Henry David Thoreau)
"The old believe everything, the middle-aged suspect everything, the young know everything."
(Oscar Wilde)
Women do not grow old. After a certain age, they only mature.
"We are always the same age inside."
(Gertrude Stein)
"What most persons consider as virtue, after the age of 40 is simply a loss of energy."
(Voltaire)
Behind every successful man is a woman. Behind every successful woman is a man who holds her back.
(Unknown)
"Wrinkles should merely indicate where smiles have been."
(Mark Twain)
Happy birthday wishes on her 50th and 60th birthday
Milestone birthdays like 50 and 60 are often celebrated in a big way and friends and family members usually get together to mark the occasion. Tread cautiously when making jokes about ageing here, however.
My life has been enriched by your friendship and the world has been a better place because of you for the last 50 years. Stay as you are.
The best time of your life begins today. Life has many more surprises in store for you.
You've arrived in your golden era. Enjoy the time and all the benefits that this stage of life brings.
A special day, a special person and a special celebration. May all your dreams and wishes come true in this coming year. Happy Birthday.
After 50, it's our duty to get up to all the shenanigans we didn't have money for when we were 20.
Now the kids are finally old enough to take care of themselves and you're young enough to live your life to the fullest. Have fun. Happy 60th birthday!
Soon you'll be heading off on your well-deserved retirement, and you've truly earned it. I'm happy for you and congratulate you warmly on your 60th birthday. You've done great!
Anyone who stops learning is old, whether at twenty or eighty. Anyone who keeps learning stays young. The greatest thing in life is to keep your mind young.
(Henry Ford)
Age is an issue of mind over matter. If you don't mind, it doesn't matter.
(Mark Twain)
Forty is the old age of youth; fifty the youth of old age.
(Victor Hugo)
Individual birthday wishes for her
In this section you will find many heart-warming birthday messages for her. Some of them are sentimental and heartfelt, others are written with a bit of a cheeky edge.
You can modify any of these sample messages to suit the birthday girl and individualize your birthday wishes for a great woman in your life.
1)
"After the verb 'to Love', 'to Help' is the most beautiful verb in the world."

(Bertha von Suttner)

You are a master of both, you wonderful person. On your birthday, I hope you get to enjoy anything and everything that does you good, because you deserve the world. Stay as you are. My love for you knows no end.
2)
"Life is the flower for which love is the honey."

(Victor Hugo)

You have always been there for me and I want to thank you for that. For your birthday, I hope you find a little time for yourself and enjoy the support of your loved ones, as you have given so much support to everyone around you.
3)
"Gratitude is not only the greatest of virtues, but the parent of all the others."

(Marcus Tullius Cicero)

In this vein, you should be inundated with thank you cards instead of birthday cards today! I honestly don't know anyone as good as you. You deserve only the best for your birthday and I wish you a wonderful day.
4)
"The more one does and sees and feels, the more one is able to do, and the more genuine may be one's appreciation of fundamental things like home, and love, and understanding companionship."

(Amelia Earhart)
5)
B – Best person in the world
I – Independent
R – Ready to party
T – Trustworthy
H – Hilarious
D – Dazzling
A – Amazing and…
Y – You are always smiling.

Happy Birthday!
6)
This year, I don't wish you eternal health, endless happiness or anything fanciful like that. I just hope you find time in the next year of your life to read at least one good book and sleep more than eight hours once a week.

Happy birthday!
7)
Every experience makes you richer, every year of your life a little wiser. Use this to figure out what you want out of life. It's never too late to rediscover yourself and become who you want to be.

I will stand by you along the way, give you strength and hold your hand when you need me. You are a wonderful person and I am happy to call you my friend.
8)
I hope you receive the gift of patience for your birthday.
So when your husband says, "I'll fix it!", it'll actually get done!
And there'll be no need to remind him every two years!
9)
"Don't forget to love yourself."

(Soren Kierkegaard)

Some people don't realize how important they are, how good it is to see them, how comforting their laughter is, how beneficial it is to be close to them, how much poorer we would be without them, and what a wonderful gift they are.

Happy birthday to you.
10)
You are in the prime of your life, beautiful, healthy and full of energy. At the same time, you have gained a lot of life experience, so that only very little can shock you now and you know how to live life the right way – the perfect mix!

I wish you all the happiness in the world for your birthday and I hope you have a fantastic day.
Top tips for birthday wishes for her
The best way of saying happy birthday is to send your loved one an individual birthday message just for them. To do this, avoid the usual culprits like "All the best" or "Have a lovely day" and choose a phrase or message that stands out from the crowd instead. We have some top tips for you on how to do this, which you can use for inspiration.
To round things off, we've included some lovely gift ideas for women too.
Personalize your birthday wishes
There are ways of adding a personal touch to any birthday saying or message. Either you choose a birthday card that suits the birthday girl especially well, add a photo of you both or write something about her character.
For example, you could choose one of our heart-warming quotes and then tag a short message on the end to relate it to her and her life. Show that you know her and didn't randomly choose any old phrase to save time.
You could also rewrite some of our short sample messages a little in line with the birthday girl's personality, and you could even go one step further and get her a gift on the same theme.
Keep your individual relationship in mind
Your birthday wishes should always be tailored to how well you know the birthday girl and the relationship you have with each other. What's more, if you want your birthday wishes to be funny, pay attention to whether they're in line with her sense of humor.
Try not to offend her or cross any lines. If you are unsure, choose a short neutral message or quote rather than anything on the cheeky side.
If you're in a romantic relationship, on the other hand, a personal message rekindling shared memories or highlighting her best character traits is a great way of wishing her happy birthday. You can add compliments, show your romantic side and even go a little over the top if you like.
Look to the future
Birthday wishes should put the birthday girl in a good mood and spread some joy. This is best achieved by looking ahead to the future.
On their birthday, some women think about their age and reminisce about their past, so in this case it is especially important to draw attention to beautiful present moments and turn her thoughts towards what she can look forward to experiencing in the future.
Gift ideas for her birthday
So now you have some ideas on how to wish a woman in your life happy birthday, but perhaps you're still lacking ideas when it comes to gifts? Don't worry: we've put together the list below to give you some inspiration. In addition to things you can buy, you can also make things yourself at home. DIY gifts show that you've gone the extra mile.
Framed photo or printed saying
Engraved wine or champagne glasses
Photo mug
Salt and pepper shakers
Cocktail set
Heart-shaped pasta with engraved wooden spoon
Personalized candle or lamp
Voucher to visit a chocolate museum
Concert tickets
Wine tasting
Homemade cake
Shared experiences such as a picnic, cooking class or short trip also make for nice gift ideas. Make sure with experiences, however, that the timing is flexible, the experience can be canceled or the birthday girl actually has time on the chosen day.