Happy birthday wishes for him: 80 quotes + 4 tips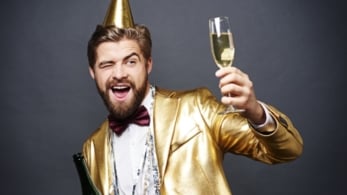 Coming up with the right words to wish a man a happy birthday can be more challenging than you'd think. To help you find the perfect happy birthday message for your birthday card, we have the best birthday wishes for men for you, from funny to cool to short & concise.
Whether it's about your dad, uncle, brother, colleague or just your boyfriend or husband, you can use our birthday wishes for any man around you.
The best happy birthday wishes for him
To make your birthday card or WhatsApp message a real highlight, we have a wide selection of funny, short and cool birthday quotes for you here. You will also find many wishes for round birthdays.
Of course you can customize, change and combine all our texts and sayings as you like.
Funny happy birthday wishes for him
Who wouldn't like to make the birthday boy smile or even laugh on his special day?
Particularly when it's someone special, like a good friend or your best friend, humorous teasing in company with your birthday wishes is likely to be well-received.
I hope you celebrate your birthday the way you came into the world. Naked and screaming. Happy Birthday!
Congrats on becoming another year old but not wiser.
A lot of people say on your birthday, "Wow, you never seem to get any older." Well, I'm not one of them, so celebrate, you old fart!
The paint is off? Don't worry, your primer is still top notch!
We may have wrinkles on our bums,
But we're still the best of chums!
Happy Birthday, you old geezer!
If someone calls you old, then just hit him with your walking stick and throw your dentures after him!
Have you ever thought about assisted living? No? Then why don't we start assisted partying today! Don't worry, I won't leave you alone. Happy birthday!
Cheers my dear, have another ale,
may you live as many years,
as the fox has hairs on its tail!
(Old Irish birthday wish)
Once again a year older and still irresistible. You've really got it.
You may be hearing the phrase "For your age…" more often now. I'll start with that right now: For your age, you look really good. Congratulations and happy birthday!
Find more funny birthday wishes here.
Birthday wishes for men on WhatsApp
Not everyone is able to give congratulations in person for a birthday. Sometimes everyday life is just too stressful or you live too far away from each other. In this case, birthday wishes via WhatsApp are particularly suitable.
Maybe the celebration is a few days later and you still want to send a few funny or nice words on the day of honor itself.
Did you forget the birthday? Here are the best belated birthday wishes.
To enjoy life is man's most ardent song,
For we live such short ones are dead so long.
So today I raise a toast to you of congratulations for your special day.
You don't stop laughing when you get old. You get old when you stop laughing. So keep your wonderful laughter going, and you'll bypass aging altogether. Happy Birthday!
"Getting older is a horror!"
Cries many a man in terror.
But there's really no need to fret,
Look to tomorrow with no regret!
Happy birthday to the only one who always laughs at my jokes. I hope your wonderful sense of humor stays with you in the years ahead.
The years have passed you by without a trace, but our weekends together have left their mark!
"What joy it is to hear it said:
'Old man, your hair is white as snow,
but your spirit blooms instead.'"
(Gotthold Ephraim Lessing)
The youngest you may have left the building, but I still want to congratulate you. Happy birthday, I hope all your wishes for the next year come true.
A true sportsman celebrates his special day,
and no matter how you wend your sway,
we stand by you despite your quirks,
because that's how friendship works.
Be proud of getting older. Soon you'll get the senior discount! That'll make aging worth it, after all. Happy birthday, old man!
You're not too old for this stuff. You're just very tired the next day – and the day after that. But a proper birthday party is worth it!
Cool birthday wishes for a man
What man doesn't like to be cool? He'll be all the more pleased if on his birthday you don't harp on his increasing age, but tell him what a special and cool guy he is instead.
Cool guys like you don't get older, they get more bombastic. Happy birthday you grenade!
Once a man's reputation is shot, he's got nothing to lose. Good thing we already ruined our reputation together. Here's to more uninhibited years, buddy! Happy Birthday!
You're old enough now to know better, but young enough to do it anyway. Here's to many more years in which we can make nonsense together. Happy Birthday!
The world needs heroes and you are one of them. Happy birthday!
Congratulations, you have reached the metal age! Silver in your hair, gold in your teeth, lead in your feet.
"It's a hard-knock life for a man,
but we always do the best we can.
So look back with many thanks,
and boldly defy age with all its pranks!"
Always remember: No matter how old you are, male friendship does not age. We will always be good friends. I also wish you the very best for your special day today. Happy birthday!
"He who is of a calm and happy nature, will hardly feel the pressure of age."
(Plato)
If a Greek philosopher of the ancient world believed this, there must be something to it. Here's to more wise and clever years with you. Happy Birthday!
"Patience and humor are the two camels that can take you through any desert."
(Arabic proverb)
You have more than enough of both, so I assume we will celebrate many more birthdays together. Happy birthday!
"Wild guys like you don't get older, they just get more relaxed. So go ahead and party hard today! Happy Birthday!"
Birthday wishes for men about beer
Most men love beer, whether it's on their birthday, with friends at a barbecue, or even on an exciting night of soccer — most of them don't even need an occasion.
So it's not far-fetched that many well-wishers, especially if they are best friends, would like to incorporate their love of beer into their birthday wishes.
Long ago, an old man said, "Don't count your years, make your years count." Or was it "beers?" Never mind, both good. Just take my advice to heart and celebrate nicely. Happy birthday to you.
Hey, hey we're here.
and we brought a cool beer.
With this honorary poem, I warmly congratulate you on your birthday and raise a toast to you!
Don't postpone uncorking what you can enjoy today. Wishing you a wise happy birthday.
Cheers to you on your beerthday! Let's drink!
With a tall cold one,
I'm saying, hold on!
We're celebrating you, you old man,
as long as you and I still can.
I'm greeting the greatest sports and beer expert with appreciation of his sterling internal and external qualities on his birthday, because I like you! Happy birthday!
You really are our chief dude (and drinker)!
In your honor we raise our glasses,
toast to your celebration, and drink to the last drop. Congratulations!
The head aches, the feet stink, it's high time for a drink. Let's toast to you and your special day. Cheers and happy birthday!
Happy birthday beer lover! They say the greatest gift is buying presents for others. You know which brand I like – I'm waiting!
"Drink to your health when alone, drink with others when merry." Since today is your very special day of honor, we should definitely toast to it. Happy birthday!
Short birthday wishes for men
Whether there is no more space in your birthday card or if you know that the person celebrating just doesn't like to have a lot to read, there are many reasons for using the shortest possible birthday wishes for men. So we have gathered some for you here.
"What ripens slowly, ages late." (Conrad Ferdinand Meyer)
You think you're old? You're not old… last year you were old, now you're ancient.
It's great to be young and healthy. Can you still remember what that was like? Happy Birthday!
Men mature to about seven years of age. After that, they just get taller.
A year forward, not back! For your birthday, I wish you much happiness.
All the best from the best gift ever (Me! &mash; as your best friend/granddaughter/son … )!
Happy Birthday. May God give you a lot of success and true happiness in your life.
May your new year of life become one of your most beautiful adventures despite your age!
When life gives you a birthday, make it a party. Celebrate today!
You can light all the candles now, the fire department is informed. Happy Birthday!
Happy birthday wishes for men with women
Men like to tease each other when it comes to marriage or their wives. Sometimes they even make crude remarks. Some can laugh about it, others not. For women, these remarks are often not particularly pleasant. Nevertheless, men often find them amusing.
Whether you find such a birthday quote appropriate and funny or not, you be the judge. After all, you should know the birthday boy quite well and know what you can use to make him laugh.
As a bachelor, a man is a peacock; as a groom, a lion; and as a married man, a donkey. I still like you though, even as a donkey. So happy birthday!
Men age like wine, women like cheese. Happy birthday!
"An ideal wife is any woman who has an ideal husband."
(Booth Tarkington)
Happy birthday!
Happiness consists of a solid bank account, a good cook and an impeccable digestion. Fortunately, you have all three. Since nothing stands in the way of a proper birthday celebration: All the best!
If your life (or your wife) annoys you, sprinkle glitter on whichever it is. The world won't change, but it will be much more glamorous. Happy Birthday!
Birthday wishes for men on a round birthday
Starting at age 40 and moving upwards, many round birthdays are celebrated in an especially big way. For an appropriately lavish message, here are some greetings with which you can fill your birthday card.
You can also rewrite many of the sayings a bit and then use them for another round birthday.
Birthday wishes for men on their 40th birthday
At 40, you finally have an excuse to stop partying so much, but you shouldn't abuse that privilege. So I still expect you to go out with me and dance until dawn.
He who retains his childlike wonder at 40 has understood what life is all about. Happy birthday!
According to your ID, you're 40, you look more like 30 and mentally you are probably still 25 … or at times probably even younger. For this I want to congratulate you heartily. Happy Birthday!
Turning 40 is something to be proud of so just embrace it, my friend! Wishing all the best to you on your 40th birthday!
Happy 40th, my friend!
Four whole decades and you're still
going strong! Don't worry, that won't last.
You can find more wise and humorous sayings for the 40th birthday here.
Birthday wishes for him on his 50th birthday
The 50th birthday is a very special day for many. Half a century is worth celebrating properly and of course the you want to send appropriately extravagant congratulations.
You are turning 50. That means you can no longer wear Speedos while relaxing on the beach. Happy birthday anyway!
I see changes in your face, gut, and hair. But what remains the same all these years is your dry sense of humor, which I like the most. Happy birthday, bud.
Smile… Oh, you have teeth! That means you are not old yet. Say cheers to your 50th birthday celebrations.
You're not 50, you're 42 plus 8 years of experience!
The sound of your voice to me has always held the promise of wisdom. I cannot express how much I love you. Happy 50th birthday, Dad.
We have more great 50th birthday wishes for you here.
Happy 60th birthday wishes for a man
Like any round birthday, the 60th is a special day and is often celebrated in a big way. And of course this is not without reason. The children are grown up (maybe there are even grandchildren already) and retirement is fast approaching.
So if you want to congratulate your father, friend or otherwise a special man in your life on this special day, we have some of the most celebratory sayings for you here.
For your 60th birthday, here's a piece of wisdom from me: feel life, not joints.
Happy 60th birthday. Your special day has finally arrived! I find it hard to imagine that the universe has been lucky enough to have you for 60 years and will continue to have more of you!
May your 60th birthday be as memorable and glorious as your 60 years on earth. Have a blast.
At 60, you have remained young at heart. That's one of the reasons we love you so much.
Don't be sad about being 60 years old. Just think of it as getting closer to your senior citizen's discount.
You can also find a wide selection of other 60th birthday wishes here.
Happy 70th birthday wishes for him
The 70th year looks different for different people. Some enjoy their retirement to the fullest and are traveling and on the road a lot. Others may already be struggling with some physical ailments and prefer to take it easy. Still others can't resist continuing to work anyway.
Whatever applies to the jubilarian you want to congratulate, with our sayings you're sure to find something suitable..
Cracking 70! Sometimes it cracks here … sometimes it cracks there … I wish you all the best and good health for your 70th birthday!
70 years is a distinction of merit. Congratulations and happy birthday!
Hope all 24 hours of your 70th birthday are as memorable as the last 70 years have been for you.
Happy 70th birthday. Hope your unfulfilled dreams start to come true today.
Happy birthday! 70 may not be the new 50 but it's definitely flirting with 60 (in more ways than one). Now that's something to celebrate!
Here are more birthday wishes for the 70th birthday.
80th birthday wishes for him
.
Not all people are lucky enough to reach the age of 80. So naturally we tend to celebrate all the more when our loved ones reach this special age.
Of course, on such a special day you want to give the the jubilarian the most joy you can. To help you express this in your birthday wishes, we have some suggestions for you.
Happy 80th birthday! You don't look a day over 79. Maybe two or three days. A week at the most.
You are not 80, you are 40 with 40 years of experience.
Happy birthday! Now that you're 80 years old, you've learned all the lessons that life has to offer. Now all you have to do is figure out how to get to the bathroom in time.
Happy 80th birthday! Fortunately for you, the vintage look is back in style.
Don't worry, you still got it. Whatever "it" is, I don't remember. Do you? Happy 80th birthday!
You can find more birthday wishes for the 80th birthday here.
Tips for birthday wishes for him
Finding suitable birthday wishes can be a real challenge since you want to please the person celebrating and not wind up sounding too corny or boring.
To address that, here are a few tips for you on how to improve your birthday greetings more and make them more fitting.
Include something personal
Most people are happy to receive personal messages. For example, you can revisit jokes that you've shared together over the years, or just reminisce a bit about your time together.
It can also be fun to refer to the interests, hobbies or personality of the jubilarian. In this way, you'll show that you know him well and that you didn't copy the content for your birthday card from somewhere.
You'll also show him that you have made an effort and that his birthday and he are important to you. You may get the best results by combining your personal message with our birthday wishes.
Reference your relationship
Most sayings are basically applicable to most men, and many sayings need only a bit of adjustment. Then again, the way in which you express congratulations varies depending on the relationship you have with the person you are congratulating. For instance, congratulating your grandfather as his granddaughter would differ from congratulating your best buddy in his mid-forties or your fiancé as a young woman;
As a buddy it can be a funny saying or a little (or bigger) teasing. A grandfather would likely appreciate a few heartfelt words or a poem, while a fiancé would be pleased with a loving message or references to shared experiences from the past or anticipated future.
Especially if you are colleagues and you want to congratulate more out of politeness, you should refrain from coarser, teasing sayings. Of course, this also depends on the relationship you have with each other.
Tailor your birthday wishes to his character
It's cliché to claim that no man likes long and profound birthday wishes. Men want it to be short, crude and funny — and touching texts are boring. After all, no man likes to show feelings.
Nevertheless, there are certainly a lot of men who are just as happy about emotional and loving congratulations as many women are. You will probably know the celebrant himself best and what he is most pleased about.
So when choosing your birthday greetings, it is best to make sure that they also fit the character of the birthday boy.
Use photos or pictures
Maybe you can find some old photos of you as children or young adults somewhere. It's especially nice if the person celebrating isn't familiar with the pictures or hasn't seen them in a long time. Reveling in fond memories puts a smile on most people's faces.
Many also give their friends goofy pictures for their birthday. Some of them are often quite silly, but just that can be very funny, particularly if a photo is paired with a humorous saying, for example.
Send these pictures either via social media or also give them away as a card or postcard. Maybe the birthday boy will even hang them up for display.