"Happy Birthday" Wishes to Your Coworker: 63 Quotes & 5 Poems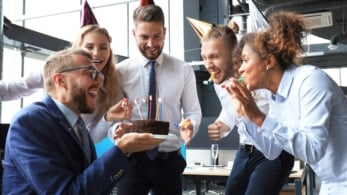 Are you tired of the endless hunt for birthday wishes for your colleague? Do you find yourself searching for the right thing to say that will get your appreciation across? Here you will find great quotes and sayings that you can use as congratulations for your coworker.
It definitely isn't always a simple task to find exactly what you want to say, more so when you don't know your colleague that well. And truth be told, sometimes the companies we work for are so incredibly huge that we are faced with colleagues of all ages and personalities.
That is why we are here to help navigate you through the sea of birthday wishes most suitable for your colleague.
"Happy Birthday" Wishes for the Colleague to Write on a Card
So you've decided to write a birthday card, so now is the most crucial time to think about a few aspects. This includes the type of relationship you have with your colleague. Are you close?
What type of humor do they like? Are you on the same wavelength when it comes to congratulating each other? Are you looking to send a deeper heartfelt message or a lighter one?
Thinking about your answer to these questions is critical when deciding which type of birthday message is the most appropriate for you.
Thankfully, we have a wide variety of choices at your fingertips, ranging from funny ones to short ones, all the way to heartfelt ones.
Here you will find more beautiful birthday wishes.
Funny Birthday Wishes to Your Coworker
If your sense of humor is on par with your coworker, then a funny birthday wish will certainly make their day. You can also add a personal touch with a few of your own words in addition to the following:
"Birthdays are when you finally decide to do the things you've been meaning to do for ages – only to end up postponing to next year."
(Unknown)
Birthdays pretty much go like this: you know the day, you're aging but you're still around to play.
"There is no border more tempting to smuggle over than the one of age" (Karl Kraus). Age aside, you're only as old as you feel – Happy Birthday!
People like you don't get older, you just keep getting better.
Be proud of your age – you'll qualify for a senior discount in no time.
Old enough to know better… young enough to do it anyway. Keeping this in mind, happy birthday my dear!
Be happy today. Good wine is old too.
How old are you getting again? I can't count that high.
If your colleague loves a good laugh, then you've definitely got a few good quotes to choose from.
You are searching for more funny quotes? Here will you find them.
Happy Birthday Wishes for a Coworker
Coworkers come in all shapes and sizes. Some seem tall and authoritative, others are soft-hearted and kind. But it goes without saying that each personality requires a certain type of birthday message.
If you are closer to your coworker then a message from the heart will be greatly appreciated. However, if you feel you don't really know the person, then a short and sweet message will always be a hit.
So here we have a mixed bag for all personality types to celebrate their special day:
"Pay attention to the small things in this world that make life richer and happier."
(Carl Hilty, Swiss politician, 1833-1909)
Age is just a number. As long as you stay exactly how you are, you will always be beautiful. Happy birthday dear colleague.
At your age the saying, "beauty comes from within" really does become more relevant. Happy Birthday.
Ah yes, the youth… young and full of energy. Do you still feel it or has it already started fading?
They say to never give advice on an empty stomach. So enjoy your birthday cake first and then think about what is to come. Happy Birthday, [insert name].
The secret to eternal youth is to lie when asked about your age!
Exercise makes you feel good – but so does champagne! All the best to our dearest colleague.
Another year, another story. We look forward to all the new ones we will make in the office as we celebrate another year of your life. Happy Birthday.
Have a wonderful day our dearest colleague, you deserve nothing but the best.
Happy Birthday [insert name]. May this day bring you so much happiness that your smile never fades.
May your birthday be the beginning of a new chapter in your life. Sending our congratulations from the office.
"The happiness of your life depends on the quality of your thoughts." (Mark Aurelius). Make the most of your special day and keep appreciating life. We are all proud of you and wish you the best on your special day.
Happy Birthday! I look forward to each and every birthday a little more because it means that we get to know each other better each year. I wish you the happiest of birthdays.
"I'm young enough not to know everything." (Oscar Wilde). Enjoy the wisdom you have gained over the years, and with that I wish you a happy birthday.
Remember yesterday, dream of tomorrow, and live for today. Happy Birthday!
We can't expect everybody to be the same – I mean, how boring would the workplace be? These quotes are here to give you exactly what you need.
Lovely "Happy Birthday" Messages to Your Colleague
If you're looking for warmth and sincere birthday messages for your colleague, then this is the section for you.
Here are a few heartfelt wishes for your use:
My dear colleague, today is your birthday which means it's time to kick back, celebrate, sleep late, and chat into the hours of the night without a worry in the world. Congratulations!
Dear [insert name], you always have a coffee in hand for me too and shower me with good advice. You leave me little notes so I remember to do things and help me figure anything out. You are more than just a colleague, you are a friend. I wish you all the best on your special day and send a tight squeeze your way.
"The two most important days in your life are the day you are born and the day you find out why."
(Mark Twain, American writer, 1835-1910)
I'm lucky to have a colleague like you, dear [insert name]. I wish you a wonderful birthday filled with sunshine and happiness. I hope you are surrounded by loved ones and majestically celebrated. May all your hopes and dreams come true!
"A new year of life is new grace, new light, new thoughts, new ways to reach your goals."
(Otto Riethmüller, German poet, 1889.1938)
As colleagues, we sincerely appreciate you. But just know that if you show up at work on your special day, we definitely won't know who you are! Enjoy your time off.
While others might spend a lot, I come with well wishes. My hands may not be overflowing with gifts, but know my congratulations come straight from the heart. Happy Birthday!
Your beauty hides another day where you become older, as your strength and wit keep becoming bolder. Happy Birthday.
"Celebrate each birthday as if it were your last, and remember that love is the only gift truly worth giving."
(Marie von Ebner-Eschenbach, Moravian-Austrian writer, 1830-1916)
We wish you good health and to never be sad for long, we say thanks to your parents for giving birth to somebody so strong.
These quotes are perfect when your colleague is more of a friend than just another coworker to you.
Short Birthday Quotes to Your Coworker
Sometimes you find yourself pressed for time and can't really prepare anything long. No need to worry, we have a few short but sweet quotes up our sleeve that are ideal for this situation.
Here are a few short quotes for you to use:
"Be a child of the sun for life, as only those who have light can give light."(Unknown). Your colleagues wish you a wonderful birthday.
Happy birthday dear colleague! Have a lovely day.
I wish you all the best on your special day today. Happy Birthday!
"The age you want spoils the age you have."
(Paul Heyse, German writer, 1830-1914)
Great to have you as a member of our team! Happy birthday [insert name].
Happy Birthday. I wish you the best and all the joy in the world in your new year of age, dear [insert name]!
We all wish you the happiest of birthdays. Stay healthy so you can stay with us for the years ahead!
I wish you all the love, courage, faith, happiness and a lot of strength for your plans in your new year.
Don't worry about getting older. You're simply getting more mature, interesting and smarter." (Unknown)
Thinking of you on your special day and wishing you nothing but the best.
These messages are ideal for a small greeting card on your colleague's desk and can also be equally as effective when sent as a quick message too.
Formal Birthday Messages for the Coworker
Sometimes your relationship in the workplace is a little less personal and a little more professional. That is nothing to worry about.
Here are a few birthday greetings that are more on the formal side:
"Worry be lame, stress be blind. Long live the birthday child!" (Theodor Fontane) Happy birthday from your work colleagues.
"On your birthday I wish that only good things cross your path and that God's blessings be with you at all times!" (Unknown). Happy birthday dear colleague.
Today, on your birthday, stay surrounded by happiness and joy so that you always go through life with a smile. Congratulations.
Dear [insert name]. We wish you good health and happiness on your birthday. Hope to see you here for many years to come!
Happy birthday dear [insert name], a big thank you for your constant support on this team and we warmly congratulate you.
Your work colleagues sincerely wish you the happiest of birthdays today!
Dear [insert name], the company wishes you a very happy birthday, good health for years to come, and an enjoyable day off.
On your birthday we send our regards and think of you. Wishing you all the best and good health for the future. Stay well!
Congratulations and all the best for the upcoming phase of your life, from the team.
Dear [insert name], your colleagues wish you a very happy birthday. Stay healthy and happy.
These quotes can be written from you as an individual or on behalf of your colleagues or work department. Simple but sophisticated.
Belated Birthday Quotes for the Coworker
It goes without saying that we've all been in a situation where we didn't manage to congratulate a work colleague on their actual birthday. Life happens.
Below are the ideal birthday wishes for your coworker after their special day:
This might come a little later than I had planned, but I send you my best birthday wishes. Your day went by undetected on my radar, but I hope you had a great time. Happy belated birthday!
So I didn't want your birthday to be over quite yet, that is why I'm only congratulating you now! All the best.
Birthdays tend to come by so suddenly! Dear [insert name], I wish you all the best for your birthday. I hope you had a lovely day filled with cake and no stress.
My congratulations is a little late, but I wish the best from the bottom of my heart, dear colleague.
Technically, every day is a birthday if you decide to make it one. With this in mind, happy birthday!
My dog ate your birthday card, so unfortunately my well wishes come a little late. Regardless, all the best.
It's not only you, I'm getting old and forgetful too. I'm sorry that I forgot your birthday, but I wish you a happy belated birthday!
I know how you feel about getting older and to miss the sting on the day, I'm congratulating you now. I wish you the best today and for many years to come.
I missed the day you were born and missed the day you were celebrated. Whoops! Don't be mad because I still love you, and understand that it remains a matter of principle. Regardless, I wish my favorite colleague a happy belated birthday!
My dear colleague, you had your birthday and I completely missed it. But still, I wish you the best every day and will never forget it again.
Honesty is the best policy, so it is always better to come clean if you have forgotten your colleagues birthday. With the use of our quotes, you can do the right thing.
Here you will find more belated birthday wishes.
Birthday Poems for Your Colleague
Sometimes you need more than a few little words to wish your colleague a happy birthday. For this, we have a number of poems that will help fill that space.
Here are a few short poems for your coworker on their birthday:
1)
Hip, hip, hooray, your birthday is here,
You get to avoid the office so I congratulate you and will steer,

Have a great time celebrating the day,
because before you know it your hair will be gray!

(Unknown)
2)
My dearest colleague,
I confess to you today,
you are my one and only,
who keeps me on my way.

If you weren't here I would've been long gone,
but thanks to you I've found my true purpose,
that I thought was forlorn.

Our boss might be an a**,
but you certainly are not,

Thank goodness for your sass,
because without it all joy would be lost.

(Unknown)
3)
Today is your birthday,
and so it shall be known,

that we wish you the best,
and look up to the strength that you own.

Your witt, laughter and love spreads all around,
Let today be the day we celebrate you as profound.

(Unknown)
4)
Happy birthday wishes to you,
we would've loved to have you here too.

But we know you have a free day,
and wish you health and happiness over your way.

Eat all the cake that you please,
just know that we'll celebrate you on Monday with ease.

Until then we wish you mounds of joy,
and raise our glasses to you with a cheerful "hoy!"

Cheers to your hopes and all of your dreams,
we're grateful for your presence and all that it means.

(Unknown)
5)
Because it's your birthday we cannot let go,
of the hugs that we send you all the way fro.

We invite you for a glass of wine,
to make your birthday more than just fine.

So off we head to the bar,
and let's go drink no matter how far.

Cheers to your health and all that comes your way,
We appreciate you like a friend that has been in our lives since the very first day.

These five short poems are sure to fill up a lovely card. Remember to include a little personal touch by adding a few words of your own. Your colleague will certainly feel the appreciation.

(Unknown)
You might also be interested in...