90 Charming Love Quotes for Her & 5 Poems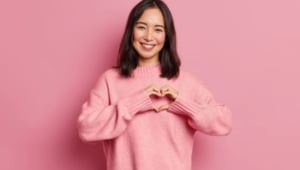 With love quotes for her, you can show your beloved how much she means to you. Here you can find the most beautiful quotes to express your love. Plus, we have five wonderful poems for your sweetheart.
Love is the most desirable thing in life for many people. When you find love, don't take it for granted. Rather, you should nurture your relationship and give support to your loved one. This sometimes requires a few nice words.
Use this collection as inspiration or use selected quotes to rekindle your romance and show her how much you love and appreciate her.
The Best Love Quotes for Her
Here you can find the most beautiful love quotes for your girlfriend, romantic quotes for your wife and sweet greetings for your significant other.
Whether short quotes or love sayings that make you think, no matter what the occasion — we provide the necessary inspiration and a suitable selection.
Romantic Love Quotes for Her
Use one of these sayings to show your sweetheart how she makes you feel and let a little more romance flow into your relationship again.
Being deeply loved by someone gives you strength, while loving someone deeply gives you courage.
(Lao Tzu, Chinese philosopher, 365 B.C.-290 B.C.)
Love is composed of a single soul inhabiting two bodies.
(Aristotle, Greek philosopher, 384-322 B.C.)
Time is too slow for those who wait, too swift for those who fear, too long for those who grieve, too short for those who rejoice, but for those who love, time is eternity.
(Henry van Dyke, American poet, 1852-1933)
We love life, not because we are used to living but because we are used to loving.
(Friedrich Nietzsche, German philosopher, 1844-1900)
I look at you and see the rest of my life in front of my eyes.
(Unknown)
I choose you. And I'll choose you over and over and over. Without pause, without a doubt, in a heartbeat. I'll keep choosing you.
(Unknown)
I wish I could turn back the clock. I'd find you sooner and love you longer.
(Unknown)
I realized I was thinking of you, and I began to wonder how long you'd been on my mind. Then it occurred to me: Since I met you, you've never left.
(Unknown)
You don't love someone for their looks, or their clothes, or for their fancy car, but because they sing a song only you can hear.
(Oscar Wilde, Irish poet, 1854-1900)
I could watch you for a single minute and find a thousand things that I love about you.
(Unknown)
"I Love You" Quotes for Her
Tell your loved one how much you love her with the following sayings.
You have bewitched me, body and soul, and I love… I love… I love you.
(Mr. Darcy in Pride and Prejudice, Jane Austen, British writer, 1775-1817)
You are my best friend, my human diary and my other half. You mean the world to me and I love you.
(Unknown)
When I say I love you more, I don't mean I love you more than you love me. I mean I love you more than the bad days ahead of us, I love you more than any fight we will ever have. I love you more than the distance between us, I love you more than any obstacle that could try and come between us. I love you the most.
(Unknown)
I love you and I don't want to lose you. Because my life has been better since the day I found you.
(Unknown)
I love you not because of anything you have, but because of something that I feel when I'm near you.
(Unknown)
I seem to have loved you in numberless forms, numberless times, in life after life, in age after age, forever.
(Rabindranath Tagore, Indian poet, 1861-1941)
I love you more than I have ever found a way to say to you.
(Unknown)
I love you neither with my heart, nor with my mind. My heart might stop, my mind can forget. I love you with my soul because my soul never stops or forgets.
(Unknown)
Tonight I can only say that I love you too well for my peace of mind, and that absence from you is death to me.
(Honoré de Balzac, French novelist, 1799-1850)
I love you because we are family and friends at the same time.
(Unknown)
More quotes to say "I love you" can be found here.
Short Love Quotes for Her From the Heart
Here you'll find short love quotes to send to your loved one via WhatsApp or to leave as a loving note on her nightstand. These quotes say "I love you" in a nutshell and are more than clear in their message.
Where there is love there is life.
(Mahatma Gandhi, Indian revolutionary, 1869-1948)
I feel that there is nothing more truly artistic than to love people.
(Vincent van Gogh, Dutch painter and graphic artist, 1853-1890)
Life is the flower for which love is the honey.
(Victor Hugo, French author, 1802-1885)
The love we give away is the only love we keep.
(Elbert Hubbard, American writer, 1856-1915)
I'm much more me when I'm with you.
(Unknown)
There isn't one person in the world that I want more than I want you.
(Unknown)
A hundred hearts would be too few to carry all my love for you.
(Henry Wadsworth Longfellow, American poet, 1807-1882)
If I had a flower for every time I thought of you… I could walk through my garden forever.


(Alfred Lord Tennyson, British poet, 1809-1892)

The way to love anything is to realize that it may be lost.
(Gilbert K. Chesterton, English writer, 1874-1936)
When we are in love we seem to ourselves quite different from what we were before.
(Blaise Pascal, French mathematician, 1623-1662)
You can find more short quotes in this article.
Cute Love Quotes for Your Girlfriend
It is especially the unexpected little gestures that make your girlfriend's heart beat faster. In this category, we have compiled especially cute quotes for you to express your love.
When I saw you, I was afraid to meet you. When I met you I was afraid to kiss you. When I kissed you, I was afraid to love you. Now that I love you, I am afraid to lose you.
(Unknown)
The greatest happiness of life is the conviction that we are loved; loved for ourselves, or rather, loved in spite of ourselves.
(Victor Hugo, French author, 1802-1885)
If raindrops were kisses, I'd send you showers. If hugs were seas, I'd send you oceans. And if love was a person I'd send you me.
(Emily Brontë, English novelist, 1818-1848)
The minute I heard my first love story I started looking for you, not knowing how blind that was. Lovers don't finally meet somewhere. They're in each other all along.
(Rumi, Persian Sufi mystic, 1207-1273)
We are shaped and fashioned by what we love.
(Johann Wolfgang von Goethe, German poet, 1749-1832)
Deep Quotes About Love for Her
Choose a saying from this category and complement it with some personal words or a shared story. With sayings from this category, you'll hit her right in the heart.
Love is of all passions the strongest, for it attacks simultaneously the head, the heart, and the senses.


(Lao Tzu, Chinese philosopher, 365 B.C.-290 B.C.)

One word frees us of all the weight and pain of life: That word is love.


(Sophocles, Greek poet, 496-406 B.C.)

Life without love is like a tree without blossoms or fruit.


(Khalil Gibran, Lebanese-American poet, philosopher and painter, 1883-1931)

Keep love in your heart. A life without it is like a sunless garden when the flowers are dead.
(Oscar Wilde, Irish poet, 1854-1900)
This feeling is so deep that I cannot resist it. It's impossible to live without you. I will always love you, my love.
(Unknown)
You had captured my heart the moment you smiled at me for the first time. Right then it happened around me

—

and since then I fall in love with you anew with every smile!
(Unknown)
Love does not dominate; it cultivates.
(Johann Wolfgang von Goethe, German poet, 1749-1832)
All, everything that I understand, I only understand because I love.
(Leo Tolstoy, Russian novelist, 1828-1910)
Beautiful Love Quotes About Relationships
The quotes from this category are especially suitable if you want to express with your words not only that you love them, but also for what and through what you love them in your relationship.
Here are sayings that touch the heart and at the same time make you think.
Absence sharpens love, presence strengthens it.
(Benjamin Franklin, American politician, 1706-1790)
Love takes up where knowledge leaves off.


(Thomas Aquinas, Italian theologian, 1225-1274)

Love is when he gives you a piece of your soul, that you never knew was missing.
(Torquato Tasso, Italian poet, 1544-1595)
Love is a canvas furnished by nature and embroidered by imagination.
(Voltaire, French writer, 1694-1778)
Once the realization is accepted that even between the closest human beings infinite distances continue, a wonderful living side by side can grow, if they succeed in loving the distance between them which makes it possible for each to see the other whole against the sky.
(Rainer Maria Rilke, Austrian storyteller and lyricist,1875-1926)
We loved with a love that was more than love.
(Edgar Allan Poe, American writer, 1809-1849)
Love is space and time measured by the heart.
(Marcel Proust, French author, 1871-1922)
"Good Morning, My Love" Quotes for Her
Wake up your wife or girlfriend with a sweet saying in the morning. If you don't live together, you can also send her a lovely message via WhatsApp.
The following sayings are from unknown authors.
Have a great day, my love. Thank you for making every day special and memorable for me. I love you so much.
Good morning to the love of my life. Get up and start brightening up my world once again.
Neither a cup of coffee nor sweet chocolate can make me feel better

—

all I need to think about is you to make a great start to my day. Good morning, beautiful!
Every morning for me is an opportunity to love you, care for you, and make you feel special all day long. Good morning, my love.
Good morning to the most gorgeous lady ever. I cannot even imagine starting my day without thinking about you. Have a nice day.
Good morning my love. A beautiful day is waiting outside just for you. Open your eyes and experience the excellence of nature around you.
I really hope you had a good sleep. Please wake up now because my mornings are incomplete without you. Good morning, my love.
If you're looking for more good morning wishes, check out this article.
Inspirational Quotes About True Love for Her
Sometimes quotes and sayings can make you think. At the same time, they can be romantic. Your beloved will surely be happy with the following sayings.
True love is eternal, infinite, and always like itself. It is equal and pure, without violent demonstrations: it is seen with white hair and is always young in the heart.
(Honoré de Balzac, French novelist, 1799-1850)
True love is like ghosts, which everyone talks about and few have seen.
(François de La Rochefoucauld, French author, 1613-1680)
Love does not consist of gazing at each other, but of looking outward together in the same direction.
(Antoine de Saint-Exupéry, French writer and pilot, 1900-1944)
I never knew what love was until I met you. Then when distance pulled us apart, I found out what true love is.
(Unknown)
Every person has to love at least one bad partner in their life to be truly thankful for the right one.
(Unknown)
Love is the crowning grace of humanity, the holiest right of the soul, the golden link which binds us to duty and truth, the redeeming principle that chiefly reconciles the heart to life, and is prophetic of eternal good.
(Petrarch, Italian poet, 1304-1374)
Gestures, in love, are incomparably more attractive, effective and valuable than words.
(François Rabelais, French clergyman, 1493-1553)
A loving heart is the beginning of all knowledge.
(Thomas Carlyle, Scottish essayist, 1795-1881)
Self-Love Quotes for Her
In today's world, some women do not find it easy to love themselves. Beauty standards and other social requirements often make us feel badly and it is not easy to love yourself.
That's why you can use the following sayings to help your girlfriend love herself more.
To love oneself is the beginning of a lifelong romance.
(Oscar Wilde, Irish poet, 1854-1900)
You can search throughout the entire universe for someone who is more deserving of your love and affection than you are yourself, and that person is not to be found anywhere. You yourself, as much as anybody in the entire universe, deserves your love and affection.
(Buddha, founder of Buddhism, 560 B.C.-483 B.C.)
Don't forget to love yourself.
(Søren Kierkegaard, Danish philosopher, theologian and writer, 1813-1855)
The right mental attitude will guide you towards feeling a sense of love that you deserve to experience.
(Unknown)
The real difficulty in self-love is combating the inner critic who goes against our own wishes by challenging our own beliefs. You know you're worthy of love, but the critic keeps reminding you of the past pain that you can't let go of.
(Unknown)
Funny Love Quotes for Her
Humor is probably one of the most important ingredients in a relationship, at least for most people. If so, make your wife or girlfriend laugh with the following quotes.
The following sayings are from unknown authors.
Love is telling someone that his zipper is open or her wig looks too fake.
Will you lend me a kiss? I promise to give it back.
I want to be the reason when you look down on your phone, you'll have this goofy smile on your face and jump up and down like a silly little girl, and then fall down a manhole.
The four most important words in any marriage: I'll do the dishes.
I tried to fall head over heels in love with you, then I realized you love heels so much I needed to fall heels over head in love.
Don't feel bad if you see your ex with someone else. Remember, our parents taught us to give the things we don't need to the less fortunate.
Some men are embarrassed to be loving; I'm just embarrassed it took me so long to figure out I love you.
Love relationships are like cooking. You keep adjusting the spice level to accommodate current tastes.
If I loved you with all my heart and soul, I'd be dead. So, I'm just gonna love you with most of my heart and soul.
I'm so in love with you I had to quit my job because I can't get out.
Still haven't found what you were looking for? Here are some more funny quotes.
Birthday Love Quotes for Her
If it's your wife or girlfriend's birthday and you're still looking for the right saying to congratulate them, here are some suggestions for you.
The following sayings are from unknown authors.
I have the most precious thing that life can offer to anyone. I have you, the most beautiful, gorgeous and lovable girl in the world. Happy birthday, love.
My beloved wife, I wish you a very happy birthday from the bottom of my heart. You have given me so much love that I cannot even process it. I hope today you feel my love too and have a wonderful day.
May the cheers of this day be with you in the coming years. May our love grow stronger each day. Happy birthday to my love.
You don't need a special day to remind me how important you are in my life. You are blessing my life every day and you deserve to be loved every day. Happy birthday.
I hope all your dreams come true just like you have made all my dreams come true by choosing to be my girlfriend/wife. Happy birthday, sweetheart.
If you haven't found the right saying yet, you can find more birthday wishes in this article.
Spanish Love Quotes for Her
Does your girlfriend or wife speak Spanish? Then surprise her with a sweet saying about love in one of the most romantic languages in the world.
El más poderoso hechizo para ser amado es amar.
(Baltasar Gracián y Morales, Spanish Jesuit, moral philosopher and writer, 1601-1658)
The most powerful spell to be loved is to love.
No tengo mucho para decirte porque lo único que quiero que sepas es que te quiero.
(Unknown)
I don't have much to say to you because all I want you to know is that I love you.
No sé cómo lo consigues, pero cada día te amo más.
(Unknown)
I don't know how you do it, but I love you more every day.
Te quiero no solo por cómo eres, sino por cómo soy yo cuando estoy contigo.
(Unknown)
I love you not only because of the way you are, but because of the way I am when I am with you.
El alma que hablar puede con los ojos, también puede besar con la mirada.
(Gustavo Adolfo Bécquer, Spanish Romantic poet and writer, 1836-1870)
The soul that can speak with its eyes can also kiss with one look.
Love Poems for Her
Poems make great gifts for anniversaries or holidays. They illustrate care, devotion and effort that is appreciated. Here are loving poems for you to recite or write down for your sweetheart.
1)
Love and Friendship
Love is like the wild rose-briar,
Friendship like the holly-tree—
The holly is dark when the rose-briar blooms
But which will bloom most constantly?
The wild rose-briar is sweet in spring,
Its summer blossoms scent the air;
Yet wait till winter comes again
And who will call the wild-briar fair?
Then scorn the silly rose-wreath now
And deck thee with the holly's sheen,
That when December blights thy brow
He still may leave thy garland green.
(Emily Brontë, English novelist, 1818-1848)
2)
How Do I Love Thee? (Sonnet 43)
How do I love thee? Let me count the ways.
I love thee to the depth and breadth and height
My soul can reach, when feeling out of sight
For the ends of being and ideal grace.

I love thee to the level of every day's
Most quiet need, by sun and candle-light.
I love thee freely, as men strive for right.
I love thee purely, as they turn from praise.
I love thee with the passion put to use
In my old griefs, and with my childhood's faith.
I love thee with a love I seemed to lose
With my lost saints. I love thee with the breath,
Smiles, tears, of all my life; and, if God chooses,
I shall but love thee better after death.
(Elizabeth Barrett Browning, English poet, 1806-1861)
3)
She Walks in Beauty
She walks in beauty, like the night
Of cloudless climes and starry skies;
And all that's best of dark and bright
Meet in her aspect and her eyes;
Thus mellowed to that tender light
Which heaven to gaudy day denies.
One shade the more, one ray the less,
Had half impaired the nameless grace
Which waves in every raven tress,
Or softly lightens o'er her face;
Where thoughts serenely sweet express,
How pure, how dear their dwelling-place.
And on that cheek, and o'er that brow,
So soft, so calm, yet eloquent,
The smiles that win, the tints that glow,
But tell of days in goodness spent,
A mind at peace with all below,
A heart whose love is innocent!
(Lord Byron, British poet, 1788-1824)
4)
Love Is a Fire That Burns Unseen
Love is a fire that burns unseen,
a wound that aches yet isn't felt,
an always discontent contentment,
a pain that rages without hurting,
a longing for nothing but to long,
a loneliness in the midst of people,
a never feeling pleased when pleased,
a passion that gains when lost in thought.
It's being enslaved of your own free will;
it's counting your defeat a victory;
it's staying loyal to your killer.
But if it's so self-contradictory,
how can Love, when Love chooses,
bring human hearts into sympathy?
(Luís Vaz de Camões, Portuguese's greatest poet, c. 1524-1579/80)
5)
Of All the Things I've Come to Know
Of all the things I've come to know,
My love for you continues to grow.
Like the sun that rises every day,
My feelings for you will never sway.
Your smile, your laugh, your gentle touch,
All the things I love so much.
In your eyes, I see the stars above,
And I know that I am truly in love.
(Unknown)