130 "Best Friend" Quotes + 3 Tips to Write Sayings for your Bestie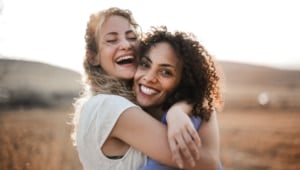 There are plenty of occasions to show appreciation and gratitude to your best friend with beautiful sayings. We have a compiled a variety of quotes, short and long, funny and crazy sayings for you. Your best friend is guaranteed to be delighted by this surprise.
Sayings for your best friend strengthen your friendship and help you to put your thoughts into words. They are just as nice as a spontaneous surprise or for a special occasion, such as your Bestie's birthday.
The Most Beautiful Quotes and Sayings for Your Best Friend
Sayings with a picture let your best friend know, that he or she is very special to you. They are a little like love quotes, just not quite as intense. This does not mean they are less meaningful. Quite the contrary, they can work wonders, especially during difficult times in your friendship.
In the next chapters you will find beautiful sayings about true friendship and the love between two Besties.
If you just want to say "thank you" to your bestie, you will find the right sayings here.
Short Quotes for Your Best Friend
If you are short of words and not the type for emotional, long texts, a short friendship saying with a picture will help. It's not too cheesy and still contains a lot of sentiment and emotion.
Make your bestie happy by showing her your gratitude. Short sayings are also great for gift tags or to fill some space in your greeting card.
A flower blooms only for a short time, our friendship blooms for eternity.
(Unknown)
Friendship – with you by my side, I can do anything.
(Unknown)
A friend understands your past, believes in your future, and accepts you in the present just as you are.
(Unknown)
Love comes and goes, but friendship remains.
(Unknown)
We have found each other. We are one now.
(Unknown)
You are my rock on which I can always save myself.
(Unknown)
I cherish you and your honesty. I love you.
(Unknown)
Keep your word. Hold hands. Hang in there. You and I can do anything.
(Unknown)
Time doesn't heal wounds. Friends heal them.
(Unknown)
Here you can find more short quotes.
Crazy and Funny Quotes and Jokes about a Best Friend
In a friendship, there is usually lots of laughing, and you tend to share the same sense of humor. However, not every friendship is right when it comes to funny or crazy friendship sayings.
Should you decide to use one of the funny sayings, be sure your Bestie won't take it the wrong way. Funny quotes are also useful if you find it hard to talk about your feelings.
With you, even doing nothing is fun. I am keeping you.
(Unknown)
You are my best friend because you are just as crazy as I am.
(Unknown)
I love talking to you about things we have talked about a thousand times. It's fun every time.
(Unknown)
Who doesn't know this about great friends: You walk up to each other and start smiling 30 meters before you get to each other.
(Unknown)
I'm so glad you are my best friend. That way, I don't always have to clean up the place when you visit.
(Unknown)
A true friend is like a bra: hard to find, supportive, comforting, uplifting, and close to your heart.
(Unknown)
Remember, we are besties. I am always here to help you whether you are up or down. But only after I am done laughing.
(Unknown)
You're really stupid. You have really questionable morals. Also, you're totally childish. So really, you are everything I ever looked for in a best friend.
(Unknown)
A true friend doesn't need to ask why you're crying. She just wants to know who to beat up.
(Unknown)
Don't worry, I only tease people I like.
(Unknown)
Your friends always have your back. So they can always kick your butt and put funny stickers on your back.
(Unknown)
Friendship knows no constraints.
(Unknown)
Friends are like shoes. When you are young, you can't get enough of them, and later you realize it's always the same ones you feel comfortable with.
(Unknown)
I like you because with you, even senseless conversations make sense.
(Unknown)
You are crazy. But the greatest girls are always a little crazy. Well, so am I. So let me summarize: I'm great, you're great. I'm so glad we know each other.
(Unknown)
Sweet Quotes for Your Best Friend
These sweet best friend sayings look good on a cute card. These quotes are perfect to express your special bond. You have been through it all together, and sometimes it is hard to find the right words.
So if you are looking for a sweet quote for your Bestie, look no further. We have compiled a number of cute sayings, which are great to show your Bestie how much she means to you.
Girls can survive without a boyfriend, but they can't survive without a best friend.
(Unknown)
One friend can change your whole life.
(Unknown)
Friendship isn't a big thing. It's a million little things.
(Unknown)
Nothing could ever replace my best friend.
(Unknown)
If you want to go fast, go alone. If you want to go far, go together.
(African Proverb)
Sometimes being with your best friend is all the therapy you need.
(Unknown)
Best friends believe in you when you don't believe in yourself.
(Unknown)
In the sweetness of friendship let there be laughter, for in the dew of little things the heart finds its morning and is refreshed.
(Khalil Gibran, Lebanese-American poet, philosopher and painter, 1883-1931)
Let us be grateful to the people who make us happy; they are the charming gardeners who make our souls blossom.
(Marcel Proust, French author, 1871-1922)
It's not what we have in life, but who we have in our life that matters.
(Unknown)
A real friend is one who walks in when the rest of the world walks out.
(Walter Winchell)
Best friends are the people in your life who make you laugh louder, smile brighter, and live better.
(Unknown)
A friend who understands your tears is much more valuable than a lot of friends who only know your smile.
(Unknown)
A friend is someone who understands your past, believes in your future, and accepts you just the way you are.
(Unknown)
A friend is one who overlooks your broken fence and admires the flowers in your garden.
(Unknown)
Birthday Quotes for Your Bestie
Your Bestie's birthday is just as special as your own. The two of you are most likely going to celebrate the day together, and you want your best friend to have the time of her life. After all, you are celebrating the day of their entry into this world.
Whatever you end up doing, you will also want to give your Bestie a special present with a birthday card. Friends are family we chose, so we should make an extra effort and let them know how much they mean to us.
Can't find the right words to put in the card or on social media? Finding the right words can be difficult, but don't worry, we have some special birthday quotes and sayings appreciating friendship for your bestie which they will truly cherish.
Happy National You Day!
(Unknown)
Wishing my favorite partner in crime a very happy birthday!
(Unknown)
Happy birthday to the best confidante!
(Unknown)
Happy birthday to my best friend in the whole wide world!
(Unknown)
I can't think of a better gift than your friendship. Happy birthday!
(Unknown)
Happy birthday, bestie. I was going to get you the best present ever, but sadly, I'm too big to fit in the box.
(Unknown)
Close friends are truly life's treasures. Sometimes they know us better than we know ourselves.
(Vincent van Gogh, Dutch painter and graphic artist, 1853-1890)
A good friend is like a four-leaf clover; hard to find and lucky to have.
(Irish Proverb)
A sweet friendship refreshes the soul.
(Proverbs 27:9)
Life was meant for good friends and great adventures.
(Unknown)
Life is nothing without friendship.
(Marcus Tullius Cicero, Roman orator and statesman, 106-43 B.C.)
What is a friend? A single soul dwelling in two bodies.
(Aristotle, Greek philosopher, 384-322 B.C.)
Friendship is the wine of life.
(Edward Young, English poet, 1683-1765)
But friendship is precious, not only in the shade, but in the sunshine of life, and thanks to a benevolent arrangement the greater part of life is sunshine.
(Thomas Jefferson, Founding Father of the United States, 1743-1826)
There is nothing on this earth more to be prized than true friendship.
(Thomas Aquinas, Italian theologian, 1225-1274)
Inspirational "Best Friends" Quotes for Instagram
Instagram is one of the most popular mediums of social media today, and you should take the opportunity to show off your Bestie publicly. After all, you are besties, and you can't post something nice for them.
Your quote should be inspirational and special, just like your friendship. To give you some ideas and help you find just the right quote for Instagram, we have some sayings to celebrate your friendship with your Bestie on Instagram.
He who sees a true friend somehow sees a reflection of himself.
(Marcus Tullius Cicero, Roman orator and statesman, 106-43 B.C.)
A friend is someone who likes you even though he knows you!
(Elbert Hubbard, American writer, 1856-1915)
If you gave a man all the glory in the world – what good is it if he has no friend to tell?
(Catharina Elisabeth Goethe, Mother of Johann Wolfgang von Goethe, 1731-1808)
Friendship is better than kinship.
(Marcus Tullius Cicero)
Of all the gifts that fate grants us, there is no greater good than friendship – no greater wealth, no greater joy.
(Epicurus of Samos, Greek philosopher, 341 B.C.-270 B.C.)
Friendship is the noblest feeling of which the human heart is capable.
(Carl Hilty, Swiss politician, 1833-1909)
Friendship is surely the best balm for the wounds of a disappointed love.
(Jane Austen, British writer, 1775-1817)
Friendship: the oncoming of life.
(Rudolf Eucken, German philosopher, 1846-1926)
To find people who feel and feel with us is probably the most beautiful thing on earth.
(Carl Spitteler, Swiss poet, 1845-1924)
Friendship is when it is liberating to open up and be rewarded for one's vulnerability.
(Unknown)
Friendship, that is one soul in two bodies.
(Aristotle, Greek philosopher, 384-322 B.C.)
True friendship is as rare as winning the lottery.
(Unknown)
He who seeks friends without faults remains without friends.
(English Proverb)
A little friendship is worth more to me than the admiration of the whole world.
(Otto von Bismarck, German politician, 1815-1898)
Really good friends are people who know us very well and still stand by us.
(Marie von Ebner-Eschenbach, Moravian-Austrian writer, 1830-1916)
Friendship is like home.
(Kurt Tucholsky, German journalist, 1890-1935)
The most beautiful gift that the gods bestowed on mankind is friendship. Some may also praise wealth, power, honor or health, I prefer friendship and wisdom to all other goods. In fortune as in misfortune, man desires friendship most of all.
(Marcus Tullius Cicero, Roman orator and statesman, 106-43 B.C.)
When you move away from the mountains, you see them in their true form; it is the same with friends.
(Hans Christian Andersen, Danish author, 1805-1875)
You and I: we are one. I cannot hurt you without hurting myself.
(Mahatma Gandhi, Indian revolutionary, 1869-1948)
Here you find more good ideas for your instagram caption.
"To my Best Friend": Sayings as a Proof of Love
Friendship is something precious and can make life so much easier and more rewarding. Girls and ladies in particular love to show each other how much they mean to each other.
True friendship is almost like a relationship. So an especially close bond exist between best friends as well. They care and look out for each other, put their friends needs above their own, and miss each other. They take responsibility for each other and sometimes can even get a little jealous.
"Best Friend Forever" Quotes
Best friend forever quotes are a perfect way to show how much you mean to each other. Our best friends quotes are the perfect way to express your love and gratitude for our dearest friend in a special and unique way.
Whether you post your quote on your Besties social media, write it in a card or a gift tag, a truly heartfelt message will be long remembered.
Always together, never apart. Maybe in distance, but never in heart.
(Unknown)
A best friend won't agree with you to make you happy. If anything, they will say what needs to be said, no matter if you want to hear it or not.
(Unknown)
Everyone is someone's friend, even when they think they are all alone.
(Unknown)
You only really fall apart in front of the people you know can piece you back together.
Besides chocolate, you're my favorite.
(Unknown)
Friends should be like books, few, but hand-selected.
(Unknown)
Dear Bestie, thank you for being my unpaid therapist.
(Unknown)
When life gives up on you, know that your best friend will always be there.
(Unknown)
A best friend is someone who makes you laugh when you think you can never smile again.
(Unknown)
When life gives up on you, know that your best friend will always be there.
(Unknown)
Friends come and go like the waves of the ocean, but the true ones stick, like an octopus on your face.
(Unknown)
Best friends are like stars, you don't always see them, but you know they're always there.
(Unknown)
A best friend reaches for your hand and touches your heart.
(Unknown)
Quotes about Sisters that are Besties
You grew up together, played together, fought each other and experienced many adventures together. Sisters share a bond like no other, and whilst they also have arguments, they stick together. Whether you are the wild big sister or the responsible younger one, you will always protect and love your sister.
If your sister is also your Bestie, chances are she will be for life. You can always count on her, no matter what the situation. To show your love and appreciation to your much loved sister, we have collected some truly heart-warming, sweet and short and funny sayings to surprise her with.
Sisters are the best kind of friends – there is no friend like a sister.
(Unknown)
A sister is a little bit of childhood that can never be lost.
(Unknown)
My sister, my friend.
(Unknown)
Sisters through thick or thin. I'm glad we are friends.
(Unknown)
I never made any close or best friends, maybe because I already had one as my sister.
(Unknown)
Comfort is knowing your sister is there when you need her the most.
(Unknown)
I will always be happy to give you a helping hand, no matter how old we get.
(Unknown)
How blessed am I to have a sister like you. I hope you also have all the blessings.
(Unknown)
In the cookies of life, sisters are the chocolate chips.
(Unknown)
Sister to sister we will always be, a couple of nuts off the family tree.
(Unknown)
Sweet is the voice of a sister in the season of sorrow.
(Benjamin Disraeli, British statesman, 1804-1881)
I'm smiling because we're sisters. I'm laughing because there's nothing you can do about it.
(Unknown)
Among the merits and the happiness of Elinor and Marianne let it not be ranked as the least considerable that though sisters, and living almost within sight of each other, they could live without disagreement between themselves.
(Jane Austen, British writer, 1775-1817)
I would like more sisters, that the taking out of one, might not leave such stillness.
(Emily Dickinson, American poet, 1830-1886)
Sisters are different flowers from the same garden.
(Unknown)
Here you find more beautiful sayings about sisters.
Quotes about a Guy Best Friend
Your Bestie doesn't necessarily have to be a girl, having a male best friend is just as awesome. Or you could of course have both a male and female Bestie. Male Besties protect you, go on adventures with you, and you can talk to them about anything. They are a rock for you to lean on and treat you like family.
Want to thank your Bestie and send him some nice words or a friendship card? It can be difficult to put your thoughts in words sometimes to tell your Bestie what your friendship means to you. To make it a bit easier for you, we have some awesome and touching quotes for your male Bestie right here.
Real friendship is when your friend comes over to your house and then you both just take a nap.
(Unknown)
What a comfort is friendship in this world.
(Virginia Woolf, English writer, 1882-1941)
Some people go to priests. Others to poetry. I to my friends.
(Virginia Woolf)
There are three things that grow more precious with age; old wood to burn, old books to read, and old friends to enjoy.
(Henry Ford, American businessman, 1863-1947)
One loyal friend is worth ten thousand relatives.
(Euripides, Greek poet, 480-406 B.C.)
True friends are those rare people who come to find you in dark places and lead you back to the light.
(Unknown)
One of the most beautiful qualities of true friendship is to understand and to be understood.
(Lucius Annaeus Seneca, Roman philosopher, c. 4 B.C.-65 A.D.)
Friendship is the source of the greatest pleasures, and without friends even the most agreeable pursuits become tedious.
(Thomas Aquinas, Italian theologian, 1225-1274)
A friend is one that knows you as you are, understands where you have been, accepts what you become, and still, gently allows you to grow.
(William Shakespeare, English playwright, 1564-1616)
Throughout your life, you will meet a person like no other. You could talk to this person for hours and never get bored, you could tell this person things and they will never judge you. This person is Your soulmate, your best friend. Don't ever let them go.
(Unknown)
Friendship is always a sweet responsibility, never an opportunity.
(Khalil Gibran, Lebanese-American poet, philosopher and painter, 1883-1931)
Best friends don't necessarily have to talk every day. They don't even talk for weeks. But when they do, it's like they never stop talking.
(Unknown)
A strong friendship doesn't need daily conversations and doesn't always need togetherness. As long as the relationship lives in the heart, true friends will never part.
(Unknown)
"Missing my Best Friend": Cute Sayings for your Bestie
Besties can't always be together. When you finish school and attend university, the two of you might be far away from each other. Sometimes your best friend is on vacation, and you want to send a cute "I miss you" greeting to her?
No matter the reason you are apart, a cute quote letting your best friend know that you miss them will put a big smile on their face and lets them know you are thinking of them.
We have some examples for you of what you can send your Bestie when you miss them.
Missing a friend is like trying to forget what happiness is.
(Unknown)
I just wanted you to know that you are missed.
(Unknown)
I miss my friend like an idiot misses the point.
(Unknown)
When I miss my best friend, I miss my happiness.
(Unknown)
I wish I had done everything on earth with you.
(F. Scott Fitzgerald, American novelist, 1896-1940)
True friends, isn't being inseparable, it's being separated and nothing changes.
(Unknown)
Good friends are like stars. You don't always see them, but you know they're always there.
(Unknown)
That friend who you may not see very often, but the moment you reconnect feels like yesterday.
(Unknown)
I miss you when something really good happens, because you are the one I want to share it with.
(Unknown)
It's crazy how you can go months or years without talking to a person, but they still cross your mind every day.
(Unknown)
A day without you is like a day without coffee. And you know how much I love my coffee, right? Missing you big time.
(Unknown)
Though miles may lie between us, we are never far apart, for friendship doesn't count miles.
(Unknown)
There is no agony like the one I feel when I miss my best friend.
(Unknown)
As long as we both share the same sky and breathe the same air, we will remain best friends to each other. I miss you!
(Unknown)
Occasions for Bestie Quotes
Sometimes it's just nice to say it: You are my best friend. Maybe she didn't even know that you see her that way and that she means so much to you. There are a few occasions that are particularly suitable for such a "friendship confession".
For example, you can fill a birthday card with a friendship saying and a self-written text and make your best friend's day. These are the perfect occasions to send your Bestie a sweet saying:
Before a going abroad
After a quarrel
When life gets difficult (here, proof of your friendship can act like a motivational saying)
On a birthday
For a wedding, silver wedding or golden wedding anniversary
Just like that via WhatsApp
At Christmas
For New Year
To wish a speedy recovery
When your best friend is suffering from breakup pain
To say thank you for something
For an emotional expression of sympathy
To wish a good night
To wish a good morning
For the birth of a child
For Valentine's Day
Congratulations on graduation day
How to Send Quotes to Your Best Friend
There are so many ways to deliver a lovely saying to your best friend. On the one hand, there are the usual modern channels like WhatsApp, Facebook, Instagram, SMS, email and so on.
But if you want to do something special for your Bestie, you can send him or her a card or a letter by mail or even frame the friendship saying and give it to them as a gift. That way, your best friend can hang it up and cherish it every day. Print out the saying or write it down neatly. A few embellishments are always a nice addition.
Another option is to make a collage of sayings and photos of you. Maybe even add a few insiders for that personal touch. Besides, it's also a sweet gesture to simply print out a photo of you and your best friend and write a friendship saying and the date on the back.
Tips for Writing Your Own "Best friends" Quotes
There are an incredible amount of friendship sayings that are suitable for your best friend. But if you want to give your Bestie something that is especially personal and tailored to your friendship, you should write your friendship sayings yourself. We have a few tips for you that will make writing them easier.
To make it more special, you can use storytelling as well as letter technique or insiders only you and your Bestie know about.
Storytelling
Think about it: what is friendship to you, and does your best friend meet or exceed those expectations? What have you experienced together?
The storytelling method will help you quickly find suitable content for your friendship saying. Relive old memories or mention positive aspects of your friendship.
Letter Technique
The letter technique is a little food for thought and inspiration by giving you the first letter of your word or phrase.
For example, take your best friend's name and write one of her good qualities for each letter in her name. If you write the letters of her name vertically one below the other, your saying will be especially nice to look at.
In the trade, a poem that begins with certain initial letters is called an "acrostic."
Insider or Your Own Quotes
Do you have a particular insider that you always revisit? Immortalize it in a saying, so you'll never forget it. Remember something cute or funny your friend once said?
Show her that you listened and that her words mean something to you: write it down. Even if you have pet names for each other, you can include them.