Sister Quotes: 70 Sayings + 5 Tips for Sending Them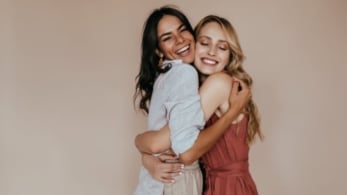 Whether you need something for a special occasion or simply as a surprise – we have compiled the most beautiful sister quotes for you. In addition, you will find some great tips for sending the quotes.
The relationship between sisters is sometimes difficult to put into words. For this reason, we have many different quotes for you, so you are guaranteed to find a saying that suits you and your sister.
The 70 Best Sister Quotes
For some people, their sister is their best friend; for others their sister is the favorite person to fight with and they have a testy relationship.
In any case, your sister will be pleased with a nice saying with which you can show her how much she means to you.
Beautiful Quotes for Your Sister
In this chapter, you will find loving and beautifully worded sayings about the love between two sisters. They are suitable if you have an intimate relationship with your sister – whether you are the big sister or the little one.
The love between two sisters is unconditional.
(Unknown)
For there is no friend like a sister in calm or stormy weather; To cheer one on the tedious way, to fetch one if one goes astray, to lift one if one totters down, to strengthen whilst one stands.
(Christina Rossetti)
A sister is a piece of childhood that remains forever.
(Unknown)
A sister is more than a lifelong friend, because she gives joy and love to eternity.
(Unknown)
In the cookies of life, sisters are the chocolate chips.
(Unknown)
If you would only see yourself through my eyes for one day, you would know what a wonderful person you are.
(Unknown)
Because of you, I laugh louder, I cry less, and I smile more.
(Unknown)
Many people have sisters, but I am overjoyed to have you of all people as my sister.
(Unknown)
Life made us sisters. Our hearts made us friends.
(Unknown)
My sis, we shared so many wonderful moments together. This will bond us together forever.
(Unknown)
Funny Sister Quotes to Laugh About
If you and your sister share the same humor, you're sure to find a quote to make her laugh. For example, put a smile on her face in the morning or send her a funny sisterly saying for her birthday.
If you have a more distant relationship with each other, you can opt for something else, but you might find something her anyways.
Sisters don't need words. They have perfected their own secret language of smiling, sniffling, sighing, gasping, winking and rolling their eyes.
(Unknown)
Never let an angry sister brush your hair.
(Unknown)
I'm smiling because we're sisters. I'm laughing because there's nothing you can do about it.
(Unknown)
A sister will let you know when the outfit you're trying on really doesn't look fabulous.
(Unknown)
Siblings are the only people in your life who annoy you for their own amusement, but punish anyone else who tries to do the same at your expense.
(Unknown)
Sister, you laugh, I laugh. You cry I cry. If you jump off a cliff, remember to do a flip!
(Unknown)
Behind every little sister you mess with, there's a big sister you'd better not mess with.
(Unknown)
You're the best sister in the world and I wouldn't trade you for anything – except maybe a unicorn!
(Unknown)
You are the person who can make me laugh the best. It's enough just to see your face.
(Unknown)
I saw the fairy coming your way, I knocked her out! I have always got your back sister!
(Unknown)
You think I'm crazy? You should meet my sister!
(Unknown)
Sibling love is a strange thing. I'd take a bullet for my sister, but she won't get my new t-shirt!
(Unknown)
We're sisters. If I'm mad at someone, you are too. End of story.
(Unknown)
If I say I won't tell anyone, my sister doesn't count.
(Unknown)
You are my sister. That means you. unfortunately. can't. get. rid. of. me. I. am. always. there. Remember that.
(Unknown)
Here's more to laugh about
Birthday Wishes for Your Sister
On her birthday, you'll want something special to congratulate your sister. She probably knows you like no other person in your life.
Even if there have been quarrels or you have drifted apart, sisters usually make up and quickly forget why they were fighting in the first place.
Make your sister feel good on her birthday and show her that you are grateful for her.
I am very happy to have you as my big sister. You made my childhood a paradise.
(Unknown)
Thank you for existing. You deserve nothing but the best and I don't know anyone else who has such a great sense of humor and brave, fun-loving nature as you.
(Unknown)
Even though we argue a lot sometimes, there's nothing like the love of a sister. You can always count on me, sis!
(Unknown)
You have always been my great role model, my inspiration, my heroine. I wish you a happy birthday, sis!
(Unknown)
Only the best birthday wishes today for my sister: love, joy, sunshine, good food, good company and lots of wine.
(Unknown)
Happy birthday to my favorite sister! Wait, don't tell the others and get me in trouble!
(Unknown)
With you, life is exciting, fun and just plain beautiful. Happy Birthday, sister!
(Unknown)
Siblings are the only people who understand each other without talking to each other. I'm glad you know me so well and always understand. I love you infinitely, sis!
(Unknown)
When all the candles no longer fit on the cake, then you realize that you are old. But you will always be my little sister.
(Unknown)
Happy Birthday, Sis! I am so thankful that you exist and wish you a lot of happiness, great experiences and all the happiness in this world for your new year of life.
(Unknown)
You can find many more birthday wishes for your sister here.
Sister Quotes to Express Gratitude
The following sayings for sisters address the special bond between siblings. They express appreciation and gratitude. That's why they're great for big sisters and for little sisters – and also if you're just proud of your family.
No matter what, I'll always stand by you, because you're my sister.
(Unknown)
When someone hurts you, they hurt me too. If you are happy, so am I. We sisters stick together.
(Unknown)
Sisters should stick together to make life more beautiful. After all, what's better in the world than a relationship that lasts forever?
(Unknown)
Thank you for understanding me even without words. We always stick together.
(Unknown)
A sister understands your past, believes in your future and accepts you as you are.
(Unknown)
We've gotten through many things because we've always been there for each other. Without that support, I wouldn't be where I am today. Thank you, sis.
(Unknown)
Happiness is being with my sister.
(Unknown)
When you're on life's journey, it's good to have a sister's hand to hold on to.
(Unknown)
Sisters are like angels who lift us up again when our wings have forgotten how to fly.
(Unknown)
When you mess with a big sister, there's always a smaller, crazier sister behind her that you don't want to mess with. I'm glad you always have my back, little sister. Love you!
(Unknown)
Quotes and Sayings about Siblings and Family
The following quotes and sayings are a bit more general. They address the love siblings have for each other and the support of family. Write them to your sister if you want to show how grateful you are in general for having such a great family as yours.
This will also make her think for a moment about how lucky she is to have you as a sister and to have your family. Maybe one of the quotes will inspire you to write a short one of your own.
Family: Where life takes its beginning and love never ends.
(Unknown)
A happy family is but an earlier heaven.
(George Bernard Shaw)
In family life, love is the oil that eases friction, the cement that binds closer together, and the music that brings harmony.
(Friedrich Nietzsche)
Never live without laughing. For there are people who live on your laughter.
(Unknown)
Having somewhere to go is home. Having someone to love is family. And having both is a blessing.
(Unknown)
Wherever people are and live, they should be brothers and sisters to each other.
(Unknown)
Siblings are never alone. They always carry each other in their hearts.
(Unknown)
The family is one of nature's masterpieces.
(George Santayana)
In a family, you don't have to prove yourself to be loved. Family loves you as you are, with all your facets.
(Unknown)
You are the bows from which your children as living arrows are sent forth.
(Khalil Gibran)
Short Sister Quotes for Social Media
In this section we have collected some especially short quotes for you. They are well suited for social media, Instagram, and Co. Or make for a nice gift card or tag on a present.
You should always add a few personal words, if you're using a short saying in a gift card. This way you make good use of the space and it doesn't look like you didn't know what to say.
What you can always add to a short saying
I love you.
You're awesome.
Thank you for existing.
I miss you.
You are incredibly important to me.
Stay as wonderful as you are.
Sis, we are one, forever.
(Unknown)
A loyal sister is worth a thousand friends.
(Unknown)
My sister has the best sister.
(Unknown)
Side by side or miles apart, sisters will always be connected by heart.
(Unknown)
Sibling love is the most beautiful connection there is.
(Unknown)
Who needs a superhero when you have a sister?
(Unknown)
A sister is a golden thread for the meaning of life.
(Unknown)
The greatest gift our parents ever gave us was each other.
(Unknown)
Sometimes it is even better to be a sister than a princess.
(Unknown)
Sisters are different flowers from the same garden.
(Unknown)
Sister and friend. Two words that mean the same thing.
(Unknown)
Sisters are there to share laughter and dry tears.
(Unknown)
All you need is love… and a sister.
(Unknown)
A sister just gets it.
(Unknown)
My sister brightens the day by just being herself.
(Unknown)
Sis/Sissy as a nickname
The term "sis" or "sissy" is a nickname for your sister. It shows that she means a lot to you and you can incorporate it into any saying or short text to her. Or maybe you have a private nickname for each other that you can use.
Tips for Sending Something to your Sister
In this part, we have some tips on the best way of sending one of these quotes to your sister. You can use social media, or other messengers or even send something by the mail. You can give away sayings by having them framed or engraved.
Be Open and Honest
When you dedicate a saying to your sister, honesty and openness are very important. Show emotion and speak from your heart. After all, the message should not seem like any other quote, but specially tailored to her.
It's best to find a few words of your own to add to one of our quotes. You can easily rewrite some of our short quotes to your specific situation and put them in your own words.
If you do not know what to write, you can always fall back on common experiences and memories. They will take your sister back to a nice moment you shared and lift her spirits. Plus, it lets her know you've really put some thought into it.
Combine the Quote or Message with a Picture
If you send one of our sayings for sisters by text or by mail, you can add a beautiful picture. Here you have the following options:
Choose a background image, write a saying on it and send it as a picture (use an app or your phone image editor to edit it)
Combine photo of you with a saying and send online or put/paste it in a card
Send a photo of you and record the quote as a voicemail
Make a video of you reciting the saying to your sister
Write a Quote in a Card
Special occasions like your sister's birthday, Christmas or New Year's Eve are always a good time to write a card. But you can also give your sister a card with a nice saying without a special occasion.
To do this, choose one or more quotes that best fit your personal relationship. Another option is to write a saying on one side of the card and a personal text on the other side. That way, your gesture is even more heartfelt and your sister sees that you've put some thought into it.
Record a Quote for Your Sister
Sayings aren't just something you can send and write in cards. You can also present them as a gift in a frame. To do this, simply choose a beautiful quote and paint it on canvass or print it out. Then choose a matching frame in a color that your sister might like.
Gold, silver, white, black or wood tones are compatible with most colors. Choose colorful frames if you know your sister likes it a bit gaudy.
You can design the page or even the frame as you like. It can be a small frame that she can just put anywhere or a big one for the living room. No matter where, she will always think of you when she sees it.
Let an Engraving or Print Be Made
Just like a framed saying, an engraving or print makes for a wonderful gift for your sister. Depending on her hobbies and what suits her, you can customize it for specifically for her.
Ideas for great engravings and prints with saying are:
Wine or champagne glass
Mugs
Ballpoint pens
Jewelry
Breakfast boards
T-shirts
Keychains
When personalizing your gift, be sure to check for quality. Read through the reviews or contact the manufacturer for special requests.
Also, keep an eye on delivery times, if you want your gift to arrive on time for a special occasion like a holiday or your sister's birthday. With these quotes, you'll be sure to find something nice.