Happy Mother's Day: 67 quotes + 5 tips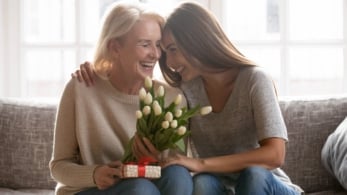 You can write Mother's Day's quotes in a card or send them as a message. They help you find just the right words and will make your mom happy on her day of honor. In addition to beautiful examples, we have 5 tips on what to give your mom for Mother's Day along with your card.
Mother's Day sayings are usually short texts and quotes that can sometimes rhyme. They are the perfect way to send touching messages on Mother's Day. You can combine them with a self written text, a poem, or a photo.
Happy Mother's Day Quotes
You will find different examples of touching Mother's Day sayings in this article. Since there are different ways to thank your mother, grandmother or mother-in-law, we have combined suitable Mother's Day poems and quotes for Mother's Day in the next sections.
First, we list some examples suitable for mothers and grandmothers. Since the relationship with a mother-in-law can sometimes be a little more complex, we have a separate section with sayings for your mother-in-law.
In this article you will find beautiful and funny quotes for your grandmother.
Heart Touching Mother's Day Quotes for Mother and Daughter
A mother and her daughter share a very special bond. The daughter often perceives her mother as a role model and emulates her. Eventually, when the daughter is older and perhaps even a mother herself, she can always seek advice and support from her mom. After all, mom can always be counted on.
Mother's Day is the perfect occasion to celebrate this special bond and thank your mother from the bottom of your heart. This is especially well done with appropriate mother-daughter sayings.
The daughter of a good mother will become the mother of a good daughter.
(Proverb)
What the mother spins, the daughter weaves.
(Proverb)
He, who still has a mother, does not need to cry.
(Unknown)
Look at the mother and you understand the daughter.
(Proverb)
A mother also understands what a child does not say.
(Jewish Proverb)
A mother's heart is always with her children. The hearts of the children are always with the mother.
(Kalmyken Proverb)
Here you will find more mother-daugther quotes.
Funny Mother's Day Sayings
If your mom shares your sense of humor and loves to laugh, you can also surprise her with a funny Mother's Day saying.
I have been looking for the perfect Mother's Day gift for so long – but you have got me. Much love.
(Unknown)
Mom, there is one thing I have always wanted to tell you: you have really beautiful children.
(Unknown)
Mother's Day is the other way around: Today is our turn to cook, complain and clean up.
(Unknown)
So let's be honest, you would not be celebrating Mother's Day if it wasn't for me. Well, you are welcome and all my love.
(Unknown)
A German writer once said, "Order is the mother of comfort." (Heinrich Martin) – You see, Mommy, that's the way it has to be.
Here you will find more funny quotes for any occasion.
Mother's Day Quotes for Mom in Law
The relationship with their mother-in-law is different for everyone. Therefore, you should take a little more care with Mother's Day sayings. The relationship can either be quite friendly or relatively cool.
Some people send a Mother's Day quote simply out of politeness and tend to keep their feelings under wraps, and others can give free rein to their feelings because their relationship with their mother-in-law is open and friendly.
A good fallback option is choosing a nice quote and writing it in a card or sending it via WhatsApp as a nice gesture. No matter what kind of relationship you have with your mother-in-law, you can't go wrong with a delightful quote.
Tip: If you just can't find the right words to congratulate your mother-in-law, you can do so together with your partner. This way, you avoid long formulations of clichés and forced words.
Happiness is when your mother-in-law grows close to your heart. Thank you for that and happy Mother's Day.
(Unknown)
Because I adore your beautiful hair so much and want to do something good for you on this day, I have a voucher for you, for the hairdresser for you and me.
(Unknown)
I don't understand why everyone always has problems with their mother-in-law, mine is great. Happy Mother's Day and stay the way you are.
(Unknown)
Thank you for listening, and thank you for always being there for me. Thank you for being my friend, and thank you for being you.
(Unknown)
I am happy because we connected. You treat me like your own child. Therefore, I say thank you. Happy Mother's Day.
(Unknown)
I want to thank you for giving birth to such a wonderful son. I will love him as you have always loved him. Likewise, I will make sure that he never forgets who the true hero in his life is.
(Unknown)
Mother's Day Quotes for Best Moms and Wives
The best thing about quotes is that they are short and can fit everywhere. So you can use concise wisdom as a complement to your self-written text.
Although a single quote is meaningful, you want your mom to know that you have put some effort and thought into it. Quotes are also appropriate as content for gift tags.
You will usually have a closer relationship with your mother than with your mother-in-law. Especially in case of the relationship being rather distant, a quote is a great way to avoid a reserved and stiff choice of words.
My father gave my stature tall, and rule of life decorous; my mother my natural genial and joy in making stories.
(Johann Wolfgang von Goethe, 1749-1832, German poet)
The best in me, I got from her.
(Peter Rosegger, Austrian writer, 1843-1918)
There is only one completely selfless, completely pure and completely divine love. And that is the love of a mother for her child.
(Georg Moritz Ebers, German egyptologist, 1837-1898)
Only a mother knows alone what it is to love and be happy.
(Adelbert von Chamisso, French poet, 1781-1838)
There is no safer place on earth than the arms of one's mother.
(Selma Ottilia Lovisa Lagerlöf, Swedish writer and children's author, 1858-1940)
The best way to raise a child is to give it a good mother.
(Christian Morgenstern, German poet, 1871-1914)
Gratitude is the memory of the heart.
(Jean-Baptiste Massillon, French poet, 1663-1742)
No wisdom that can be taught on earth can give us what a word and look of a mother gives us.
(Wilhelm Raabe, German narrator and representative of poetic surrealism, 1831-1910)
Mother's Day Quotes for Moms in Heaven to Say "I Miss You"
Mother's Day can be particularly challenging when you have lost your mother. Perhaps it's her first Mother's Day in heaven, and you want to bring flowers along with a card to her?
Whilst you think of your mother every day, Mother's Day can be especially tough. Finding a meaningful and poignant quote can help ease your sadness and to put things into words.
Here are some beautiful quotes for mothers in heaven and daughters who miss them, which you can take solace in and write into your card, if you plan on bringing one to her resting place or next to her picture.
I wish heaven had visiting hours, so I could talk to you again, mom. Happy heavenly Mother's Day.
(Unknown)
All that I am, or hope to be, I owe to my angel mother.
(Abraham Lincoln, American president, 1809-1865)
The loveliest masterpiece of the heart of God is the heart of a mother.
(St. Therese of Lisieux, French nun, 1873-1897)
My mother taught me everything except how to live without her.
(Unknown)
Although I cannot hear her voice or see her smile anymore, my mother walks beside still, just as she did before.
(Unknown)
I have an angel watching over me, and I call her Mom.
(Unknown)
Dear Mom, if I had a flower every time I thought of you, I could walk in my own garden forever.
(Unknown)
Mom, I miss seeing your name appear on my phone. Missing you this Mother's Day.
To my mother in heaven, thank you for always loving me. Even though you are no longer here with me, I can still feel your love guiding me. I love and miss you dearly.
(Unknown)
I remember my mother's prayers and they have always followed me. They have clung to me all my life.
(Abraham Lincoln, American president, 1809-1865)
The skies look beautiful every day because heaven cannot contain the beauty that you radiate. I miss you, mom. Happy Mother's Day in Heaven.
(Unknown)
Those we love don't go away, they walk beside us every day. Unseen, unheard, but always near, so loved, so missed, so very dear.
(Unknown)
Hold dear to your parents, for it is a scary and confusing world without them.
(Emily Dickinson, American poet, 1830-1886)
I am convinced that you occupy a prominent place in the army of angels of God. You were an incredible person; I keep your teachings in my heart. Happy Day, dear Mother.
(Unknown)
If you are searching for more farewell quotes, you will find them here.
Mother's Day Sayings to Express Appreciation
Our mothers do so much for us and from the beginning of time they are the glue that holds the family together. She is our best friend and confidant, gives us advice and everything else we could possibly need. Our mother nurses us when we are sick, and we are who we are thanks to her.
Mothers deserve a lot of credit, juggling family life, dropping off the kids at their various activities and schools and potentially even working whilst running the household and family life. In everyday life, we often forget all they do for us.
So show your mother on Mother's Day how much you appreciate and value her. We have compiled quotes to express your appreciation, for you to use, or to inspire you to write your own.
Everything I am, you helped me to be.
(Unknown)
Of all the gifts that life has to offer, a loving mother is the greatest of them all.
(Unknown)
To the world you are a mother, to your family you are the world.
(Unknown)
We are born of love; love is our mother.
(Rumi, popular Persian poet, 1207-1273)
Life began with waking up and loving my mother's face.
(George Eliot, English writer, 1819-1880)
God could not be everywhere, and therefore he made mothers.
(Rudyard Kipling, British poet and children's author, 1865-1936)
Youth fades; love droops; the leaves of friendship fall; a mother's secret hope outlives them all.
(Oliver Wendell Holmes, American doctor, 1809-1894)
It may be possible to gild pure gold, but who can make his mother more beautiful?
(Mahatma Gandhi, Indian revolutionary, 1869-1948)
Motherhood is the exquisite inconvenience of being another person's everything.
(Unknown)
Thank you for every hug, word of encouragement, and acts of love you've given me. Happy Mother's Day!
(Unknown)
Happy Mother's Day! Thank you for always being the shining example of what I wanted to be like when I grew up!
(Unknown)
Thank you for laughing with us in the best of times and sticking with us through the worst of times! What would we do without you?
(Unknown)
Happy Mother's Day! We wouldn't be here if it wasn't for you. Literally.
(Unknown)
Life began with waking up and loving my mother's face.
(George Eliot, English writer, 1819-1880)
Short Quotes for Mother's Day
You don't have to write your mom a whole essay for Mother's Day, but can also keep it short and sweet. Short and sweet statements can have a bigger impact and are perfectly suited for regular Mother's Day cards and greeting cards on a bouquet of flowers.
If your mom likes it short and sweet, go through some of the quotes we have compiled for you here and find your favorite.
These quotes also look nice printed on a customized picture frame, including a photo of the whole family. Because they are short, you can also print them on a personalized cup for your mom.
A mother understands what a child does not say.
(Jewish proverb)
A mother's hug lasts long after she lets go.
(Unknown)
Mother is one to whom you hurry when you are troubled.
(Emily Dickinson, American poet, 1830-1886)
Mother: the most beautiful word on the lips of mankind.
(Khalil Gibran, Lebanese-American poet, philosopher and painter, 1883-1931)
Home is where my mom is.
(Unknown)
I Got It From My Mama!
(Unknown)
A mother is a daughter's first best friend.
(Unknown)
An ounce of mother is worth a ton of priest.
(Spanish Proverb)
I am a strong woman because a strong woman raised me.
(Unknown)
I have a hero, I call her Mom!
(Unknown)
A mom is a son's first love.
(Unknown)
First my mother, forever my friend.
(Unknown)
Life doesn't come with a manual. It comes with a mother.
(Unknown)
Mother's Day Poems
If you want to be particularly poetic, you can write a Mother's Day poem by yourself. Alternatively, you can recite or frame a popular Mother's Day poem and give it to your mom as a gift.
Naturally, any mother would be most touched by her child writing and reciting a beautiful poem themselves. Alternatively, you can choose to use one of the following poems. They focus on motherhood and children's gratitude.
1)
(Unknown title)
As soft and warm,
no arm holds you,
like your mother's arm embraces you.
Never will you find such sweet rest,
as when your gaze clings to hers.

(Paul Heyse)
2)
My dear mother
Dear mother, you,
I want to give flowers to you.
You can already imagine
what I want to say to you.
I wish you happiness and joy,
and that the sun will always smile on you.
To the best of my ability and at all times,
I want to make you happy.
Because Mother's Day, that's clear,
is every day of the year.
I love you all year long.
So I wanted to tell you.

(Unknown)
3)
My mother
A mother carries the child in her womb
for three quarters of a year;
the mother carries her child in her arms,
because it is still weak;
in her heart the mother carries
the children forever.

(Friedrich von Logau)
Happy Mother's Day: 5 Tips
When it comes to sharing emotions, many people are often at a loss for words. Yet, the most important thing is to be able to tell your mother on Mother's Day how much you love her.
The thing that will make your mom the happiest is something homemade, so why not try writing a poem for Mother's Day yourself?
If you want to go the extra mile, you can write your own Mother's Day saying. Your mom will feel uniquely appreciated. The usual cliché phrases for Mother's Day can quickly give the impression that you are just generally thanking your mother for having her. Whilst this is not necessarily bad, an explanation of why your mother is such a great mother is much more personal.
When presenting your gift with a lovingly designed card, it is of course nicest if your Mother's Day saying matches the card. That way, when your mom reads through your card later, she will remember what you gave her. Here are 5 tips on gifts for which you could create a matching saying.
Send flowers with a card that contains a saying and a handwritten text. Ideally, the motif of the flowers should be reflected in your sayings, for example:
Dear Mom,

to me, you are the most beautiful rose, so I am sending you a whole bouquet. You deserve it, I love you!
Happy Mother's Day!
Bake a Cake
If you bake a cake, this is where you could write your Mother's Day saying right on it. A heart shaped cake always makes for a delightful present too. When writing your card, you can also mention the cake. For example:
Dear Mom,

You taught me how to bake, how to speak and how to laugh. Today I want to surprise you with this cake and say thank you with a smile.
Happy Mother's Day.
Shopping Coupons
Shopping coupons are also a great gift idea, because you can plan a shopping day together with your mom at the same time.
There are plenty of ideas what kind of coupon you could get, for example a cooking class, a boat tour, dancing class or some kind of vacation.
An appropriate text could look like this:
Dearest Mom,

Since you always go shopping for us ever so diligently, you should also buy something just for yourself. I will be joining you, and I am looking forward to a lovely mother and daughter shopping day with you.
Joint Visit to the Hairdresser
A joint visit to the hairdresser can also be a delightful mother and daughter experience. But most of all, it is nice to express a gesture to a stressed mom that also deserves time for herself and some pampering. Here you could write:
Dear Mom,

I think it's about time to treat ourselves to another beauty day. Since you accompanied me to the hairdresser countless times as a child, it's my turn to accompany you. This gift voucher represents wonderful hair, great conversation, and a big thank you that you exist.
A Photo
A photo of you together with your family always makes for a nice gift for mom. Since most family photos are just hiding in digital collections nowadays, it's great to have something on hand. Plus, you get to buy a frame to go with it, which you can also design yourself. The text for a matching Mother's Day card might look something like this:
Hello Mom,

This photo shows five very grateful people. Four of them would not have been here without you. The fifth would have had a very different life without you. We are grateful for all you do for us and love you.
Happy Mother's Day.