Baptism Quotes: 45 Sayings + 7 Tips for Your Congratulations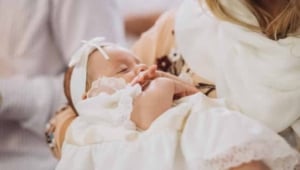 Baptismal sayings are read aloud or given as a gift at baptism. They should accompany the child throughout his life. We will help you to choose the right christening verse and to write beautiful congratulations for the christening.
There are countless examples of beautiful baptismal sayings from literature and the Bible. In addition, you have the possibility to write your very own saying.
Beautiful Baptism Quotes as Congratulations on Baptism
Baptism sayings are usually read by parents, godparents or the priest. They can be either Bible verses, selected or self-written sayings or a mixture of both. The theme can also vary and should be adapted according to the family and setting.
Modern Baptism Quotes
Reciting modern baptism sayings does not mean that you have to refer to modern themes.
It is especially about topics that are timeless: Talk about life itself, philosophies of life, dreaming, courage and confidence, hope and failure, family and love.
These themes are both traditional and forward-looking – and what more apt theme for a baptism than the future of the child? Below, we've collected a few timeless baptism sayings for you.
There are only two lasting bequests we can hope to give our children. One of these is roots, the other, wings.
(Johann Wolfgang von Goethe)
God bless your baby boy on this special day, and God bless and guide you as parents as you raise him to love and serve the Lord.
(Unknown)
Bless this child, Lord, on this special day. May she come to love you Lord and put her trust in you.
(Unknown)
Do not go where the path may lead, go instead where there is no path and leave a trail.
(Ralph Waldo Emerson)
It does not matter how slowly you go as long as you do not stop.
(Confucius)
Be happy for this moment. This moment is your life.
(Omar Khayyam)
Since love grows within you, so beauty grows. For love is the beauty of the soul.
(Saint Augustine)
You're getting baptized – and I'm feeling overjoyed for you!
(Unknown)
Faith is to believe what you do not see; the reward of this faith is to see what you believe.
(Saint Augustine)
We can't have full knowledge all at once. We must start by believing; then afterwards we may be led on to master the evidence for ourselves.
(Thomas Aquinas)
Knowledge is only one half. Faith is the other.
(Novalis)
Three things remain with us from paradise: stars, flowers and children.
(Dante Alighieri)
Where children are, there is the golden age.
(Novalis)
Fancy Baptism Quotes
In this chapter you will find short and modern baptism sayings that are a bit more fancy.
These baptism sayings are something special and you don't hear them at every baptism. They are suitable for young or less religious families to recite, as a motto or for a card.
Baptism is the entrance into life. Your angel is there and will be protected.
(Unknown)
Never lose the courage to live your life as you please. And never stop giving, and being grateful for your life.
(Unknown)
Now is your time of grief, but I will see you again and you will rejoice, and no one will take away your joy.
(John 16:22)
Thinking of you on the occasion of your baptism and praying for God's blessings as you begin your new life in Christ.
(Unknown)
When you give yourself, you receive more than you give.
(Antoine de Saint-Exupéry)
Love is not consolation. It is light.
(Friedrich Nietzsche)
Protestant Baptism Quotes
Now to some evangelical baptism sayings. In our selection you will find mainly bible verses. In a baptism card, you should always add a few words of your own to these verses.
You can also recite evangelical verses if you are not evangelical yourself. It is only important that your selection says something to you and that you can find yourself in its message. Protestant baptismal verses must always come from the Bible.
Many are the sorrows of the wicked,
but steadfast love surrounds the one who trusts in the LORD. Be glad in the LORD, and rejoice, O righteous,
and shout for joy, all you upright in heart!
(Psalm 32:10-11)
The LORD bless thee, and keep thee: The LORD make his face shine upon thee, and be gracious unto thee: The LORD lift up his countenance upon thee, and give thee peace.
(Numbers 6:24-26 KJV)
For with you is the fountain of life; in your light we see light. God is the fountain of life, the source of all life. Life flows like a fountain from Him.
(Psalm 36:9)
I will bless you and make your descendants into a great nation. You will become famous and be a blessing to others.
(Genesis 12:2)
And now these three remain: faith, hope and love. But the greatest of these is love.
(1 Cor. 13:13)
For all you are the children of light, and children of the day: we are not of the night, nor of darkness.
(1 Thess 5:5)
O Lord, open my lips, and my mouth will declare your praise.
(Psalm 51:15)
And so we know and rely on the love God has for us. God is love. Whoever lives in love lives in God, and God in them.
(1 John 4:16b)
Catholic Baptism Quotes
Here we list some Catholic baptism sayings for you. You should keep in mind in your choice of baptismal sayings that the main thing is not whether you yourself are Catholic, but whether the child will be baptized Catholic.
Nevertheless, it is important that you can identify with the saying.
Be richly blessed through our Lord Jesus Christ.
He will be with you no matter what you do.
You don't have to prove anything to Him, He loves you just the way you are!
(Unknown)
For he will command his angels concerning you to guard you in all your ways; they will lift you up in their hands, so that you will not strike your foot against a stone.
(Psalm 91:11-12)
The guardian angels of life sometimes fly so high as to be beyond our sight, but they are always looking down upon us.
(Jean Paul)
Fear not, for I am with you; be not dismayed, for I am your God; I will strengthen you, I will help you, I will uphold you with my righteous right hand.
(Isaiah 41:10)
The Lord is my shepherd; I shall not want. He maketh me to lie down in green pastures: he leadeth me beside the still waters. He restoreth my soul: he leadeth me in the paths of righteousness for his name's sake.
(Psalm 23)
See, I am sending an angel before you to protect you on your journey and lead you safely to the place I have prepared for you.
(Exodus 23:20)
Whoever believes and is baptized will be saved.
(Mark 16:16)
Be strong and courageous. Do not be afraid or terrified because of them, for the LORD your God goes with you; he will never leave you nor forsake you.
(Deut. 31:6)
Bible Quotes on Baptism
Quoting directly from the Bible is not uncommon at a baptism. The most important thing is that you can also identify with these quotes and interpret something into them.
Below we have some suggestions for bible quotes for you. Of course, you can also add your own words to them. We also gave you some examples for that.
The LORD is my strength and my shield; my heart trusted in him, and I am helped: Therefore my heart greatly rejoiceth; and with my song will I praise him.
(Psalm 28:7)
As a sponsor, you can also always hope in us; we will always help you.
All things are possible to him who believes.
(Mark 9:23)
Call on me in the day of distress; I will deliver you, and you will glorify me.
(Psalm 50:15)
We, your parents will always stand by your side in time of need and guide you on your journey through life.
For You are my hope; O Lord GOD, You are my confidence from my youth.
(Psalm 71:5)
We hope that you too can draw hope in God's company.
You are all around me – in front and in back – and have put your hand on me.
(Psalm 139:5)
Like God, your family will always surround you and hold their hand protectively over you.
Go therefore and make disciples of all nations, baptizing them inthe name of the Father and of the Son and of the Holy Spirit, teaching them to observe all that I have commanded you. And behold, I am with you always, to the end of the age.
(Matthew 28:19-20)
Therefore, whoever takes the lowly position of this child is the greatest in the kingdom of heaven; And whoever welcomes one such child in my name welcomes me.
(Matthew 18:4-5)
Again Jesus spoke to them, saying, "I am the light of the world. Whoever follows me will not walk in darkness, but will have the light of life."
(John 8:12)
You are now the light of our lives and we will always treasure you.
No one will be able to stand against you as long as you live. For I will be with you as I was with Moses. I will not fail you or abandon you.
(Joshua 1:5)
Be strong and courageous. Do not fear or be in dread of them, for it is the LORD your God who goes with you. He will not leave you or forsake you.
(Deut. 31:6 ESV)
Baptism Poems as Congratulations on Baptism
Instead of using short quotes for baptism, you can also resort to baptism poems. Write them in a purchased baptism card or even make them yourself.
In some churches you will even be allowed to recite a baptismal poem at the baptism. However, you should discuss this with the priest beforehand.
Tip
A framed baptism poem also makes a lovely gift for a baptism. It can be hung in the nursery and accompany the child through life. Write it down neatly, print it out, or sew it onto fabric.
1)
God created everything,
Butterflies and birds that sing.
The sun and stars and skies of blue
But best of all created you!

(Unknown)
2)
May God protect you little one
And bless you from above
With everlasting happiness
And brought up with love

(Unknown)
3)
Blessings on the little children,
Sweet and fresh from Heaven above,
May their days be filled with beauty,
May they grow in truth and love.
Lord, bless this tiny infant
Who will make the world so fair
Keep this precious little life
Forever in Your care.

(Unknown)
4)
Sweet and low, sweet and low,
Wind of the western sea,
Low, low, breathe and blow,
Wind of the western sea!
Over the rolling waters go,
Come from the dying moon, and blow,
Blow him again to me;
While my little one, while my pretty one, sleeps.
Sleep and rest, sleep and rest,
Father will come to thee soon;
Rest, rest, on mother's breast,
Father will come to thee soon;
Father will come to his babe in the best,
Silver sails all out of the west,
Under the silver moon:
Sleep, my little one, sleep, my pretty one, sleep.

(Alfred Lord Tennyson)
5)
Welcome, precious little child
So divine from God above
Christened today in Jesus' name,
Held in His arms of love.
May angels guide your tiny feet
And bring you smiles to wear,
And may our Heavenly Father
Always keep you in His care.

(Unknown)
Tips for the Perfect Baptism Quotes
When it comes to a baptism, there are a lot of things to consider – including choosing the right baptismal chant. Many questions arise, which we want to answer.
In addition, we have valuable tips that will help you in your role as parents, as godparents or guests of a baptism.
Have a Preliminary Conversation with the Pastor
If you are unsure about including one or even more baptismal sayings in your child's baptism, a conversation with the pastor of your parish can help.
Together with him you can discuss the course of the baptism, which may include the choice of songs, intercessions and baptismal sayings as well as baptismal poems. Decide together with him who should recite the good wishes for the child and whether the baptism will perhaps even have a motto.
There are also the following options, which may differ depending on the parish: Your child can be baptized within a normal church service, it can be baptized together with other children in a kind of community baptism, or a completely separate baptismal service is organized, to which only your family and friends come.
When to baptize children
When is the right time to have your child baptized? In the past, there was no long hesitation after the birth. A few weeks after the child saw the light of day, the baptism usually took place.
Today, not only is baptism less frequent, but some parents wait longer to find a good moment for baptism. Nevertheless, most parents decide to have a baptism in the first year of the child's life, so that the child is accompanied by the church from the very beginning.
However, even if the child is baptized a few years later, it is not too late. It is a special event, because the child can thus consciously perceive his own baptism.
Catholic or Protestant Quotes for a Baptism
In the Protestant faith, baptismal sayings are used more frequently than in the Catholic Church.
The reading aloud of a baptismal motto has become an established custom and is intended to accompany the child with a kind of life motto and good wishes.
Traditionally, godparents choose a Bible verse for the child to recite. This means that only biblical baptismal sayings are allowed.
In the meantime, however, you can find more and more baptismal sayings in the Catholic Church as well. These have a higher tolerance limit, also own baptismal sayings may be recited after consultation with the pastor.
Find Someone Who Reads Out the Baptismal Motto
In principle, anyone can read baptismal quotes: The pastor, the parents, the godparents, or other members of the family. Traditionally, the pastor or godparents read the Bible verse, poem or saying. However, if you talk to the pastor, you can certainly plan for someone else to read the life companion.
Talk to the potential readers ahead of time so you know if anyone would like to include a personal baptismal verse or perhaps forgo it altogether. By agreeing with them early on, you'll avoid any sudden surprises and be able to plan everything calmly.
Selection of Quotes for a Baptism
There are many factors that influence the selection of baptism sayings. First of all, you should consider whether you want a central saying in your baptism or whether several members of the family will recite something.
Note here that you should not have too many people read something aloud, otherwise the baptism will be too long. A preliminary discussion with the priest can help you to make the right decisions.
In terms of content, the saying or sayings should also reflect what you envision for your child's future. Shared values can even develop into a baptismal motto. Is honesty important to you or responsibility for others, peace or success, love and consideration?
Are you very religious or do you want the service to have a more personal touch? We have collected numerous examples for you, among which you will surely find a few suitable baptismal sayings.
Content of the Right Baptismal Chant
The content of your baptism saying can of course be traditionally biblical. This includes motifs like God, Jesus, angels and Christian values. For inspiration, you can also just pick up the Bible and browse through it a bit. However, we have also picked out some Bible verses for you in the rest of this article.
If you are a little less religious, you can also choose more general themes and skip quoting the Bible directly or have the pastor recite them. Motifs include the miracle of life, the magic of a new life, or the perfect happiness of family.
Furthermore, you can talk about being a parent, include the child's name if it has a specific meaning, or just recite all sorts of wishes for the child.
Write Your Own Baptism Quote
Writing your own baptism saying is a wonderful thing to do. Not only do you make an effort for the child, but you can also include individual aspects that you might not find in the Bible.
Especially young couples tend to create a bridge between tradition and modernity. Thus we come to the most important aspect if you want to write your own saying: It must fit the family, their attitude to the church and to life.
You should reconcile these values with your own and thus formulate the best wishes for the child. What attitude towards life is most important to you? Here are a few themes you can base your baptismal motto on:
Be at peace with yourself and others
Having a firm foundation in life and family support
Be surrounded by love (experience love and give love)
An open-minded and wide-eyed view of the world
Seeing the good in people
Commit to peace
Combine Baptism Card and Gift
Even as a normal guest at a baptism, without reciting anything, you can use baptism sayings wonderfully. Express your congratulations on the baptism and best wishes for the child in one card. This way, if the child was very young at the baptism, he or she can still enjoy all the good wishes later.
For your card are suitable Bible verses with your own addition or a very personal, self-written saying. What is your life motto that you want to give the child on the way. What life wisdom has always touched you very much?
If the baptism is celebrated very soon after the birth of the child, you can also congratulations on the birth express in your card. Maybe you haven't congratulated the new parents yet or you want to do it again in detail and in writing.
You can of course have your card accompanied by a gift. Especially godparents give the child something special. Ideally, it can enjoy this gift even in adulthood and thus always remember his godparents. Ideas for beautiful gifts for baptism (for girls and boys) are:
Embroider fabric. For this purpose, for example, pillows, cuddly toys, blankets or a cuddly cloth are suitable. Let the fabric embroidered with the name of the baby, the baptism date, date of birth or a short saying.
Let the child's name engraved. Suitable are caskets, bracelets, wooden toys, children's cutlery, a mug, gift box.
Nightlight. This is available either to plug into the socket or also as a cuddly toy that throws a beautiful light show on the wall.
Playing clock. A music box is a classic gift that is sure to last into adulthood if it is designed in a timeless design (such as a horse carousel or jewelry box).
Children's Bible. The interesting and simple design can introduce the child to Christianity.
Photoshoot for the child. However, you should discuss this gift with the parents beforehand (in case they have already made or planned one themselves).