100+9 WhatsApp Quotes for Your Status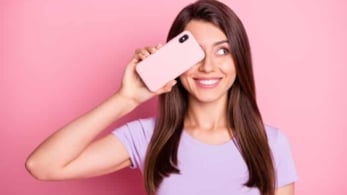 These WhatsApp quotes are wonderful to open a private conversation, show your appreciation, motivate, or put a smile on someone's face. We collected all kinds of quotes and sayings for you, which are also suitable for your WhatsApp status.
Communication via WhatsApp with friends and family is part of everyday life for many people. WhatsApp quotes can not help your opener in private conversations, they can also be shared in groups or set as a status that's shown to all your contacts.
Funny WhatsApp Quotes
If you are in a good mood or want to put a smile on someone's face, sending a funny WhatsApp saying is a good idea.
We compiled some for you that are suitable for different types of humor, so there is something for everyone.
All of the following quotes are from unknown authors.
"I always dream of being a millionaire like my uncle! He's dreaming, too."
"Never laugh at your partner's choices… You're one of them."
"I'm not lazy, I'm on energy-saving mode."
"If you tickle me, I'm not responsible for your injuries."
"Everything seems to be hilarious when you're supposed to be quiet."
"Kiss me if I'm wrong, but dinosaurs still exist, right?"
"The first five days after the weekend are the hardest."
"You couldn't handle me even If I came with instructions."
"You know you are desperate for an answer when you look at the second page of Google."
"Stop checking my 'last seen'. Text me if you miss me."
Spread some joy by picking a few contacts from your list and starting a conversation with them using one of our quotes.
Whether you meet their sense of humor or not, you're sure to elicit a smirk. Jokes and sassy sayings are also great for making others laugh.
Find more funny quotes for any occasion.
WhatsApp Quotes to Wish Someone a Good Morning
With positive quotes you can start the day in a good mood. You can share this joy via WhatsApp, either through your status or with a message to your family and friends.
"When you arise in the morning, think of what a precious privilege it is to be alive – to breathe, to think, to enjoy, to love."
(Marcus Aurelius, Roman Emperor, 121-180)
"An early-morning walk is a blessing for the whole day."
(Henry David Thoreau, American philosopher, 1817-1862)
"Nothing is more beautiful than the loveliness of the woods before sunrise."
(George Washington Carver, American scientist, 1864-1943)
"Think in the morning. Act in the noon. Eat in the evening. Sleep in the night."
(William Blake, English poet, 1757-1827)
"The sun is new each day."
(Heraclitus, Greek philosopher, 544-483 B.C.)
"Be pleasant until ten o'clock in the morning and the rest of the day will take care of itself."
(Elbert Hubbard, American writer, 1856-1915)
"I never knew a man come to greatness or eminence who lay abed late in the morning."
(Jonathan Swift, Irish author, 1667-1745)
"First thing every morning before you arise say out loud, 'I believe,' three times."
(Publius Ovidius Naso, ancient Roman poet, 43 B.C-17 A.D)
"Good morning to the world! Rise and shine and get to work."
(Unknown)
"When you rise in the morning, give thanks for the light, for your life, for your strength. Give thanks for your food and for the joy of living. If you see no reason to give thanks, the fault lies in yourself."
(Tecumseh, Native American/Shawnee chief and warrior, 1768-1813)
Here you'll find more good morning quotes to send via WhatApp.
Quotes with Attitude for Your WhatsApp Status
If you have a certain attitude, some people may perceive you as arrogant. But perhaps you're not, you may just have a very strong personality.
With the appropriate WhatsApp quote, you can express that people should not underestimate you so easily.
All of the following sayings are from unknown authors.
"I am not arrogant, I am just better than you."
"There's always a person that you hate for no reason."
"Be yourself! You're not born to impress anyone."
"I don't have an attitude! Well, I just have a personality you can't handle."
"I may be wrong, but I doubt it."
"Legends don't die; I am the living example."
"I can only please one person a day. Today is not your day. Tomorrow doesn't look good either."
"I don't pretend to be something I'm not. I know I am the best."
"You need friends to be successful in life, but to be more successful, you need better enemies."
"An apple a day keeps everyone away. Just throw it hard."
WhatsApp Statuses and Quotes for Every Occasion
The following quotes are suitable for the ups and downs of life, and also for starting all kinds of conversations.
If a friend is unhappy with his or her life and complains to you or you want to motivate someone, sometimes a motivational quote will help to give him or her courage.
"Don't be the same, be better."
(Unknown)
"Defeat your enemies with your success."
(Unknown)
"Be yourself! You're not born to impress anyone."
(Unknown)
"Unicorns are awesome. I am awesome. So I'm a unicorn."
(Unknown)
"Life is way too short to be normal!"
(Unknown)
"I am awake. That's all I want to say about my current situation!"
(Unknown)
"Keep calm and be a unicorn."
(Unknown)
"Trust in dreams, for in them is hidden the gate to eternity."
(Khalil Gibran, Lebanese-American poet, philosopher and painter, 1883-1931)
"I often think that the night is more alive and more richly colored than the day."
(Vincent van Gogh, Dutch painter and graphic artist, 1853-1890)
"Correction does much, but encouragement does more."
(Johann Wolfgang von Goethe, German poet, 1749-1832)
Use emojis to add expressiveness to your WhatsApp messages. Plus, they're much more descriptive and easier to read that way.
WhatsApp Statuses for Students
If you are a student, you probably have many friends on WhatsApp who are students too. Here is a selection of funny quotes for you, with some inside jokes, which are always good for a laugh, in the selection.
"Study skills: get up. Stretch out, go for a walk. Go to the airport, don't stop."
(Unknown)
"A man who has never gone to school may steal from a freight car; but if he has a university education, he may steal the whole railroad."
(Theodore Roosevelt, American president, 1858-1919)
"What we become depends on what we read after all of the professors have finished with us. The greatest university of all is a collection of books."
(Thomas Carlyle, Scottish essayist, 1795-1881)
"I wish Black Friday had a discount on college, so that I can complete this semester and get the rest for free."
(Unknown)
"Going to college is like crossing the road and looking around before being hit by a plane."
(Unknown)
"I don't always have time to study. But if I did, I still didn't."
(Unknown)
"Almost 3% of me is human and 97% is stressed."
(Unknown)
"Don't stop before you are proud."
(Unknown)
"Realists do not fear the results of their study."
(Fyodor Dostoyevsky, Russian novelist, 1821-1881)
"A single conversation across the table with a wise man is better than ten years mere study of books."
(Henry Wadsworth Longfellow, American poet, 1807-1882)
Especially if you are in WhatsApp groups with fellow students, you can get some laughs with one of these funny quotes. Each member or your group can probably identify with a saying or can understand what is meant. This makes studying a lot more fun.
The messenger WhatsApp has one billion users worldwide and around 75 million people are active on it in the U.S. every day.
Cool WhatsApp Quotes for Singles
WhatsApp quotes for singles highlight the positive sides of being single. They emphasize freedom and a love for life and are also a little self-deprecating.
If you are proud of being single or if you are tired of family and friends constantly asking you when you'll find someone to marry, these sayings will be up your alley.
All of the following sayings are from unknown authors.
"I like being single. I'm always there when I need me."
"Single because I haven't found someone who deserves me."
"Being single doesn't mean that you know nothing about love. Sometimes, being solo is wiser than being in a false relationship."
"Being single isn't a time to be looking for love, use that time to work on yourself and grow as an individual."
"Single? No, I'm in a relationship with freedom!"
"Not single, not taken, just waiting for something real."
"Being 'Single' is my attitude."
"Being single doesn't mean you're not too good to be with the right one, it means you're just too good to be with the wrong one."
"I'm not single because I don't pray for love. I'm single because I don't play around with love."
"No, I am not single. I am in a long distance relationship because my boyfriend/girlfriend lives in the future."
These quotes make it clear: being single has its advantages just as much as being in a relationship.
WhatsApp Quotes about Love
If you have troubles in your relationship or just want to spread some wisdom or share quotes about love, we have suitable sayings for you here. You can send them to your partner or a friend or just post them as a status.
All of the following sayings are from unknown authors.
"Falling for you was an unexpected decision. And I am proud of my decision."
"Talking to you is like a therapy for me to forget all my worries."
"It seems like time stops when we spend time together."
"My eyes twinkle like a star when I see your face."
"The best thing about hugging you is that I can hear your heartbeat."
"My heart beats faster when you hold my hand."
"People say the best feeling in this world is love, and I totally agree."
"I want to be a better person because of you. I love you."
"My favorite place to stay is in your arms."
"Giving my heart to you is the only right decision I have ever made."
Find more "I love you" quotes here.
You can use your status to tell a person in your contacts something that you wouldn't dare to write or say in person.
Beautiful WhatsApp Quotes about Friendship
Make your friends happy with a nice quote on WhatsApp. Express your loyalty or just say thank you with one of these sayings.
Quotes about friendship can also help your friends through difficult times.
"A friend is what the heart needs all the time."
(Unknown)
"Let us be grateful to people who make us happy, they are the charming gardeners who make our souls blossom."
(Marcel Proust, French author, 1871-1922)
"There is nothing on this earth more to be prized than true friendship."
(Thomas Aquinas, Italian theologian, 1225-1274)
"One of the most beautiful qualities of true friendship is to understand and to be understood."
(Lucius Annaeus Seneca, Roman philosopher, c. 4 B.C.-65 A.D.)
"It is one of the blessings of old friends that you can afford to be stupid with them."
(Ralph Waldo Emerson, American philosopher, 1803-1882)
"My best friend is the one who brings out the best in me."
(Henry Ford, American businessman, 1863-1947)
"Friendship improves happiness and abates misery, by the doubling of our joy and the dividing of our grief."
(Marcus Tullius Cicero, Roman orator and statesman, 106-43 B.C.)
"Friends are the siblings God never gave us."
(Mencius, Chinese philosopher, 372-289 B.C.)
"No matter what you do, I'll take care of you. You're my best friend."
(Unknown)
"One loyal friend is worth ten thousand relatives."
(Euripides, Greek poet, 480-406 B.C.)
You don't have to be going through a difficult time to show your friends you appreciate them. Surprise a friend out of nowhere with a token of your friendship. Our quotes will help you put your feelings into words.
Tip
Twin statuses are a cute show of friendship. They're like friendship bracelets, but on WhatsApp.
Short Quotes for Your WhatsApp Status
These short WhatsApp quotes are easy to remember and suitable for a direct message or your status.
You can also use them as a caption below your photos or videos on Instagram and other social media.
All of the following sayings are from unknown authors.
"Time is precious. Waste it wisely."
"Ideas are useless if they remain unused."
"Life is about laughing and living."
"Follow your heart."
"I wasn't born to be perfect. I was born to be real."
"God might forgive, I don't."
"Think and live positive."
"Love yourself and conquer the world."
"Be the person you'd want to meet."
"Crazy is a trademark of a true pioneer."
WhatsApp Quotes for when You're Being Avoided and Ignored
Being ignored and avoided isn't a good feeling. If you think someone is ignoring you on purpose, you can express your disappointment with an appropriate quote in your status.
"There is only one thing in life worse than being talked about, and that is not being talked about.
(Oscar Wilde, Irish poet, 1854-1900)
"Thinking you are forgotten is one thing… but knowing that you are is another."
(Unknown)
"Do not let yourself be disregarded, make a mark in this world and reason out for yourself."
(Unknown)
"I don't like being ignored, and I don't like being forgotten."
(Unknown)
"The worst feeling: Not getting a reply back from someone you really want to talk to."
(Unknown)
"It's so funny how 'friends' forget us when they don't need any more favors."
(Unknown)
"I really wish that I could ignore the fact that you're ignoring me."
(Unknown)
"Lonely isn't a feeling when you're alone, lonely is a feeling when no one cares."
(Unknown)
"It is more painful to be ignored than to be hated, because it makes you feel like you're nothing."
(Unknown)
"It's sad when you realize that you aren't as important to someone as you thought you were."
(Unknown)
WhatsApp Quotes and Lines for Your Bio/About
Stand out from the usual "Hey there! I am using WhatsApp", "Busy" or "At work." For one, you can use any of our WhatsApp quotes as a bio or about message as well. On the other hand, even the ordinary status can be easily spiced up.
We compiled some examples for you, which will make it easier to find a suitable status for yourself.
"Busy

–

getting my life back on track."
"Online when you're not online."
"Online

–

always online

–

yes, really always."
"I'm unavailable right now, my unicorn needs new glitter."
"Salut! J'utilise WhatsApp." (French)
"Ciao! Sto usando WhatsApp." (Italian)
"Hei! Minä käytän WhatsAppia." (Finnish)
"¡Hola! Estoy usando WhatsApp." (Spanish)
"Hallo! Ich benutze WhatsApp." (German)
WhatsApp is available in 53 languages. You can use the classic status "Hey there! I am using WhatsApp." in other languages as well. This is a little different and will be sure to confuse your friends and stimulate a conversation.