Good morning: 40 quotes to start the day + 4 tips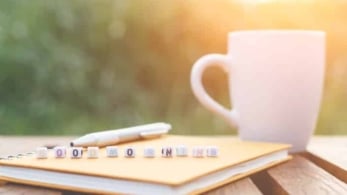 There's a lot of variety in good morning quotes. Whether a love message in the morning or a wise saying that can accompany a person through the day, receiving one shows that someone is thinking of you in the morning, and that's always a nice feeling. We have compiled the most beautiful good morning sayings to send and receive.
Nice sayings about mornings are short but full of positive energy. Send individual, wise and funny greetings to family, friends and acquaintances to start their day off right.
Beautiful good morning quotes
Send funny good morning sayings to good friends and family or something more general to acquaintances or work colleagues.
We have cute good morning sayings for lovers. You'll also find greetings especially for Sunday morning. You can assess and decide for yourself which saying is suitable for whom.
Positive and funny good morning quotes for WhatsApp
You can also send a funny good morning saying to good friends and relatives. If you start the day with a laugh in the morning, you have a good chance of keeping this mood throughout the day.
A funny or cheeky saying in the morning is a good change from the usual phrases like "Wonderful morning. I hope you slept well." or "Good morning. Have a nice day."
Even morning grouches are too friendly for me before 9am.
(Unknown)
The long black night is over, open your eyes and throw back the cover. The sunshine smiles on my honey, good morning, my sweet bunny!
(Unknown)
Never put off till tomorrow what you can do the day after tomorrow.
(Mark Twain)
If your eyes hurt after drinking coffee in the morning, you should take the spoon out of the coffee cup.
(Unknown)
Yawning in the morning is a sign that you need coffee. So get in there, and have a great start to your day!
(Unknown)
Seize the day. Unless it's a bad day, then seize the next one.
(Unknown)
Touching good morning messages for lovers
Many couples wish each other a good morning and a good night every day. If they've been apart or are not yet living together, the following sayings are a great way for them to still show appreciation for each other.
This list includes sayings that are special compared to the usual "good morning" and of course can always be customized to fit the relationship.
I can live without dinner rolls, coffee, newspapers, and getting up, but not without wishing you a good morning! Have a beautiful day, my love.
(Unknown)
Good morning! I never thought I would have the courage to wake an angel. But I think it's too late now.
(Unknown)
Hello and a beautiful good morning to you! If you're waking up right now and reading this, I'm sure I'm still asleep, but I'll be dreaming about you.
Softly, quietly in this way,
I'm sending greetings of love,
To sweeten your day.
(Unknown)
These 123 little characters are coming to you from me today, and here is what they have to say: My darling I'm sending you all my best and wishing you a morning filled with peace and rest.
(Unknown)
You were fast asleep when I wrote these lines. Now that you're awake, please know that to you my heart inclines!
(Unknown)
A lonesome little star, spreading its light near and far, sees your beautiful smile, so sweet, wakes you with kisses the glorious day to meet. (Unknown)
I sent you a morning greeting through space and time, And it's come to this moment, darling mine. I wish you a wonderful day that may bring much luck and joy your way.
(Unknown)
Especially in long-distance relationships, it's nice when the partner thinks of something special. A break from everyday phrases now and then can be memorable and keeps things interesting. Even for married couples who have been together for a long time, such small attentions sometimes work wonders.
If both are working, there is unfortunately not much time after getting up to wish each other a good start of the day. This can be made up for quite quickly with messages sent to their cell phones.
Inspirational good morning quotes for friends and family
Here, we've compiled some sayings that are suitable for an ordinary start of the day when you want to please someone.
Whether it's family, friends or close acquaintances – most of these sayings are suitable for everyone. However, always pause and consider your personal relationship and take care that you do not offend.
Open your eyes, live in the moment, this beautiful morning is all for you. And someone who likes you very much wishes you'll have the best day, too.
(Unknown)
I wish you a good day, without all the things that annoy. May each of your successes bring you much joy.
(Unknown)
This morning as you arise, rub the sleep out of your eyes, Trust that a beautiful day is about to start, knowing I'm here loving you from the bottom of my heart.
(Unknown)
The day begins, the sun is in the sky
Then if the clouds should cry,
Think of me and be at ease
I'm sending the sun, for only you to please.
(Unknown)
My first good deed today – a smile for you to make your day beautiful.
Open your eyes, awake from the dream,
For you alone comes this sunbeam.
(Unknown)
When it's still early and your phone gets a text,
It's because someone loves you and, next?
Wants to sweeten your whole day
by sending oodles of love your way.
(Unknown)
When you arise in the morning, think of what a precious privilege it is to be alive – to breathe, to think, to enjoy, to love.
(Marcus Aurelius)
Many see getting up and morning rituals as something relaxing that should prepare them for the day. An intrusive message from a casual acquaintance doesn't belong there. So don't send the same generic message to all your contacts. Each morning message should be individually tailored.
Sunday morning quotes
Good morning quotes are suitable in principle for any day of the week. But most greetings and wishes for the day are sent on Sundays.
This is because Sundays in particular are used for relaxation and are supposed to bring rest before the week starts again.
Often on Sunday, you can sleep longer than usual and you have time to take care of your private contacts by sending them a nice greeting in the morning.
There are seven days the week throughout, six of them stressful, there is no doubt
The seventh is made to please, since you can spend it at your ease.
Sunday is the best day to exist — it may be the reason we all persist!
(Unknown)
Sunday clears away the rust of the whole week.
(Joseph Addison)
Give the soul a Sunday, and give the Sunday a soul.
(Peter Rosegger)
There's a day sought after all week,
It's the one that makes us feel complete.
It's Sunday, a day to unwind and play,
With family and sunshine along the way.
A time for us to laugh and be carefree,
That's the Sunday spirit, we all agree.
(Unknown)
Kick back and relax, the work week coming next,
But today is Sunday, the day when no one's vexed.
(Unknown)
Says the German proverb, "It's not Sunday every day." Cherish this beautiful day and enjoy the morning. I wish you a blessed day.
(Unknown)
Count your blessings and favors, not your problems. You gain nothing from worry.
(Unknown)
It's time to recharge and relax, Enjoy this Sunday to the max!
Like a holiday that keeps coming around, Sunday is the day when all good things abound!
(Unknown)
Aphorisms as Good Morning Quotes
Wise sayings about life are especially useful in the morning when a person is in a difficult situation. Maybe there was job trouble, a failing in school, or private problems.
In such a situation, it's always nice to know that someone is thinking about you and supporting you. Especially in the morning, before the worries start again, a nice saying can help to start the day better.
In the sweetness of friendship let there be laughter, and sharing of pleasures. For in the dew of little things the heart finds its morning and is refreshed.
(Khalil Gibran)
When you rise in the morning, give thanks for the light, for your life, for your strength. Give thanks for your food and for the joy of living. If you see no reason to give thanks, the fault lies in yourself.
(Tecumseh)
You've got to get up every morning with determination if you're going to go to bed with satisfaction.
(George Horace Lorimer)
Threfore, I wish you a wonderful morning!
Even from stones placed in one's path, one can build something beautiful.
(Johann Wolfgang von Goethe)
The happiness of life consists not in having few or no difficulties but in overcoming them victoriously and gloriously.
(Carl Hilty)
Like a morning dream, life becomes more and more bright the longer we live, and the reason of everything appears more clear. What has puzzled us before seems less mysterious, and the crooked paths look straighter as we approach the end.
(Jean Paul)
The sun is new each day.
(Heraclitus)
Lose an hour in the morning, and you will spend all day looking for it.
(Richard Whately)
Tips for your good morning quotes
Below we have some tips for you that can help you write and send good morning sayings. Among other things, we'll tell you on which occasions you can send them.
You'll also find out what alternatives there are to the usual good morning messages and for whom they are not so suitable. Afterwards, you will find numerous examples that you can either send directly or use for inspiration if you want to write a saying yourself.
Use occasions to send messages after waking up
Theoretically, any day is suitable to send a good morning saying. However, there are some days when it is especially nice to receive such a greeting. For example:
Valentine's Day
Mother's Day
Birthday
Christmas
New Year
Father's Day
Another occasion for loving sayings in the morning is when a person is not doing very well and you want to motivate or build her up. You can prove to her that you are there for her and give her hope.
This means situations where something difficult is coming up for her (like an exam or waiting for an acceptance or rejection letter). Also, if someone is sick, sending get well wishes directly to their phone in the morning is a nice gesture.
Bring variation to the game
Good morning sayings are usually sent via messengers like WhatsApp, social media or SMS. Most people look at their cell phones after getting up and read their messages.
A saying, a quote or a short poem is in itself something special compared to ordinary messages. But if you want to stand out even more from the crowd and like variety, we have a few alternatives for you:
For example, you could take a sleepy photo of yourself right after waking up in the morning and send it with a saying. With tousled hair, small eyes, in pajamas and without any filters, it will surely make your conversation partner laugh.
Self-irony is not only sympathetic, it makes your recipient feel good and shows him that you, too, are unrecognizable in the morning. The same goes for videos. If you're courageous, just say your good morning line in a video instead of writing it to go with it. Improvised sayings are sometimes even funnier.
An alternative to the written word, picture or video is a voicemail. On WhatsApp, voicemails are super quick and easy to send. Especially if you never do something like that, your counterpart will definitely be pleased. Recite a good morning saying or croak out a few spontaneous sentences in a sleepy voice.
Tip
If you just want to visually embellish your saying, choose any motif that goes with a good morning (for example: breakfast table, sun, sky, clouds, bed, pillow, teddy bear, coffee) and write your saying on it. This can be done with simple image editing programs and is immediately much more vivid.
Write the text of your message yourself
Writing good morning sayings yourself is definitely the most personal way to give a loved one a morning treat.
Here, it's important to think about what the person might like. Put yourself in their shoes and use everything you know about them. With our little guide, you can succeed in writing your own sayings.
Start brainstorming
The most important thing when brainstorming is to avoid time pressure and be in an undisturbed place. This way you can think in peace and no one will barge in to take a look at your unpolished notes.
Keep in mind from the start that you can always send the message another day and not be pressed for time. This will provide relaxation and you'll be able to focus better.
And so we come to the first step. Take a sheet of paper and a pen and randomly write down the thoughts that come to mind about the person and the topic of mornings. What do you associate with a good morning and what do you wish the person to help them get through their day well?
Does she have a special favorite animal or breakfast? Certain rituals? Think about whether you have a shared memory that could spread good cheer. The second step we recommend is clustering. Put your individual pieces into a context of meaning.
Use rhymes
Rhymes help you put your notes from brainstorming into a meaningful order. Think about individual words that rhyme and build a little "story" around them.
For example, take the words "sight" and "bright" and "pleasures" and "treasures". This could be used to create the saying:
"I wish for you a morning that's bright,
Free from worries, with clear vision and sight.
So you can go for life's joys and pleasures,
And not miss out on any of its treasures."
If you want to send funny good morning sayings, you can also choose particularly simple or exaggerated rhymes and give them an ironic touch.
For whom early messages are not so well received
Morning grouches have always existed, will always exist. Some people just don't wake up as quickly at the beginning of the day as others. Some are not responsive at all before their first coffee. They'll probably just skim your message at first and maybe enjoy it later.
But someone who's not a morning person at all might be annoyed by a message bursting with energy and cheerfulness. Knowing your family and friends well, you'll know the best way to approach them before lunch.