14 Tips for Wedding Invitations + 4 Wording Examples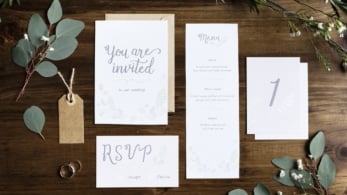 Are you in the process of planning your dream wedding? Do you need help with text as well as design tips for your wedding invitations? We've put together everything you need to make your planning easier. So you'll have less stress and more time for your partner.
The most important thing is to tailor your wedding invitations to you as the couple. In addition, there are some formal things you should consider. A checklist can make the planning easier for you.
Checklist: What to Include in a Wedding Invitation
To ensure that your wedding invitations don't miss any essential details, it is indispensable to know all the important dates and information concerning the guests before writing them. Make sure that none of the following items below are missing.
This way, you will avoid numerous requests from your guests, which will cost time and cause stress every time. Consult each other and proofread the invitations together, so that small mistakes can be avoided.
This must be included in your wedding invitation:
Salutation of the guests (optionally with informal tone)
Time and place of the wedding ceremony
Time and place of the ceremony
Date of the desired acceptance or cancellation (optionally with reply card)
Notes on the motto or dress code
Lodging suggestions and directions
Contact details of the witnesses
Optional tips for gifts
Your names
Tips and Ideas for Wording and Design of Wedding Invitations
In the following chapters, you will find some tips that will make wedding planning easier for you. You will save yourself stress and have more fun planning if you are not under permanent time pressure.
It is important to start planning early and to discuss everything with your partner so that there are no misunderstandings or arguments. Try to always agree with your partner before acting.
Reserve the Date
In case you and your partner haven't planned the exact details of the wedding yet, but want to announce the date so long, send out so-called save-the-date-cards. These help your guests to plan in advance and this way more guests will be able to attend your wedding.
You don't have to design pompous cards with lots of text, just a postcard with your names and the date will suffice. There are no limits to your imagination. Make the cards by hand, buy pre-made postcards or design them online and have them printed.
If you already have a set location, you should also include this in your save-the-date cards. This way, guests who live further away will know to plan ahead for a little road trip and can purchase airline tickets in advance.
Your save-the-date cards should be sent out as early as possible, because most professionals have to declare their summer vacation to employers at the beginning of the year.
This is especially important for summer weddings to prevent your wedding taking place when guests might be on vacation and unable to attend.
When to Send Out Wedding Invitations: The Perfect Timing
To save you some time and work, you can also simply send out your wedding invitations directly. For this, however, all the relevant dates must be available and there must be enough lead time so that your guests don't end up planning something else.
For your save-the-date cards, a lead time of at least six months is appropriate. The proper wedding invitations should be sent no later than three months before the wedding. This will give guests enough time to get an outfit that matches the dress code.
However, the three months limit only applies in case save-the-date cards have already been sent out. If you are planning on sending wedding invites only, you should send these out at least six months before the wedding date.
How to Address Wedding Invitations
There are a few simple traditional guidelines when it comes to how to address your guests on your wedding invitation. According to tradition, the inner and outer envelopes follow a different etiquette rule and guests are typically addressed in a formal manner with their titles and full names.
The inner envelope leaves more freedom and guests may be addressed by their first names, in a more informal manner.
Since titles can be somewhat exclusive or restricting for some guests, you may leave them out and are free to simply use guests names without any titles. Today, some guests may not identify themselves as Mr., Mrs., Miss or Ms., in which case you can use the modern way and use "Mx.", a now gender-neutral title.
If you are inviting a single person who will not bring a guest, your outer envelope should state "Ms. Rita Herbert" on the outside and "Ms. Herbert" on the inner side of the envelope. If a single person is bringing a plus one, the outer envelope should read "Mr. Max Lee" and the inner "Max Lee and Guest.
When inviting families, remember that the outer envelope only needs to have the parent's names on it, typically when the kids are under 18. On the inner envelope you should include every kid's name, whereby you can address girls under 18 as "Miss" and boys over 16 as "Mr."
When inviting a married couple, you should put both their names on the same line on the outer envelope. You can use titles and list names separately, should they have different last names, arrange the names in alphabetical order.
In general, you would address the couple on the outer envelope as Mr. and Mrs. Robert Singers and as Bill and Sally on the inner envelope.
Where to Get Cheap Online Wedding Invitations
Sending wedding invitations out online saves time and money. There are numerous providers of cheap or even free wedding invites that you can use. We will reveal the top ones in the following.
Remember, though, that especially older people, who do not have access to technology or struggle to cope with the same, are better off with a traditional wedding invite via postal services. Otherwise, go right ahead and explore templates together with your partner until you find one you both like.
Greenvelope
Greenvelope has it all, and as the name suggests, also takes the environmentally friendly factor of sending wedding invites out online into account. You can effortlessly create save the date cards and wedding invites. RSVP is made so much easier and clear to you.
Greetings Island
Greetings Island allows you to invite your guests via Facebook, text and email. You can choose from animated designs, to impress your guests, or stick to a more traditional greeting card. You can manage your wedding and track RSVPS all in one place.
Paperless Post
Paperless Post offers endless beautiful, animated and standard templates to pick from. You can add extra blocks, stamps, or backdrops and create your own design also. You can collect your email addresses, follow up with guests in an instant and track your RSVPs.
Joy
Joy is known for its very impressive RSVP features and offers both peerless and standard wedding invitations. You can easily select different styles and fonts and create truly stunning invites. Joy offers smart tags, and you have the option to include meal preferences for your guests. The RSVP feature can be customized to your needs. Joy takes care of most of your invite needs and lets you know when Invitations have been opened, for example, or an RSVP has been received.
Shutterstock
Shutterstock is a popular place for online wedding invitations and especially backgrounds. You will find tons of inspiration here and can either choose an existing template or create your own. With a total of around 14,575 free wedding invitation images, you and your partner are bound to find a suitable one.
Tips for Elegant Wedding Shower Invitations
When it comes to creating elegant wedding shower invitations, attention to detail and thoughtful design choices can make all the difference. You want them to be unique and distinctive.
But how do you create wedding shower invitations that look their absolute best and ooze elegance? After all, they should be as unique as the event itself. We've got you covered with our 8 tips on how to create elegant and sophisticated invitations for your wedding shower.
1. Choose a Refined Color Scheme
Opt for a color scheme that conveys elegance and sophistication. Especially classic colors such as ivory, blush, gold, silver, or muted pastels can create a timeless and refined look.
2. Use High-Quality Paper
Always choose high-quality paper or card stock for your invitations. This adds a luxurious feel and enhances the overall sophistication of your card. Consider textured or specialty paper options if you want to make it even more exquisite.
3. Select Elegant Fonts
Make sure to select elegant and legible fonts that complement the overall theme of your invitation card.
You can find beautiful calligraphy fonts around the web and can also use fonts like script or serif fonts for a more luxurious appearance.
Avoid hard to read or overly decorative fonts.
4. Stick to Clean, Minimalistic Design
Embrace simplicity in your design. Avoid cluttering your invitation card with too much text, graphics, or decoration props. Use the white space effectively to create an elegant and tasteful look.
5. Incorporate Subtle Embellishments
Add subtle decorative items or embellishments to make your invite look even more sophisticated. This could include delicate borders, foil accents, embossed details, subtle patterns, ribbons, or little hangers.
Be careful not to overdo it and add too many items, and stick to the card's minimalistic and refined theme.
6. Make Sure You Use Appropriate Wording
Choose your wording carefully to reflect the formality and sophistication of your upcoming wedding shower. Always use formal language and pay attention to proper grammar.
To add a touch of elegance, consider adding an aphorism using traditional wording styles or poetic expressions.
7. Pay Attention to Layout and Typography
Ensure your text is properly aligned and spaced and fits the card as intended. Use hierarchy in typography to highlight important details such as names, dates, time, and location. Experiment with different font sizes, weights, and styles to create an aesthetically pleasing layout.
8. Consider Using Calligraphy or Hand-lettering
If budget and resources allow so, consider using calligraphy or hand-lettering for a truly personalized and elegant touch.
Should you or your partner have exceptionally alluring handwriting and enough time on your hands, you could write the lettering yourself.
Handwritten elements add an extra level of uniqueness and sophistication to your invites.
Tips for Fonts & Background of the Wedding Invitation Card
Naturally, you and your partner want every detail of your wedding invitation card to be absolutely perfect and reflect the theme of the wedding.
Fonts and backgrounds play a big role in the overall appearance of your invite and should be carefully considered. When choosing fonts and backgrounds for your wedding invitation card, there are a few tips to keep in mind:
The style of your wedding: The style and theme of your wedding should be the primary factor when deciding on fonts and backgrounds. If you're having a traditional wedding, you will want to choose classic fonts and backgrounds. If you are planning a modern wedding, you can go for more contemporary fonts and backgrounds.
The colors of your wedding: The colors of your wedding should also be reflected in your font and background choices. If you're having a wedding with lots of bright colors, you can opt for bold fonts and backgrounds. If your weeding involves a more muted color theme, you should pick more subtle fonts and backgrounds.
The overall look and feel of your invitation: You want your wedding invitation to be cohesive and inviting. The fonts and backgrounds should work together to create a beautiful and elegant overall look.
Use a variety of fonts: Don't be afraid to mix and match fonts. Using a variety of fonts can add beauty and depth to your invitation.
Choose fonts that are easy to read: Your invitation should be easy to read, even from a distance. Avoid using fonts that are too small or too ornate.
Use a background that complements your fonts: The background of your invitation should complement your chosen fonts. Should you opt for a lot of bright colors, for example, you can decide on a solid background color. If you're using muted colors, you can also select patterned backgrounds.
Here are a few examples of fonts and backgrounds that would work well for your wedding invitation:
Fonts:
Serif fonts have small lines at the end of each letter. They add a touch of elegance to your invitation.
Sans serif fonts: Sans serif fonts do not have the lines after each letter and add a modern style to your invite.
Cursive fonts: Cursive fonts are ideal for romantic wedding invitations.
Backgrounds:
Solid colors: Make your invite appear more elegant
Patterns: Ideally suited for modern invites
Images: For an invitation with a more personal touch
Ultimately, the best way to select fonts and backgrounds for your wedding invitation card is to experiment and see what you like. There are no hard and fast rules, so have fun and create something you both love.
Find Your Own Style
There are countless ways to design your wedding invitations. Some style variations are: vintage, rustic, classic, original, modern, romantic or luxurious. You can also design the invitation according to your theme and use different motifs.
To agree, you and your partner can each write down their ideas. Create a joint mind map from your ideas, organize them by categories and try to find commonalities. Mark these and get brainstorming.
Since you enter into a marriage, you will surely find some common ground. Common hobbies can also be a nice motto for a wedding and the matching invitations.
Wedding Invitations with Reply Card: Yes or No?
Make sure to ask your guests to RSVP. Unfortunately, you can't always assume that all of your invitees will respond, but inviting them will improve your chances and make planning easier.
You could put a traditional reply card in the envelope together with your invitation. Then, in one sentence, ask your guests to let you know by a certain date if they are coming. This phrase works without a reply card and saves the work of having to create and print an additional card.
It is also more likely that the majority of your guests will RSVP Via WhatsApp, text message or email instead of sending back the reply card. Be sure to take into account, however, that older generations often still prefer the postal service.
Take Time for Planning
When designing wedding invitations, disputes can arise from time to time. The biggest factor for this is poor time management. Make sure to allow enough planning to reduce the pressure. One to two months is a realistic estimate.
A wedding involves a lot of stress and requires countless decisions. Let yourself be guided by what you have in common so that you can quickly come to a common denominator, and, above all, be willing to compromise.
After all, the invitations should represent the two of you as a couple, not just one of you. Ask friends and family for help if you are overwhelmed by the countless wedding invitations.
Just as important as the wedding invitations are the "Thank You" cards after the wedding. You should also allow enough time for these to be sent out to guests.
Write Several Versions of the Wedding Invitation
So that you and your partner are really happy with the wedding invitations, you should each write a rough version of the text. Look at them together, try to find commonalities, and be open to suggestions for improvement.
Perhaps your texts can be merged directly, or you know what the other person means to say but can express it better in words. Formulate another rough version together and compare all versions.
Which text do you both like best? Add the finishing touches and check for spelling and grammar mistakes. Our sample texts can help you find your way around it.
Photos in Wedding Invitations
Many couples plan a photoshoot prior to their wedding. You can use these photos to perfectly individualize your wedding invitations, which gives them a unique and personal touch. The cheaper option is to snap the photos yourself.
You can pick classic motifs (e.g., a picture of the couple kissing) or go for a funny picture (e.g., the couple jumping up in the air together).
Before the shoot, research some poses and practice those that suit you well. Be careful not to show too much skin. Below are a few ideas for couple motifs that are suitable for a wedding invitation:
Walking hand in hand (a nice motif from behind or the front).
Shadow plays, like a romantic kiss at sunset, are very popular.
Run towards each other in a meadow of flowers.
Stand back to back.
Your noses touch whilst you are keeping your eyes closed and smile.
Hold each other's heads in your hands.
Kiss each other in the distance
Dance with each other. One person might spin the other in a circle.
The man lifts the woman up in the air.
Form a heart with your hands or arms.
Beautiful Alternatives to Personal Salutation
It is always a delightful gesture, when the bride and groom make the effort to address guests personally in their respective wedding invitations. Nevertheless, it means more work in the end. To save you this work, simple salutatory texts that address all guests equally are suitable.
Instead of the usual "Dear guests", there are nice alternatives to choose from. You can describe your getting to know each other in one sentence, or start with a love quote or short love poems.
There are also beautiful aphorisms about life, which are perfectly suitable for a wedding invitation. Below, we have collected a number of examples for you:
Love alone knows the secret of making gifts to others on getting rich within.
(Clemens Brentano)
Love is an ideal thing, marriage a real thing.
(Johann Wolfgang von Goethe)
There is no way to face the great advantages of another person than through love.
(Johann Wolfgang von Goethe)
Eagerly awaited, by popular demand and yet of our own free will — we are getting married!
(Unknown)
In love – Date
Engaged – Date
Married – Date
The language course was not easy for both of us, but we understood the language of love right away.
(Unknown)
Where there is love there is life.
(Mahatma Gandhi)
Here you'll find more beautiful wedding quotes.
DIY: Making Wedding Invitations Yourself
Many couples choose to create their own wedding cards to save money. But that's not the only advantage: Foremost, each invitation is unique, with your heart and soul put into it. Your guests will certainly cherish it.
Secondly, your invitations will be unrivaled in terms of individuality, and thirdly, working together on this little project will strengthen the bond between you and your partner as you will get to spend lots of time together.
However, you should be aware beforehand that crafting wedding invitations is very time-consuming and requires both patience and concentration.
Most couples enjoy the time together and find craft relaxing, while others quickly lose patience and argue. So talk to your partner in detail before you start the project and ask them what they think of the idea. Be sure to consider the number of invitations you'll need before you start crafting.
Simple DIY and Craft Ideas for Wedding Invitations
Cardboard is the best material to use. Paper is too thin and allows the text to show through. The cardboard should be tear-resistant, but not too solid, so that it still fits well in the envelope and should not appear too rough.
For a second layer to decorate the cards, you can use: napkins or thin fabrics, small glued beads and stones, feathers, dried flowers and leaves or self-made butterflies from crêpe paper.
Confetti, glitter or thin ribbons can also add that special touch. Print out photos of yourselves and stick them on the invitation or opt for a self painted design, if you are artsy. Let your creativity run free.
Don't spend too much time perfecting each card to make them all look meticulously identical. After all, the point of crafting wedding cards is for guests to see that you have made an effort. Trying to emulate printed cards can be frustrating and requires a lot of work. Instead, take pride in your custom invitations.
Less is More
Whether you have your wedding cards printed or make them yourself, the motto is always: less is more. A completely overloaded invitation not only distracts the eye from the actual text and important information for the wedding. It can also easily look ridiculous.
You certainly want your marriage to be taken seriously and for guests to find their invitations appealing. So don't put everything you can think of on the card, but agree on a few individual elements.
Ideas for Wording: Wedding Invitation Texts and Examples
Lots of couples find it difficult to formulate their wedding invitation themselves. There is not much room to maneuver with the information and data. The text can be adapted to the motto with a few puns, or you could come up with some nice rhymes.
Typography and design can also be used to personalize your card. We have compiled a few sample texts that can help you with the wording.
Simple Wording for a Modern Wedding Invitation
Join us in celebrating the love story of [Couple's Names] as they exchange vows and begin their journey as one.

Date: [Date] Time: [Time] Venue: [Venue Name] Address: [Venue Address]

Please save the date for a joyous occasion filled with love, laughter, and memories to cherish forever.

RSVP by [RSVP Date] Contact: [Contact Information]

Dress code: [Dress Code, if applicable]

We look forward to sharing this special day with you and creating beautiful memories together.

With love,
[Your Names]
Wording for a Summer Wedding
Met in the summer, engaged in the summer, married in the summer!

We say "yes" on 14.08.2018.

The wedding ceremony will take place at [Church] at 3:00 pm in [City]. Join us afterward in a summer night's dream at the [Place]. The ceremony will take place outdoors in the castle garden starting at 5pm. The dress code is summery and colorful.

Please let us know by 14.07.2018 if you can come. We are looking forward to seeing you!

The bride and groom,
[Your Names]

P.S…
Our household is complete,
so we would appreciate it
if you don't buy anything that fills up cupboards,
but instead give something
for which dreams could be fulfilled,
that would otherwise remain dormant without you.

(Contact details of the groomsmen and the addresses of the ceremony and celebration)
Text for a Casual Wedding Invitation
We are starting our future together.

On April 19, 2019, the rest of our life begins, which we want to celebrate with you! The civil wedding ceremony will take place at 2 pm at [Place]. At 3:30 p.m. in the [Church], we will say "I do" before God. Afterward, the celebration will take place at the [Place] from 6 p.m. onwards. Mark on the reply card how many people you will bring along and which menu you will choose.

The motto is love, the dress code is red.

As a gift, we would appreciate a small donation for the honeymoon. You will find our groomsmen's contact information, directions and lodging suggestions in the envelope.

[Your Names]
Wedding Invitation: Text for a Colorful Wedding
Dear confetti fans,
The dating is over and we are finally ready.
Yes, it's time for a colorful carnival wedding. You are all invited, and if possible, dress colorful.

The civil ceremony will take place at 2 p.m.at [Place], afterward we will go to the concert hall [Place], where we will have a cracker party with streamers, confetti, balloons, and lots of extravagant decorations. It will be crazy like us, and we are looking forward to seeing you. The buffet has surprises in store, just let us know how many people you are coming with.

Cheers to love,

[Your Names]

(Contact details of the groomsmen and the addresses of the registry office and the hall)
This could also interest you