"Happy Easter": 100 Greetings & 5 tips for Writing Messages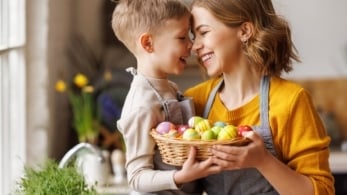 This year, why not try sending out some Easter greetings? Wish your loved ones a happy Easter with a beautiful rhyme, quote or a nice spring poem. We've got five important tips you should follow and 106 free greetings and texts to show you how many options you have.
You can send Easter greetings in a wide variety of formats – as a text message, an Easter greetings card, an email, a video or as a voice message on messenger apps. Wish your loved ones a happy Easter in a special way this year.
"Happy Easter" Greetings: Beautiful Ideas for Messages
In this chapter, we've compiled the most beautiful Easter greetings in the form of short texts, rhymes, quotes and poems to get you off to the right start, or even just to give you some extra options.
Ideally, though, you shouldn't rely on these alone. Writing a little extra something yourself can add a much more personal touch to your Happy Easter greeting. Of course, all the examples mentioned below can not only be used in greeting cards, they also work wonderfully in WhatsApp messages, emails or texts.
Religious Messages for Wishing "Happy Easter"
For those practicing the Christian faith, Easter is first and foremost a religious holiday. It is a time for Christians to come together, reflect and celebrate the resurrection of Jesus Christ on Easter Sunday.
With our religious Easter blessings below, you can find the perfect message for your Christian friends and family to spread the joy of Christ's resurrection and encourage an Easter weekend full of faith, prayer and gratitude.
Wishing you a blessed and holy Easter.
Praying your Easter will be bright with the hope and joy of our risen Saviour.
May God shower you with blessings, love, and peace this Easter.
Stay blessed and have a beautiful Easter.
Celebrating the miracle of Easter, the beauty of God's creation and the blessing of having you in my life.
May you be blessed with our Lord's love and peace this Easter.
May His love shine on you at Easter and always.
I hope you have a wonderful Easter Sunday filled with family, friends and faith!
May the blessings of our Lord guide you, protect you and be with you at Easter and always.
Let your heart be glad, shout with joy and celebrate this great day. Easter is here, and so is new life and hope. Have a blessed Easter!
We thank the Lord for his blessings and wish you an Easter full of joy and peace.
Hoping the miracle of Easter brings you peace and joy. Have a blessed Easter.
Happy Easter Greetings
A fun way to upgrade your Easter greetings is to add an Easter verse. They are short and can be incorporated anywhere. In this chapter, you'll find both classic and funny Easter verses and sayings. There's also something for children in here too.
Here are a few sayings that can be used universally for the most part. However, you should always keep in mind the personal relationship you have with the person you're sending your Easter greeting to.
Warmest wishes, all the best, for this coming Easter fest!
Above all else, I hope it brings, a joyful and relaxing spring!
The time of year has finally come, to celebrate some Easter fun,
The Bunny hops through all the yards, delivering eggs and Easter cards,
Happy Easter to you all this spring, peace and joy may it bring.
Easter means spring is well under way. So I wish you plenty of warming sun and lots of fun this Easter.
Spring is already starting to show, and the Easter bunny is ready to go,
He's got chocolate eggs for you and me, to fill this Easter with joy and glee.
Sending you my warmest Easter wishes, may you have a sunny Easter weekend with the whole family.
Easter time's already here?
Come on then, little daffodil,
Come on then, you green grass
And Easter bunny, get over here fast!
Already Spring is in the air,
You can feel it in the warming breeze,
May you and all your family share,
An Easter full of joy and peace.
To all my friends and family,
Who I hold very dear to me,
May your Easter time be full of fun.
Let's meet again, it's been too long!
Looking for funny quotes? Here you will find them.
"He is Risen": Bible Quotes about the Resurrection of Jesus
The Resurrection of Christ is the most important thing to keep in mind at Easter for devout Christians. So it makes sense for a message reminding us of the Resurrection to be the focus of Easter greetings to friends and family of the same religion.
A nice way to keep this idea at the forefront of your Easter message is to include a quote from the Bible regarding the Resurrection.
Bible verses work great as Easter greetings on their own or accompanied by a little personal message. Below, you will find a few ideas of how to incorporate quotes about Christ's Resurrection in your Easter greetings – whether it be a WhatsApp message, a greetings card, a text or an email.
He is risen! Wishing you a happy Easter full of blessings.
"Jesus said unto her, I am the resurrection, and the life: he that believeth in me, though he were dead, yet shall he live." (John 11:25) Rejoice in hope this Easter season!
"Praise be to the God and Father of our Lord Jesus Christ! In His great mercy, He has given us new birth into a living hope through the Resurrection of Jesus Christ…" (1: Peter 1: 3). Hoping these words bring you faith this Easter!
"God so loved the world that he gave his only Son, so that everyone who believes in him won't perish, but will have eternal life." (John 3:16-17) Wishing you an Easter full of hope and joy!
A few words from the Bible to wish you a happy Easter full of blessings: "Don't be afraid! I am the First and Last. I am the living one. I died, but look–I am alive forever and ever!" (Revelation 1:17b-18a).
"Let us rejoice." Wishing you a holy Easter Sunday full of joy.
As we reflect on the miracle of the resurrection, may your faith be renewed and your heart made new with the hope Easter brings.
"He is not here; he has risen! Remember how he told you, while he was still with you in Galilee: 'The Son of Man must be delivered over to the hands of sinners, be crucified and on the third day be raised again." (Luke 24:6-7)
"Jesus said to her, "I am the resurrection and the life. The one who believes in me will live, even though they die; and whoever lives by believing in me will never die. Do you believe this?"" (John 11:25-26)
"Then Jesus told him, "Because you have seen me, you have believed; blessed are those who have not seen and yet have believed."" (John 20:29). Have a joyous Easter!
"Happy Easter" Greetings for Children
For children, the wonder of Easter lies in the Easter egg hunt and all the chocolate. A serious poem or a thoughtful quote in a card are wasted on them.
However, if you don't want them to miss out on a gift tag message or a card, the best way to do it is with a short, funny message or rhyme. They'll love it even more if you encourage their belief in the Easter bunny.
What's that hopping around over there? I don't think it's any old hare. It's the Easter bunny with eggs to hide – And he's got one for you to find!
(Unknown)
The Easter Bunny's feet
Go hop, hop, hop,
While his big pink ears
Go flop, flop.
He is rushing on his way
To bring our eggs on Easter Day,
With a hop, hop, hop, hop, hop.
(Unknown)
Sending you a tasty chocolate wish,
along with a sweet Spring kiss,
because you, my dear, are just as sweet,
enjoy your Easter chocolate treat!
(Unknown)
Get ready for some eggs-tra special, chocolate-filled surprises in your basket!
Hop, hop, hop! Hear that? It's the Easter Bunny on his way!
The Easter Bunny's been here today.
He dropped colourful eggs along the way.
Follow the clues, You need to be wise.
As they will lead you to your prize!
(Unknown)
The Easter Bunny came by today
and left surprises along his way.
Colourful eggs are all around.
With baskets in hand, we search the ground.
Hiding in places here and there,
Easter eggs are everywhere.
(Unknown)
Easter eggs, yellow and blue.
Easter eggs, for me and you.
Easter eggs, candy sweet
Easter eggs are good to eat.
Easter eggs, pretty and funny.
But.. where, oh where, is the Easter Bunny?
(Unknown)
Once I saw the Easter Bunny
Come hop, hop, hop.
So I cried, "Dear Bunny,
Will you stop, stop, stop?"
I ran to the window
To say, "how do you do?"
But he shook his fluffy tail
And said "Happy Easter to you."
(Unknown)
Beautiful "Happy Easter Sunday" Messages for Loved Ones
Planning on sending an Easter message to a loved one this Easter Sunday? Make sure your words stand out with a beautiful Easter greeting.
Easter messages you send to those closest to you will obviously differ a lot in content. You can read how to write Easter greetings for business contexts later on in this article.
Easter greetings for loved ones should include a message showing your love and appreciation this Easter season. It's always best to add a specific, personal message rather than simply using a standard Easter greeting for boyfriends, girlfriends, husbands, wives or close family and friends.
However, we've got some good examples here to get you off on the right foot. All sayings are from unknown authors.
Happy Easter, my love. I am so lucky to be spending this wonderful holiday with you!
Happy Easter, sweetheart. All the chocolate in the world couldn't be as sweet as you!
Warmest Easter wishes to my Easter bunny!
I thank God every day for sending you to me. Happy Easter Sunday, my love!
Happy Easter, my dear. May our love keep flourishing like spring does every year!
On this special day, I count my blessings and you're always number one! Happy Easter.
I'm so lucky you hopped into my life. Happy Easter, darling!
You're the sweetest thing about this Easter!
Feeling so grateful for Easter and springtime with you. Have a wonderful Easter Sunday.
Cheers to the sweetest things in life – one of which is you! Happy Easter!
Roses are red, violets are blue, it's Easter today! And I love you.
I can't tell which I'm more excited for – all the chocolate or spending Easter with you. Happy Easter, my love!
Funny "Happy Easter" Greetings
In this chapter, you'll find some funny Easter greetings in the form of jokes, puns and quotes. These are perfect for sending to close friends and family, who you're sure will understand your humour, without damaging your relationship.
A good trick to add a touch of humour to your greeting is to follow this helpful writing tip: Write the word "Easter" in a vertical line and come up with something funny to write horizontally, starting with each letter.
This method is often used for other occasions and adds a funny touch to any message, and it's called an acrostic poem.
Hoppy Easter! Ears to a great springtime!
(Unknown)
The Easter bunny hops from door to door,
Soon he'll be too tired to carry much more,
He's got something special is his paws:
It's my Easter wishes to you and yours.
(Unknown)
A balanced Easter diet is a chocolate egg in each hand.
(Unknown)
How does the Easter bunny stay in shape? He does HARE-robics!
(Unknown)
Have a cracking Easter! Let's hope it's an eggs-traordinary day!
(Unknown)
Easter egg hunts: Proof your child can find things when they really want to.
(Unknown)
Here's hoping Easter is putting a spring in your step! Happy Easter.
(Unknown)
Eggs delivered by the Easter bunny,
A time for spending with family,
Spring is finally here,
Tulips blooming and fresh green grass,
Eating chocolate and Easter dinner,
Relax and enjoy the holiday.
(Lauren Ryan)
What kind of music does the Easter Bunny listen to? Hip hop.
(Unknown)
Here you will find more funny quotes.
Greetings for a Happy and Blessed Easter
Easter blessings are another great option to include in your Easter greetings. They work great for cards, text messages and emails. You can write your own message wishing a blessed Easter, or find some Easter blessings online. Easter blessings are a great way to express your faith at Easter by wishing your loved ones health, peace and joy.
They tend to not incorporate too much Christian ideology, so they are a great option for sending Easter greetings to non-religious friends and family. Most people will appreciate a prayer or blessing, regardless of faith.
If you're looking for more in-depth religious messages to send to those who share your faith at Easter, you can check both our Bible quotes chapter and religious Easter messages chapter.
May the glory and the promise of this joyous time of year
bring peace and happiness to you and those you hold most dear.
And may Christ, Our Risen Saviour, always be there by your side
to bless you most abundantly and be your loving guide.
(Unknown)
May you be blessed with our Lord's love and peace this Easter.
(Unknown)
As we reflect on the miracle of Easter, we thank you for being part of our lives.
(Unknown)
May you be richly blessed with health, wealth, and happiness this Easter.
(Unknown)
Easter reminds us that after the darkness, there is always light. Have a peaceful Easter.
(Unknown)
God bless you and yours during this Easter season.
(Unknown)
May the true spirit of Easter fill your home today and every day.
(Unknown)
Wishing you renewed faith, hope, and love as a new spring blossoms. Happy Easter!
(Unknown)
Let us be thankful for the blessings from above, and hopeful for the sunny days ahead. Happy Easter!
(Unknown)
Easter is the time to rejoice and be thankful for the gift of new life. Have a blessed holiday!
(Unknown)
"Happy Easter" Quotes
Easter quotes can be used similarly to Easter sayings and rhymes. However, they differ in one essential aspect: They may be easier to read, but they often contain far less substance than a quote.
Famous quotes generally offer some appropriate nuggets of wisdom to the holiday. As such, they are suitable for professional contacts, such as your boss, work colleagues or business partner.
As quotes are usually quite short, it is advisable to only write them on one side of a card and add some of your own words on the other side. When receiving a card with just Easter greetings, it's nicer to read some self-written sentiments too.
It is spring again. The earth is like a child that knows poems by heart.
(Rainer Maria Rilke, Austrian storyteller and lyricist,1875-1926)
From the ice they are freed, the stream and brook, By the Spring's enlivening, lovely look; The valley's green with joys of hope; The Winter old and weak ascends Back to the rugged mountain slope.
(Johann Wolfgang von Goethe, German poet, 1749-1832)
Our Lord has written the promise of resurrection, not in books alone, but in every leaf in springtime.
(Martin Luther, German Augustinian monk, 1483-1546)
That is one good thing about this world, there are always sure to be more springs.
(Lucy Maud Montgomery, Canadian author, 1874-1942)
Spring and Easter poems
Easter poems motivate you to reflect and quickly create an atmosphere of spring. In contrast to Easter sayings or short quotes, they are characterised by deliberate and ornate word choice and their length.
Similarly to quotes, they are therefore also suitable for professional contacts. Older generations in particular enjoy a good atmospheric Easter poem.
1)
Spring is here
Spring is floating its blue banner
On the breezes again;
Sweet, well-remembered scents
Drift portentously across the land.
Violets, already dreaming,
Will soon begin to bloom.
Listen, the sound of a harp!
Spring, that must be you!
It's you I've heard!
(Eduard Mörike, translation by Richard Stokes)
2)
Loveliest of Trees, the Cherry Now
Loveliest of trees, the cherry now
Is hung with bloom along the bough,
And stands about the woodland ride
Wearing white for Eastertide.
Now, of my threescore years and ten,
Twenty will not come again,
And take from seventy springs a score,
It only leaves me fifty more.
And since to look at things in bloom
Fifty springs are little room,
About the woodlands I will go
To see the cherry hung with snow.
(A. E. Housman)
3)
Sonnet 98
From you have I been absent in the spring,
When proud pied April dress'd in all his trim
Hath put a spirit of youth in every thing,
That heavy Saturn laugh'd and leap'd with him.
Yet nor the lays of birds nor the sweet smell
Of different flowers in odour and in hue
Could make me any summer's story tell,
Or from their proud lap pluck them where they grew;
Nor did I wonder at the lily's white,
Nor praise the deep vermilion in the rose;
They were but sweet, but figures of delight,
Drawn after you, you pattern of all those.
Yet seem'd it winter still, and, you away,
As with your shadow I with these did play.
(William Shakespeare)
Short "Happy Easter" Greetings
You can use these short-form suggestions for gift tags, or write them on the title page of your card. Although, they shouldn't make up the entire content for proper cards.
The following examples can be found in Easter greetings of all shapes and sizes every year. So if you want to send something a little bit more personal, you should either avoid or add to these messages.
All of the quotes are from unknown authors.
Happy Easter, hope you get lots of Easter eggs!
Have a happy, sunny Easter Sunday!
Wishing you a relaxing springtime this Easter!
Have a wonderful Easter holiday and lots of fun on the egg hunt!
Warmest wishes for a restful holiday and a delightful Easter!
Wishing you a happy Easter with lots of colourful eggs and a wonderful Easter dinner with your family …
How to Say "Happy Easter" in Other Languages
Easter is a holiday that is celebrated around the world. Different countries have different traditions and history surrounding Easter. For example, in Spain, Holy Week is celebrated with magnificent religious processions through the streets of all the towns and villages of the country.
And just as Easter is celebrated differently throughout the globe, Easter greetings also vary. A nice idea for your own Easter greetings may be to incorporate a multicultural element and say "Happy Easter" in a few languages different to your own. Or perhaps you have friends from other countries, and would like to wish them a happy Easter in their own language.
Below, you will find a number of ways to wish someone a happy Easter in different languages.
Spanish: "Felices Pascuas!" or "Felices Domingo de Resurección!" are two ways to wish somebody a happy Easter and a happy Resurrection Day respectively in Spain.
Italian: "Buona Pasqua!" is the correct way to wish somebody a happy Easter in Italy. To extend this to family, you can say "Buona Pasqua a te e famiglia!"
German: "Frohe Ostern!" is a nice, simple way to wish someone a happy Easter in German, while a longer option would be "Ich wünsche Ihnen ein frohes Osterfest."
Greek: To wish someone a happy Easter in Greek, you can say "Kalo Pascha!". After midnight on Easter Sunday, Greeks greet each other with "Christos Anesti!" meaning "Christ is risen", to which the response is "Alithos Anesti." The response means, "Truly, He is risen," and is only used in response to the former greeting.
French: In France, people wish each other a happy Easter by saying "Joyeuses Pâques!". (Fun fact: In France, it is not the Easter bunny that delivers the eggs, but the ringing of the church bells drops them from the sky. That's why, in France, you may also hear the expression "Attendez que les cloches sonnent," which means wait for the bells to sound.)
Portuguese: "Páscoa Feliz" or "Boa Páscoa!" are two ways of saying Happy Easter in Portuguese.
Russian: The Russian translation of Happy Easter is Schastlivoy Paskhi or Khristos voskres, which literally means Christ is risen. In Russia, Easter is celebrated according to the Julian calendar, as opposed to the Georgian calendar, and so falls about two weeks later than in most of Europe.
Modern Texts as Easter Greetings
These sample texts will help you to get to grips with how to word your Easter greetings. In principle, there are no limits to your imagination, as long as the word "Easter" appears in your text.
It's nice to write your Easter greetings from the whole family, using "we" and "our." If your recipient has a family, it's also better to address them as a whole. Using warm, familiar language is a good idea, at least when you are close to the recipient.
Wishing you all an Easter full of joy and best of lucky on the egg hunt! May the spring sun shine on your heads, and enjoy your time off.
Spring has sprung in the garden, it's blossoming and blooming, and even the daffodils are on time this year. We've given the Easter bunny a hand and have painted lots of eggs with the children. We're sending you the most beautiful ones and we hope they arrive safely.
At Easter, nature awakens to new life, everything begins to blossom and bloom. Wishing you all lots of warm sunshine on your skin and in your heart, as well as a happy holiday full of colourful spring flowers. Happy Easter!
All around us, nature is waking from its winter slumber, and the first heralds of spring are shining in their magnificent colours. Enjoy the show and have a beautiful holiday.
A happy Easter to you
May your Easter holidays be nice and restful,
May the Easter bunny bring you plenty,
May the start of your spring be beautiful and colourful,
Wishing you bountiful chocolate eggs,
Sunny weather,
And some wonderful time spent with family.
How to Write "Happy Easter" in Business Context
Christmas or New Year's greetings are more commonly sent to customers or business partners than Easter greetings. Use that to your advantage and stand out from other companies by doing so.
The same applies to sending Easter greetings to work colleagues or your boss. Normally, this kind of communication is sent for Christmas wishes, get well soon wishes or maybe birthday wishes. But if you want to stand out from the crowd, Easter is the perfect occasion for that.
Keep things professional and definitely avoid any advertising. If you're not exactly sure what to write, use a quote as an introduction and add your own sentence relating to the topic. Now, here are a few examples of Easter greetings that are suitable for business relationships.
Spring is here! Just like nature, we too are feeling revitalised. So Easter is the perfect occasion to wish you a successful year ahead. I hope our business relationship continues to move in the right direction. A happy and relaxing Easter to you and your family!
(Lauren Ryan)
Spring brings a new spark to all of our lives. With that in mind, I look forward to the progression of our successful collaboration.
Wishing you a restful holiday this Easter and hoping the Easter bunny brings your children plenty!
(Lauren Ryan)
A new season full of new possibilities. Let's make the most of it! Happy Easter.
(Unknown)
Here's to successful beginnings! Happy Easter.
(Unknown)
The grey of winter is over – life is colourful once more! Wishing you a great beginning to spring and a wonderful Easter.
(Unknown)
Put on your sunglasses, enjoy your first cappuccino outdoors, throw your jacket over your shoulders – it's finally spring again! Have a happy Easter!
(Unknown)
How to Write Easter Greetings: 5 Tips
What really is Easter? What's certain is that it's not only celebrated by Christians, but is also a symbol for the beginning of spring, in example the reawakening of nature. People love to share this springtime feeling with those around them, whether it's through Easter greetings or gifts.
As with every bank holiday, we finally get some more time to spend with our family and friends again. So send them a few nice Easter words. With so many possibilities, we'd like to give you an overview of your options. So have a think about which one suits you best. It's the thought that counts, so make sure the greetings you send are meaningful.
Choose the Right Time to Send Easter Greetings
You can send your Easter greetings to arrive during the Easter holidays – at least when you are addressing children. Easter officially stretches from Good Friday to Easter Monday.
Due to the delays with the post that are common around the holidays, it wouldn't be a bad idea to send a card or letter a bit earlier. When it comes to digital Easter wishes, it's best to send your message on Easter Sunday or Easter Monday.
The Right Way to Wish a Happy Easter
There are many ways to send your Easter greetings. But whatever method you choose, remember: Easter is colourful! As we are celebrating the beginning of spring, your greeting should be accompanied by some colour too.
Apart from the possibility of writing a card, a letter, a WhatsApp message, a text or an email, some people enjoy a phone call. Picking up the phone and calling a relative you don't see that often or is hard to reach can be a lovely surprise for people.
Writing an Easter Card
If you decide to write a card or a letter, some personalisation choices have to be made. You should, of course, choose a card or stationary with typical Easter graphics. In the next chapter, you will find various Easter symbols you can include here.
Make sure to write your card by hand, it has a much more personal effect. We've also compiled numerous examples that can help you to draft your own Easter text. Letting your children write or draw something on your Easter cards is also a nice idea. That way, you'll add a personal touch and make the reader smile.
Modern Easter Greetings for WhatsApp
Even modern Easter greetings sent by text or email can be personalised. For example, try adding a funny Easter photo of yourself wearing bunny ears or using a Snapchat filter.
Photos of your whole family are, of course, a particularly nice touch. WhatsApp also gives you the option to record a voice message and simply send that too. If you'd rather write a text, use suitable emojis to spruce it up a bit.
Integrate Easter Symbols
There are a few symbols you can use to craft your Easter greeting. You can either send them as emojis in your WhatsApp message, insert them as a photo in your Easter email or paint them yourself onto your Easter card.
The more symbols included in your Easter greeting, the prettier it is to look at. In addition, you can send an Easter decoration with your greeting as a small gesture. For example, small decorative eggs for hanging, a porcelain Easter bunny or a typical chocolate Easter bunny.
Easter Eggs
The most well known symbol for Easter is the Easter egg. Painted eggs have been considered decorative items in many cultures for thousands of years. These days, they are first and foremost a symbol for Easter.
To make them, regular hen's eggs are hard-boiled or drained and then dyed or painted. They can then either be eaten or used as decoration. They are wonderful for decorating yourself and are a great Easter gift to accompany your greeting.
Easter Greetings with the Easter Bunny
The Easter bunny has established itself as one of the most recognisable Easter motifs. Easter eggs were previously delivered in different parts of Germany by the Easter Fox, the Stork, or the Hen, while the Cuckoo brought them in Switzerland. But the Easter bunny has been the only one to establish itself worldwide.
Traditionally, children imagine the Easter bunny painting the eggs and hiding them in the garden. When Easter morning arrives, the hunt for the eggs begins.
Spring as the Herald of Easter
Easter is always also associated with spring. And so anything you associate with spring can also be classified as an Easter symbol. These usually include flowers, butterflies, fresh grass, blossoming flowers, buzzing bees, the sun, a few small clouds and chirping birds.
Daffodils in particular are considered an Easter flower because they always start to flower around Easter time. For this reason, they are also considered a Christian symbol as they bloom in time for the resurrection of Christ, despite previously being swallowed up by the earth.
Easter Lamb
Like the bunny, the Easter lamb is another classic animal Easter symbol. In keeping with spring, this sprightly newborn animal symbolises new life and innocence. But unfortunately, this symbol has a less optimistic origin. According to the Old Testament, it was considered a sacrificial animal that stood for the sacrificial death of Christ.
Easter Fires
In some parts of Europe, Easter fires are lit, generally on Holy Saturday. However, this day is not specified. It's centuries old origin stems from spring nights still being quite cool, the idea being that this cold should be driven away by the symbolic welcoming of spring. Like the sun, fire spreads warmth and accompanies people through cold nights.
Incorporate Special Easter Wishes
What wishes can you send to someone for Easter, apart from the usual "happy Easter"? The list of empty phrases is never-ending. So why not set yourself apart from the other Easter greetings and write a unique Easter text?
Like with every holiday, you can use this opportunity to say something nice to those who mean the most to you. They can be either friends or relatives, acquaintances, colleagues or business contacts.
Typical Easter wishes include:
Family time
Lots of Easter eggs
A successful Easter egg hunt
Lots of love and all the best
Luck
Joy and good spirits
Chocolate
Good weather
Happy Easter weekend
Special Easter Wishes with Storytelling
You can try to write a unique Easter greeting by using storytelling. People have always enjoyed receiving small, private insights into the lives of others, and by offering one up, you let everyone partake in what Easter means to you. Every family celebrates Easter slightly differently. Spread some Easter cheer with your own little story.
Example:
What does Easter really mean to you?

After all, everybody celebrates Easter differently, so I thought I would spread a little Easter cheer with some insight into what Easter means to me

Our Easter festivities begin long before Good Friday; we get hard to work decorating as early as April 1. We spend the whole month of April gathering supplies for Easter eggs with the kids. We spread them across the whole house, and new decorations and finishing touches are constantly being added. On Easter Sunday, the whole family comes together for dinner. For me, a perfect Easter includes some time for relaxation, so on Easter Monday, we stick to hunting for eggs in the garden and resting.

Have a wonderful Easter, and I look forward to hearing what a perfect Easter looks like for you.
Add a Small Gift
Including a small gift with your Easter greeting is a particularly clever idea when it comes to business contacts. That way, they'll be reminded of you when they use it, whether it be a small Easter decoration, a coupon for your own product or services, spring tea or a chocolate Easter lollipop shaped like the Easter bunny.
Decorations in particular are always hung up again every year. Your company logo should not make an appearance on the present – especially on decorations. Nobody hangs up Easter decorations with "strange" company logos on them.
Friends and family will also appreciate a small gift from you. Ornaments, little pictures for the window sill and decorations are great options that you can easily craft yourself. Otherwise, a homemade painted egg is always a good choice.