Get Well Soon: 35 quotes + 7 tips for your messages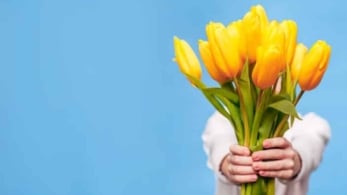 When you want to wish someone a good recovery, there are a few things to keep in mind. Health setbacks can affect anyone and throw their emotions off track. For this reason, you should write your get-well-soon messages with extra sensitivity.
Wishing someone a good recovery shows sympathy and compassion. Send get-well-soon cards and messages to family, friends, colleagues and acquaintances.
Get Well Soon Messages and Get Well Wishes
In this section we have collected some sayings and examples of different types of get well wishes.
Be aware of who you are writing the card for and what sayings and phrases are appropriate for that person and their type of illness.
Lovely and Cute Get Well Quotes for Serious Illnesses
Especially when someone is seriously ill or is expecting a risky surgery, it is not always easy to find the right words. You do not want to hurt someone's feelings or trivialize an illness with an inappropriate quote.
Simple sayings can provide encouragement in the case of minor illnesses. However, if something is really at stake for the person and he or she is severely affected, it is better not to choose cautionary phrases. The sick person may feel like you are being patronizing or not taking the situation seriously.
I will be here to care for you and nurse you back to health as long as you need it. I love you.
(Unknown)
I'm hoping you get better soon so you can be back where you belong. I miss you more than you know.
(Unknown)
I've always admired your courage and ability to handle anything life throws your way. I know you'll get through this, too.
(Unknown)
Gift yourself patience and time while you work to recover. I hope each day brings more comfort and strength.
(Unknown)
Avoid sayings such as "Rest well," "Take care of yourself," "Make the most of your time," or "Have a good rest" when there is little chance of an early recovery.
Another option for a sensitive topic are quotes and wisdoms of life. These don't always have to have a famous name attached to them to be effective. Below you'll find both sayings and quotes that strike the right chord even if the person you are writing to is suffering from a serious illness.
The most important thing is not to sink into pity when writing. It's not very helpful if you give the impression that the situation is dire and hopeless.
Short Get Well Soon Messages for Social Media
Below we have short get well wishes that you can send via a text or write on social media. They are loosely worded and are suitable for a wide variety of contacts.
You'll be feeling healthy and strong again soon!
Sending lots of love and hugs your way.
Sending get-well sunshine your way because you always brighten my days.
Wishing you a speedy recovery.
May you be blessed with good health and a quick recovery.
You're one of the strongest people I know, and I have no doubt you'll overcome this.
Rest well and take plenty of time to recover. Soon you'll be firmly back in the saddle.
You can call me whenever you need anything.
Get Well Soon: Quotes for Colleagues
Think about whether you have a good relationship with your work colleague. Would you rather send him an individualized card or sign one with the whole office?
If the illness is only mild, it will certainly cheer up your colleague if you write a funny saying in your card. If many colleagues are signing, choose universal words that could come from any of your colleagues.
Whether you send get well wishes via text or mail, it can be a bit more personal. Do you have any funny inside jokes? Why do you miss your colleague at work? Here are a few examples to get you started:
I noticed that you were missing once I started chatting with the office plants for an hour.
Please get well soon, because I haven't figured out how the coffee machine works!
On behalf of the entire team, I sincerely wish you a speedy recovery and get well soon.
With this message I would like to give you a little strength and confidence. Get well soon.
We are sorry that your illness is proving to be so protracted. We wish you the necessary patience and a speedy recovery.
Since you have been out of the office, we notice even more clearly than before everything you contribute to the company. We miss you – and yet we ask you to take the time to get well!
Take all the time you need to get back on your feet. But not too much – otherwise everything will go haywire here!
Recovery Wishes That Give Strength
For physical ailments that can be recovered from easily, a funny saying is a nice gesture.
Cheerful sayings can be written in the card for a flu or broken bone, for example. They don't always have to be funny, but should leave the person feeling good.
It is nice if your words prompt the sick person to think of something they would like to do after overcoming his or her illness. That way the person has something to look forward to and gains confidence.
I have a task for you: Think of 5 things you want to do when you get well. I look forward to tackling these things with you.
And now it's a leg up – that you keep finding ways to avoid work!
Health is our greatest asset. You just don't realize it until you're sick.
Sometimes it is very helpful to have a reminder of how good we have it. I wish you a speedy recovery to continue your life as usual.
It is the combination of medicine, home remedies, love and laughter that contributes to a faster recovery.
A fun-loving person like you manages to get back on their feet quickly. My thoughts are with you and I wish you a speedy recovery.
Don't keep asking yourself how this illness could have happened. Rather imagine how it will be when it has gone again!
Funny Wishes for a Quick Recovery
If the illness is not that severe, such as a cold, headache or a harmless fracture, it may be appropriate to send a funny quote to wish someone a quick recovery.
Make sure, however, that the personal relationship between you and the recipient of your message is not too formal. Friends and colleagues will certainly understand your humor, while with other business contacts you might want to strike a more serious tone.
I hope you're not as contagious as your smile is! Keep up the positive thoughts.
I'm sorry you have to eat hospital food. Feel better soon so we can go eat out at your favorite place!
Looks like you forgot to eat an apple a day! Here's to a quick recovery.
Sorry to hear you're using sick days for an actual sickness!
If cuddles were medicine, you'd already be better. But I'm here for you regardless!
Feel better soon so I don't get sick of missing you!
Poems for Empathetic Get Well Wishes
You can also write a short poem on a nice card.
However, be sure that the recipient appreciates your good intentions and be clear about the exact meaning. If you write a poem in your get well card, you should also add a personal note.
1)
To a Marsh Hawk in Spring

There is health in thy gray wing,
Health of nature's furnishing.
Say, thou modern-winged antique,
Was thy mistress ever sick?
In each heaving of thy wing
Thou dost health and leisure bring,
Thou dost waive disease and pain
And resume new life again.

(Henry David Thoreau)
2)
When you get sick, there are things you should do.
Go to a doctor; eat plenty of soup, too.
But the best thing you can do is to sleep and get your rest
And know that, out there, we're thinking of you.

(Unknown)
3)
There are hard times in life,
That accompany us on our way.
Then to think of the good times,
and how you'll feel better another day.
I wish you to be healthy again
and to be free of pain.
I want you to recover,
and just health and happiness to remain.

(Unknown)
4)
Healthy and lively you are in no time,
more recovered already after this line,
so look ahead and read this rhyme,
a blink of an eye and you're fine.

(Unknown)
Writing Get Well Soon Messages
Personal get well wishes are written to a sick person whom you want to wish a speedy recovery. In order to strike the right tone and find a tactful message, many a factor plays a role.
First, it is important to understand your personal relationship, then, of course, the severity of the illness and the desired response of the recipient.
There are numerous sayings about recovery. This makes it all the more difficult to choose one that fits. Sayings are often helpful if you don't have that close of a relationship with the person who is ill. We differentiate our examples and made a preselection for you.
Wish a Fast Recovery with these 7 tips
With friends and family, it's almost a given to wish them well or offer your help. But even at work, it can happen that a colleague falls ill and it is appropriate to write him a card with get well soon wishes.
They should sound positive without trivializing the illness. They should be compassionate, but not overly emotional. We'll help you walk the tightrope of finding the right words.
Include the Personal Relationship
When a work colleague is ill for an extended period of time, it's not always an easy decision whether or not to write get well wishes.
First of all, you can take a cue from whether your other colleagues send get well wishes. It is also often customary to send a joint card with the entire staff.
If this is not the case and you want to assess the personal relationship between a colleague and yourself, these guiding questions will help you:
How long have we known each other?
How long has he or she been working at the company?
What was the last topic we talked about?
Did we get along well in the past?
Would I regret it if I do not write a card and the disease is worse than expected after all?
The text to a work colleague, at least if the personal relationship is purely professional, should be kept rather simple and general. Big words and emotions are not appropriate here.
With friends and relatives more creativity is required. The more personal the better. Especially in times of illness, it is nice to know how much you are loved. You can express your love with beautiful phrases or a self-made card.
This gives strength to tackle the illness, so you can quickly reunite with your loved ones again. If you are also searching for the right words in vain, the following questions can help you:
What do I like about this person?
What have we experienced together?
In what life situation is he or she currently?
What can I do to give hope?
What would I be happy about if I were sick?
Inform Yourself about the Severity of the Disease
So that it doesn't become embarrassing and you completely misjudge the disease: find out beforehand exactly why the person is ill and how severe the illness really is.
You will fail to cheer someone up if you send a funny saying to a person who is seriously ill or write a poem about life to a colleague with the flu.
Just ask your work colleagues or check with family and friends so you can properly assess the situation.
Tactful get well wishes require that you hone your writing skills. In the case of a cold, it may be a text message or a casual quote, but that may not be appropriate for someone with a life threatening illness.
The severity of the illness and your personal relationship are the most important factors in writing an appropriate get-well-soon card. You should express your personal sympathy and offer your help and hope for the best.
A letter or card has the nice quality of being tangible. With a serious illness like cancer, the whole family is under stress. So those affected are more likely to skim a message on a cell phone.
In addition, it is not always easy for the person with a serious disease to hold a heavy cell phone in their hand. So it makes more sense to put something in writing that can be easily held and kept. Another benefit is that letters and cards do not create pressure to respond to them.
It doesn't matter whether the person is in the hospital or at home. They will surely be happy about your kind words. If you are unsure about your message, have a friend or family member proofread it.
Saying Get Well with a Visit
Especially when a person is sick for a long time and doesn't have much contact with his or her outside world, it's very nice to pay him or her a visit. This offers a great change from traditional cards, letters, and phone calls.
A personal conversation has much more value. You show you are there for the sick and the person is not alone and prove he or she isn't in "quarantine." The nicest feeling for a sick person is to forget about their illness.
If the person has the flu or a broken bone, an impromptu visit can be arranged. However, if the illness is more severe, such as cancer, you should discuss your visit in advance with family, friends, or the person himself.
Depending on the person's physical and emotional state, a visit may not always be pleasant or helpful. In any case, however, it is nice if your visit is accompanied by an additional card or a small gift.
Choose the Right Time to Send Get Well Wishes
Find the right time to wish a person a speedy recovery. Again, the severity of the illness plays a big role here. If there is a serious diagnosis, the person himself may need a little longer to adjust to the new life situation.
So here you should let some time pass until you express your recovery wishes. On the other hand, in case of a short-lived illness, after an operation or a broken bone, you can respond as soon as possible.
Avoid Empty Phrases and No-Go's
There are typical building blocks that many people use to write their get well cards. These phrases have no personal touch and should not be used especially with people you care about.
Your get well wishes should never sound too trite, even to work colleagues and acquaintances. They may feel offended if they notice that you did not make an effort.
Also, make sure your get well wishes don't sound like a sympathy statement. Some of the most popular phrases include:
Use the time to rest.
The news of your illness has shaken me to the core.
Take as much time as you need.
Don't let it get you down.
Laughing is the best medicine.
You are a fighter.
Don't let the disease rule your life.
While some quotes are not the best way to wish someone a speedy recovery, they might work and can be combined with personal words. However, the following No-Gos should always be avoided.
They either demonstrate a lack of understanding of the situation or are insensitive to personal feelings. Even if they are well and honestly meant, they can very easily seem exaggerated and be misconstrued. The worst is when the person feels misunderstood.
I feel you.
If I could take the pain away from you, I would.
All the wealth is only of value if you can enjoy it in good health.
To be healthy is not a matter of course. Unfortunately, you have now come to know that.
I pray for you.
This time of recovery finally brings you time to rest.
I can understand how you feel.
Another no-go is to just write a text message or email when someone is seriously ill. If your classmate or work colleague has the flu, it's not a problem. But otherwise, a quick message on your cell phone ignores the seriousness of a grave illness.
Even today it is still common to send a get well message by mail. Especially older people are happy about self-written get well wishes that you send as a letter or card.
Wish a Fast Recovery with a Get Well Soon Gift
If you think a card is not enough, why not emphasize your goodwill with a small gift. Especially with good friends or family, it is appropriate to drop off or mail a small sign of your wishes.
But if you suddenly bring a teddy bear with a get-well message to a work colleague you don't know very well, it might seem rather strange.
Children in particular are always happy to receive gifts. However, you should not overdo it. If you shower the sick person with gifts, it may give the wrong impression. Try not to follow: the worse the illness, the more gifts are necessary to ease your conscience.
If you can properly assess the illness and the person, there are many options. Often you can buy a gift in hospital stores. The offer there ranges from various cuddly toys, balloons, flowers and chocolates to letters and cards.
Something homemade will show you really care, however, and will bring joy to friends and relatives in particular.
Think about the Goal of Your Get Well Message
The goal of get well wishes is not just to wish a speedy recovery. You should convey hope and confidence with your words and the person who is ill should feel valued.
At a time when you are experiencing limitations and everyday life is not going as usual, some people get into a gloomy mood. Due to boredom and the permanent special treatment over a longer period of time, even depression can develop.
Here, it is important to show the ill person that things will get better soon and that he or she can look forward to life after the illness. The goal is therefore to help, which you can express explicitly.
For someone with the flu or a broken bone, you can offer to help in the form of doing chores or helping to cook meals. So just mention in your get well card, text message, or phone call that you're happy to help.