Instapaper Adds Speed Reading Option to its iPad App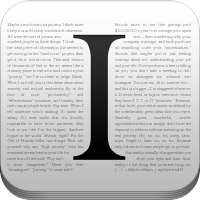 No one has enough time to read all of the articles they come across in a given day, but Instapaper has a solution. The developers released a new update today which adds a speed reading option as well as a slew of new features.
To start with, Betaworks optimized the browser extension/plugin so you can save articles to your account faster. They also added an instant sync option so you can get new articles immediately sent to your apps. There's also a new option to share text as an image on Twitter. It's called tweetshot, and can be found under the share menu after you highlight the text.
The snap looks like so:
And last but not least, the Instapaper app for iPad and iPhone now sports a speed reading feature (it's also available via the website).
It can be found under the options menu in the upper right corner of the iPad's screen (next to the speak option). When you turn it on it will blank the iPad's screen and flash a single word at you at a time. And while you're using it, it will track your reading habits and later report on how much time you've saved.
Instapaper explained on their blog that it uses rapid serial visual presentation (RSVP), just like Spritz does (the tech was developed indepedently). Instapaper also noted that premium users can speed read as many articles as they like, but standard Instapaper users are limited to 10 articles per month.
And if you'd like to try the new reading option, it is available on the Instapaper website (but not the Android app).
I've been playing with it for a few minutes, and I can tell you that you can set the speed anywhere from 200 wpm to 650 wpm. It does work something like the Spritz service which debuted last year, but as I sit here using it I get the impression that Instapaper developed this on their own.
It's a nifty feature, but I'm not sure how much use it will get. I would think people use Instapaper so they can save an article until they have the time to savor it. Zipping through it with a speed reading app would seem to go against that.
You can find the app in iTunes.