It's Official: Kobo Screwed up the Launch of the Kobo Mini, Kobo Glo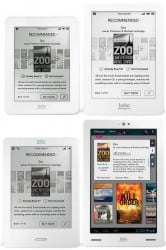 On Monday I reported that you could find Kobo's 2 new ereaders in some stores in the UK and in Canada.  Like I noted at the time, the new devices are not available on the Kobo website nor can you find them in US stores (they're not even listed on some sites).
Kobo has confirmed today that they screwed up the launch. They have cheerfully announced over on their blog that both the Kobo Mini and Kobo Glo are available in some stores in the UK and Canada.
That's basically what I reported 4 days ago, but do you see what is missing?
Kobo hasn't released any details on when their retail partners in the US, NZ, Australia, or elsewhere will get the ereaders (though I am told Fnac has them in stock). Nor has Kobo said when we will be able to order the ereader via their website.
Can you believe they're not even available on Kobo's own website? Sure, they're listed, but the website still says "coming soon". And that, my dears, is a sign that something, somehow, got screwed up.
I have reached out to Cerys Goodall of Kobo for an update on when US buyers will have a chance to get the Kobo Glo and Kobo Mini. If she replies (LOL) I will update this post.
So, do you think they are having supply issues or distribution issues?