Kindle Create Lets You Make a Kindle eBook From a Word File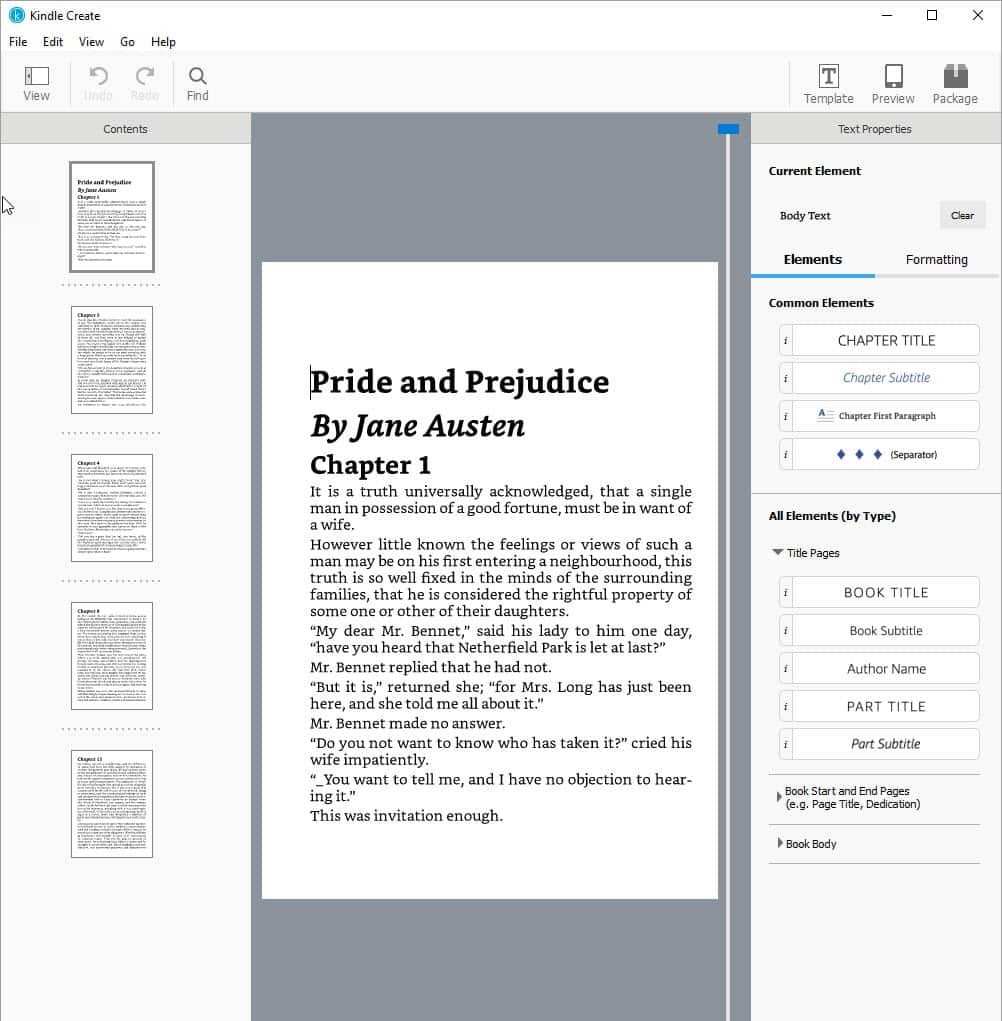 Amazon has launched a new tool that lets you make an ebook out of a Word file.
It is called Kindle Create, and was released this week for Windows and macOS.
Amazon has released a number of tools you can use to make Kindle ebooks, including an epub conversion tool as well as Kindle Kids Book Creator, Kindle Textbook Creator, and Kindle Comics Creator.
Those apps produced picture books, PDF textbooks, and comics books, variously. Kindle Create, on the other hand, was built to make all those things, as well as novels.
Edit: And just to be clear, this app makes a file you can upload to the Kindle store. it does not make an ebook you can read yourself.
You can give it either a DOC or a PDF file, and once it ingests the file you can edit the text, format the chapter and section headings, embed audio and video clips, and make other changes.
From what I have seen this morning, what you can do with an ebook project is limited by the format you started with; the audio and video clips, for example, can be embedded when you start with a PDF but not a DOC. (Or maybe the app just didn't want to cooperate with me?)
In any case, I am still playing with the app, and so are authors on the KDP support forums and Chris McMullen.
At least one of the authors on the KDP forums is really impressed with the app:
Pros:
*Very easy app for Wordsters to use.
*You can use a Word doc, docx or a PDF file in Kindle Create.
*Automatically detects and splits chapter heading styles according to heading layout.
*Easily and manually allows you to create a TOC, add chapter subtitles and add separators to your Kindle ebook.
*You can also restyle your ebook text just using point and click.
*You can also directly edit your text in the app in Text View. This is a huge plus!!
*You can test your ebook in-app using their modified version of Kindle Previewer 3.8 Beta.
*You can also use their Template to create your ebook from scratch.
*Gives a reliable and quick conversion using Advanced Typesetting.
*Kindle Create Help documentation is fairly thorough and easy to follow.
*When I converted my Word doc without cover(its an old ebook on amazon now) to kbc — the total file size was 1.2 Mb. When I converted the same ebook as a pdf doc with cover to kbc — the total file size was 1.4 Mb. So this Kindle Create app has a converter that also uses efficient file compression.
*It's a fast app — no waiting.