My iWatch Runs Android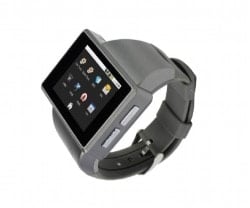 Apple's rumored iWatch has been getting a lot of attention lately, with many tech bloggers belling that the Jesus Watch must exist and it is coming and it will be glorious. I am still skeptical, but all the attention that has been focused on the iWatch has inspired me to go out and get one.
My knockoff iWatch arrived on Wednesday, and today I decided to post my first impressions.
I am already regretting the purchase.
This wonder of Chinese precognitive engineering was inspired by an iWatch concept that was created in 2010 by an Apple fanboy. It has a 2″ screen with a resolution of 320×240, and it runs Android 2.2 on a 460MHz CPU (according to the specs on Amazon). Yes, that is an old version of Android, and if I could have found a newer model with a newer version of the OS I would have bought that instead.
The Z1 iWatch has Wifi, Bluetooth, a 2MP camera, microSD card slot, speaker, mike, accelerometer, and a GSM/GPRS compatible sim card slot. It has a minimum of buttons, with the volume buttons on one side and the power/back and menu buttons on the other. The camera is on the edge facing away from the user. And there is no USB or power port; the charging cable is integrated into the strap (it has a USB-A plug on the end).
The overall design of this watch is intended to hug the user's wrist,with the casing extending an extra inch before the straps take over. The image at right shows you the internal guts and should give you a better idea what I mean by wrist-hugging.
The design of the watch is something of a problem for me. I've tried on the watch several times, but it is intended for a wrist smaller than mine. I have trouble buckling the strap, much less wearing the watch comfortably.
But when you can get the watch on, it does look rather cool:
But I suppose that the physical design isn't that much of a problem for me given that the overall performance is disappointing. This is a very slow device, and the tiny onscreen keyboard gets frustrating after a while. And then there is the Wifi, or rather there isn't the Wifi. It doesn't work most of the time, and when it does the download speed is quite slow.
And I won't even mention the accelerometer; it thinks up is down and vice versa. Or the camera, which at best is fuzzy. This watch is also supposed to have GPS, but that has never worked at all.
Here it is in action. Charbax shot this video in April 2012 in Canton, and it shows the same watch only with a different name:
Apps
The selection of apps is rather limited. I can see a Chinese app store, the usual email/browser/gallery, Twitter, Facebook, Spare parts,Docs2Go, but not much else. I'm also having trouble installing apps thanks to the poor Wifi, so I am a little stuck at getting more use out of it. There's also no file manager, so I am unable to cope the APK install files over USB and install them.
Hacking
Given the problems I encountered, I have to say that I was surprised to find out that this tablet has already been rooted and a custom ROM which was released last year.  I found this over on XDA Forums. The developer doesn't seem to have gotten vary far before he lost interest, but he has identified certain issues like the CPU isn't powerful enough to handle Flash (but Youtube works). It also doesn't appear that the hacked ROM he developed has the Wifi drivers working, so I don't plan to use his ROM.
Opinion
All in all, this watch was not worth the money. If I had wanted a watchphone and if I had happened to have a smaller wrist, then this might have been worth buying. But as it stands I can't suggest anyone buy this particular model.
But if you are set on getting one, you can find it on Amazon for $240. I am sending you to Amazon so you will be protected by their customer service policies because I am quite certain you will regret this purchase.