Startup Wants Pubs to Give Up On Choosing Books, Outsource the Decision to a Computer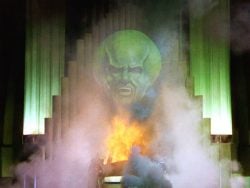 Over the past few years Macmillan, Amazon, and other publishers have experimented with letting readers pick which titles should be published, and now a startup has convinced Macmillan to let a computer program pick the next book it should publish.
Flavorwire reports that Tor-Forge Books has signed a deal to ebook startup Inkitt to publish the second book in Erin Swan's Sky Riders fantasy series:
The novel chosen by Inkitt's "artificially intelligent" algorithm is Erin Swan's Bright Star, a young adult fiction submitted to the publisher through a writing contest called "Hidden Gems." Part of a multi-book "Sky Rider" series, it tells the story of the "fantasyland" Paerolia, "where war and conflict has created strong divides," and where a a rebel leader named Kael helps a slave named Andra "discover the strength that has always been within her" and "fight to win back what Fate kept beyond her reach" — namely a dragon "that should have been her own." Bright Star is expected to be released in 2017.
You can find the press release announcement over at DBW (which is down right now), and you can read more about the company on Writers Beware and the MobyLives blog.
Bright Star is only Inkitt's second title published; the first was also by Erin Swan and was  "published" by Inkitt itself (and for some reason it's not available other than on the Inkitt website).
For a startup publisher that announced its first anniversary in February, that's a surprisingly small catalog, and that's not the only odd detail about the company.
Inkitt was founded on the principle that there is no such thing as an expert opinion:
Who are we or any editor in the world to judge whether your book is worth publishing? We don't think that we or any so-called "expert" is in a position to judge your work. You write your book for your readers, and the most important factor is whether your readers like it or not. That is what we measure at Inkitt.
Given that the crowd-source programs mentioned above, and indie publishing in general, are predicated on the idea of letting the market decide, one could conclude there's a certain amount of truth to Ikitt's argument that there is no such thing as an expert.
But what is strange about Inkitt is that after  poo-pooing human experts, the publisher proceeds to use an expert algorithm, one which was written by people, to choose which books to publish:
This is why we built artificially intelligent algorithms that have the ability to analyze reading pattern data and engagement levels. This allows us to make objective and data-driven decisions regarding a story's potential to become a bestseller.
Does anyone else see the logical inconsistency there?
Inkitt is simply replacing one expert with another, and using smoke and mirrors to distract you from that fact. That expert algorithm will be biased by the opinions of its creators and will be no more objective than your average human editor (and possibly less so, given that the human editor has more experience in choosing books than the programmer who wrote the algorithm).
In short, Inkitt is just another gatekeeper, and as Writers Beware points out Inkitt is taking 15% of an a title's net revenue for the privilege of acting as a gatekeeper.
They have set themselves up to be a middleman while at the same time proclaiming that:
We have built a platform that is cutting out the middleman in the publishing industry: the acquisitions editor. There is a long list of books whose authors faced rejection at the hands of publishers. That list includes everything from Moby Dick to Harry Potter. Why? Because individual editors and literary agents make decisions that are subjective – often based on their gut instinct – and this means they sometimes get it wrong.
What makes this last quote so utterly ridiculous is that Inkitt's whole business model is based on signing authors and then pitching those same acquisition editors.
If nothing else, you have to admire Inkitt for their chutzpah, don't you?