I Really Like Oyster (But)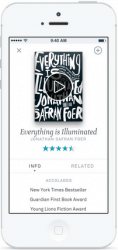 So a new Netflix for ebooks launched last week. Oyster promises access to a 100,000 title catalog for only $10 which includes titles from some major publishers.
Oyster delivers on that promise. I finally got around to trying it today, and I love it.
In the course of one afternoon I found several months (at least) worth of reading material, and I was perilously close to committing to subscribe for the indefinite future. But I won't. In spite of all its greatness Oyster still has a single huge shortcoming:
There's no Android app, nor any firm plans to release one.
There's also no iPad app, though the iPhone app will run (poorly) on my iPad. The iPad app is scheduled to be released "this Fall", but since I don't own an iPhone I really have no way to use Oyster.
But a lot of people own an iPhone, so rather than simply write off Oyster abruptly I will take a deeper look at the service. When you look at this kind of service, you need to evaluate it on 3 criteria:
Selection
Cost
Platform Support
When Juli Monroe wrote up her review of Oyster yesterday she put cost first, but I am largely skipping it because the cost of Oyster is not a major stumbling block.
Content
The selection of reading material is great. I mostly read SF, and I found months and months worth of reading material. I spent about an hour this afternoon adding content to my account, and I quickly put together a reading list of more ebooks than I could read in several months. And I wasn't even done trolling the SF section, so even assuming I got bored with everything half way through I would still have plenty left to read.
Sure, about 5% to 10% of the selection was public domain titles, but I still managed to put together a long reading list. I found the $10 a month to be well worth it, given the selection.
Of course, just because I put together a reading list today doesn't mean I will still have the entire list tomorrow. This is a Netflix for ebooks, and that means there's a good chance it will suffer the classic Netflix Problem at some point when one publisher or another decided to pull a title.
Disappearing content might not be an issue today but 6 months from now, who knows? This is what eventually led me to cancel my Netflix account, and it's not impossible that Oyster mught have similar problems.
Platform Support
I would be paying the $10, if only the Oyster website and app were better designed. Oyster is only available on the iPhone, which is a serious problem given that I am wedded to Android. While I was able to test the iPhone app on my iPad, I don't really like reading on my iPad. I want to read on Android.
But it's not just that the reading app isn't available on Android or in your web browser (I don't see why not). There's a second issue with Oyster which turns me off, and that is the fact I cannot manage my reading list via the Oyster website. It can only be done via the iPhone app. I think it would be better all around if we could manage our reading lists on the website. Being able to read on the Oyster website would also be a plus, though I won't be greedy.
I also don't like the design of the iPhone app. The interface for searching its catalog is not well designed and not obvious. Sure, I was able to guess how to navigate, but at first I sat there baffled before touching different elements at random to see what would happen.
That is a symptom of a bad design, and while the flaws are subtle they are going to be a subconscious nuisance to users.
And then there is the limited support for reading features. Oyster chose to develop a custom reading app (unlike their competitor Entitle, who licensed apps from Bluefire).  It's a very basic app. It's so limited that you can't even change the page turn gesture. Your choices are either an upswipe (that's weird given that I have never seen another reading app using a similar gesture) or tapping the lower corners.
The Oyster app is limited to 5 color themes and changing the font size. There's no bookmarks, dictionary, annotation ability, or sharing options, and that is going to further limit the usefulness of this service.
Then again, there's no Android app so this doesn't really matter to me.
Thoughts?