Review: Elonex 500EB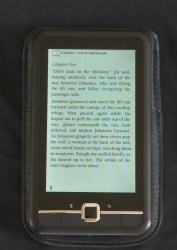 This ereader has popped up in several places over the last year. We first saw it on the JCPenney website last November, and it then showed up under the Copia brand. Both fell through, and it finally showed up under the Elonex brand. I've also been told by the manufacturer, Gajah,that it will be sold in Russia by Nexx.
Hardware
The Elonex 500EB is based on a 5″ (800×480) LCD screen and it has a SD card slot, accelerometer, and headphone jack (but no Wifi or touchscreen). Yes, it's a basic ereader, but it's the prettiest one I've seen in a while. Format support includes Adobe Epub, PDF, FB2, and txt. BTW, Elonex are also selling a 500FB with the same hardware specs but without support for Adobe DE DRM.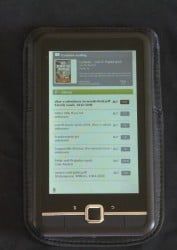 The power button is on the upper edge, and the page turn buttons are on the right edge. Below the screen are 6 buttons and a d-pad.On either side of the d-pad are the menu and back buttons. Below the d-pad are a second set of page turn buttons, font size, and music.
The d-pad has the standard problems shared by most d-pads, so I won't cover them here. (I've been meaning to post on d-pad and joystick design – someday.) Actually, the d-pad would only bother people who know what's wrong with it, so never mind.
I should probably tell you that my review unit developed a hardware fault. It now has a high pitched whine which surprisingly is in one of the few tones I can still hear. I still like the ereader, though.
One important detail that I almost forgot: The 500EB does charge over USB, so you don't have to bother carrying the power supply around.
Software
The 500EB also has music and video players, a photo viewer, and a file manager. They're all accessible under the menu button on the library screen. The video player can take a 720p at 30fps and show it without dropping frames. The image quality isn't all that great, though. A lot of the subtleties in color and texture are lost.
The only annotation option is bookmarks. But, you do have some customization options: screen brightness, font size (6), font color (6), background color (6), and screen orientation. It also offers a page jump option and auto page turn option.
It does support PDF reflow, which is great. But you need to remember that if you reflow a PDF with graphs or charts, you'll lose them.
The library menu has a couple serious shortcomings. First, the font size for all the menus is small and you can't adjust it. Second, you can't sort the ebooks by title. Instead the 500EB mistakenly offers you the file name (but you can see the author, which is weird). This will be a problem for me becuase a lot of my ebooks have numbers for file names.
Opinion
Pictures don't do it justice. Seriously.
Right now I'm waitting to hear back from Gajah on whether they'll send me a replacement. If they won't, then I'll start bugging Elonex.  If that doesn't work I'll seriously consider buying one.
I like it becuase it has a near perfect placement of page turn buttons. They are in the middle of the right edge, which puts them in just the right spot for me to hold the 500EB in my (rather large, male) left hand and read one handed.
Addendum: I just now noticed that it has a neat trick in the menu. If the file name is to long to fit the screen the 500EB will scroll the file name left and then right.