Samsung Gives up on eBooks
One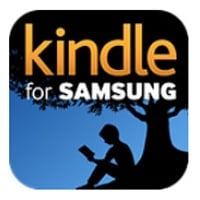 of the potential heavyweights of the global ebook market is throwing in the towel.
I have just learned (Thanks, Laura!) that Samsung has officially announced they have retired the Readers Hub (aka Samsung Books) app, and replaced it with the Kindle for Samsung app which launched last month. The Kindle for Samsung app is available in 90 plus markets (far more than Samsung Books), and in addition to the Kindle Store it offers Samsung customers special deals including  one free ebook each month. 
Samsung actually retired the Samsung Books app last week, but the closure has gone unreported until today. Samsung will be shutting down their ebook platform on 1 July 2014, and readers will lose access to all of their purchases.
Given Samsung's years-long investment in ebooks, this news comes as a surprise. But in light of the fact that Samsung and Amazon announced a co-branded Kindle app last month, today's news could also be seen as  other shoe dropping.
Following Sony's closure of the Reader Store, Samsung is the second major device maker to given up on the ebook market in the past month. Sony handed their customer accounts to Kobo, but Samsung is simply going to walk away from their customers and tell them tough luck on the content they bought.
Update: According to a Samsung rep, Samsung will provide a Kindle Store credit for all ebooks bought in Readers Hub in the past year. That's not great but it is better than nothing. Thanks, J!
This is a sad exit for a company that I described last year as potentially being the next iBooks.
Samsung has been interested in ebooks since at least January 2010, when their ereaders were revealed at CES 2010. Samsung showed off 4 ereaders, including a 5″, 9.7″, and a pair of 6″ models, but unfortunately between the iPad and the drop in ereader prices in mid-2010 those devices never had much success on the market.
After those devices failed, Samsung turned their focus towards selling ebooks on tablets and smartphones. Samsung first partnered with Kobo in early 2011 and released their own branded reading apps for Windows Phone and Android, but later broke ties with Kobo in June 2012.
In the 21 months since breaking up with Kobo, Samsung has built up an ebookstore with 2.3 million titles at last count, and in January 2013 they released a new ebook app which supported Epub3. Unfortunately, that app was never very widely available. In the US market, for example, the Samsung Books app was only available on a a handful of the dozens of Samsung smartphones and tablets on the market.
Samsung is hands down the second largest smartphone and tablet maker in the world, and if they had put real effort into their ebook efforts they could have been a major player in this market. Samsung could have been one of the top five, but from what I have heard they never really invested in ebooks.
But even though Samsung never amounted to much in ebooks, their departure could have a significant effect. Samsung makes hundreds of millions of smartphones and tablets every year, and now some unknown percentage of those devices will ship with the Kindle for Samsung app. This could give Amazon a presence in markets that they previously were unable to pursue due to a lack of time, personnel, or money.
In fact, I would be terribly surprised if Amazon doesn't end up with a growing market share as a result of this deal.