Sony Launches New Sony Reader Sale (Free Harry Potter eBook)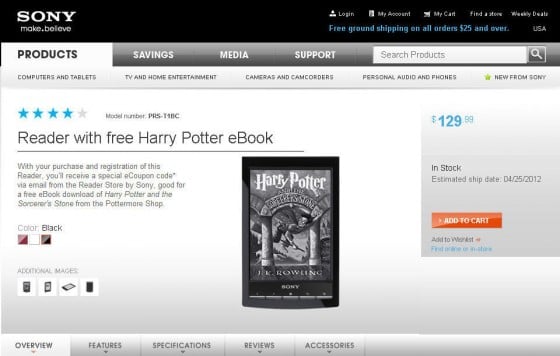 Remember back when the Sony Reader Wifi launched, and how the first bunch of units were supposed to come with a coupon for a free Harry Potter ebook? That was a deal that never officially happened due to the Pottermore ebookstore not being open yet, so Sony thought now would be a good time to try it again.
They're now offering a special deal on the Sony Style website. Buy a new Sony Reader Wifi and they will throw in a coupon for a free copy of the first Harry Potter ebook, Harry Potter and the Philosopher's Stone.
This is a 6″ ereader which launched last fall into a tight market. It has the same 6″ screen, touchscreen, and Wifi as its competitors, the Nook Touch and Kindle Touch, so it had little to speak for besides appearance and more annotation options than you can shake a stick at.
I'm not too excited about the sale, myself. This ereader got awfully cheap over Christmas ($99) and it even went on clearance at Best Buy. So I figure nearly everyone who wanted one now has it.
But I will note that the price on the Sony Reader is now back up to $99 pretty much everywhere I looked. This is not that bad of a deal.