Sony Puts its 13.3″ eReader On Sale for $799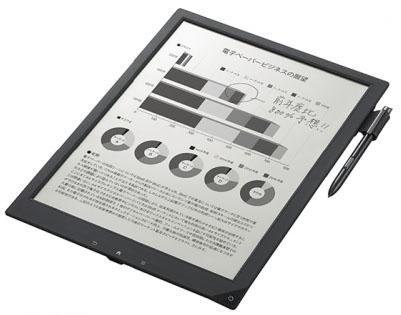 When Sony launched its 13.3″ digital writing slate in the US last March, it cost a staggering $1,100. The price has come down a bit since then, and today you can pick up the Digital Paper DPT-S1 for a mere $799.
Unlike your average ereader, the DPT-S1 was built for the business customer. It features a 13.3″ Mobius E-ink display with dual touchscreens (stylus and IR), Wifi, and 4GB of storage. It does not, however, support very many features to justify the high price.
The DPT-S1 supports reading and editing PDF files, but it doesn't support Epub nor does it have any apps. It can't, for example, let you read your emails.
It does, however, make a nifty blueprint reader. Thanks to the plastic-backed Mobius E-ink display, the DPT-S1 is more rugged than your average mobile device. But due to the size and limited production, it is also more expensive, hence the high price tag.
The DPT-S1 is the only device on the market to use this screen, but several competing devices are in the works. Pocketbook, Netronix, and Onyx have each announced that they are working on a design, but none are close to reaching the market.
Similarly, the Chinese device maker Dasung has developed a 13.3″ USB monitor based on this screen, but that unit is not available either.