Trade Book Sales Down 1.4% in First Half of 2015, AAP Reports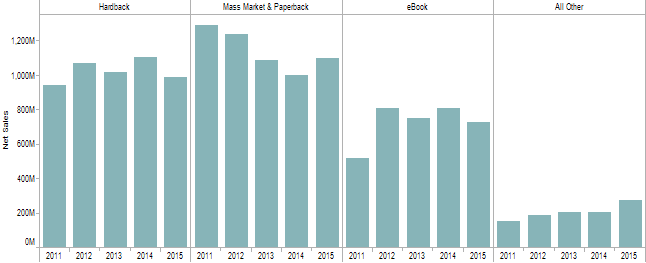 The Association of American Publishers just released a few dribblets of information on the US book industry. The publicly available stats are incomplete, but the news is not good for the legacy publishing industry.
Revenues for the 1,200 publishers providing monthly data to the AAP dropped 4.1% in the first six months in 2015 ($5.58 billion, vs $5.82 billion). That figure includes revenues for all categories tracked by the AAP (trade plus higher-ed, uni presses, K-12, etc).
Revenues from trade book sales were down 1.4% in the first half of the year ($3.09 billion vs $3.13 billion). Two of three trade categories were down, with kids/YA showing the steepest decline at 12.3% ($677.1 million vs $772.3 million). The adult category was up 3.1% ($2.17 billion vs $2.1 billion), while religious presses were down 5.1% ($244.5 million vs $257.8 million).
eBook revenues were down 10.4% in the first half of the year. Downloadable audiobooks were up 31%, while paperbacks were up 12.5%. Hardback books were also down (11%).
The AAP wasn't specific as to the dollar amounts, but they did share this handy chart: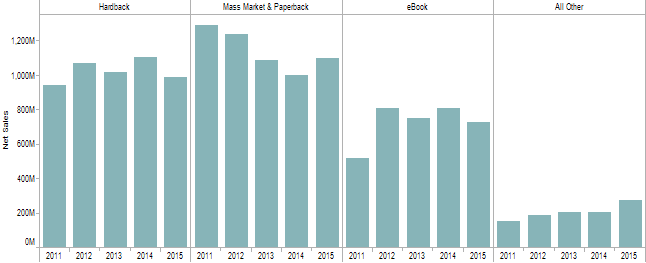 Edit: I asked and got the specific figures used in this chart. The following figures reflect the first 6 months revenues of each calendar year (hardback, paperback, ebook, All Other, and total trade).
2011: $941.8M, $1,291.4M, $523.0M, $155.3M, $2,911.6M
2012: $1,072.2M, $1,241.7M, $813.8M, $191.9M, $3,319.7M
2013: $1,022.0M, $1,093.6M, $752.5M, $205.8M, $3,073.8M
2014: $1,109.6M, $1,005.9M, $813.2M, $205.9M, $3,134.7M
2015: $987.2M, $1,101.1M, $729.7M, $273.4M, $3,091.4M
That chart is frustratingly nonspecific, but it offers a different perspective on the recent NYTimes story. Far from showing that ebooks have peaked and print making a resurgence, it shows that the revenues are in flux.
The hardback segment is up and down (more the latter than the former), the paperback segment is down from a peak (but might be making a comeback), and ebook revenues for the 1,200 publishers that submit monthly data to the AAP are both up and down.
The above chart shows why you should not draw a conclusion based on a single statistic (the NYTimes' first mistake). If you pick the wrong year, you could argue that your preferred format is up, only to have that format decline the following year.
With the market in flux (as it has been for the past four years), it's hard to draw any conclusions at all.