Twitter in Talks to Acquire Flipboard, Perhaps Host News Articles?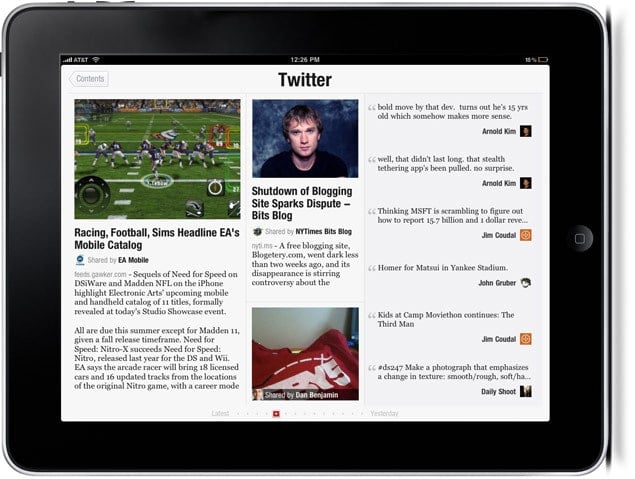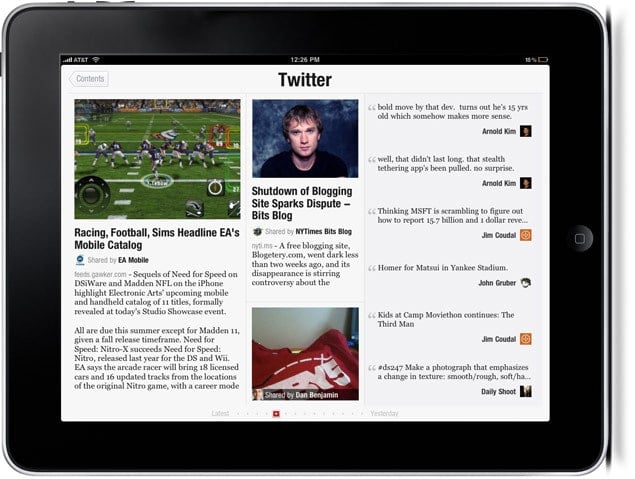 Having bought Zite and outlived several competitors, Flipboard is now the Youtube of news aggregators. And now there's talk that the company is going to be acquired.
Re/code reports that Twitter is in talks to buy Flipboard in a stock swap which would value the news aggregator at one billion dollars: The talks are not going well:
Those discussions, which have been pushed by Twitter CFO Anthony Noto, have been taking place since the beginning of the year, said sources, as the social communications giant has faced increasing pressure from Wall Street to grow its audience and innovate its products. But despite a flurry of activity more recently, sources said these talks between Twitter and Flipboard — who are partners on a number of different fronts — seem to be currently stalled.

Still, the concept behind the acquisition are intriguing on all kinds of levels. For Twitter, it would bring an experienced product team — headed by well-known Silicon Valley entrepreneur Mike McCue — to the company.
When I first heard about this story I was surprised that the buyer wasn't Dropbox. That cloud storage company has been acqui-hiring cloud services startups left and right, and while Flipboard would be a larger acquisition than average it would not be a crazy idea (too expensive, perhaps, but not crazy).
But now that I've thought it through, I think Twitter makes more sense as a potential buyer for Flipboard. These two companies  have very similar tech and have partnered in the past, but more importantly the services they offer to consumers are complimentary.
Twitter lets its 300 million users send small pieces of text, images, links, etc, while Flipboard distributes whole articles to its 100 million users. Put the two together and you have a service not unlike Facebook Instant Articles.
Twitter already hosts some content; it displays images from some platforms in line with tweets, and it also embeds Youtube videos, Amazon listings, and excerpts from blog posts. But if Twitter swallowed Flipboard, the combined company could host and distribute a broader range of content.
I think this would be a great match, but is it worth a billion dollars in stock?
That I am not so sure.
While Twitter has found a way to sell ads on its site and in its apps, Flipboard has not. The latter company has a billion dollar evaluation and no clear idea on how it is going to generate revenue much less turn a profit.
Sure, Twitter could sell adverts against the embedded articles, but if that were all they wanted then Twitter could develop similar tech for a lot less than a billion dollars.
And that is probably why the deal is stalled.