Amazon Launches All-New Kindle Apps for Android, Windows, iOS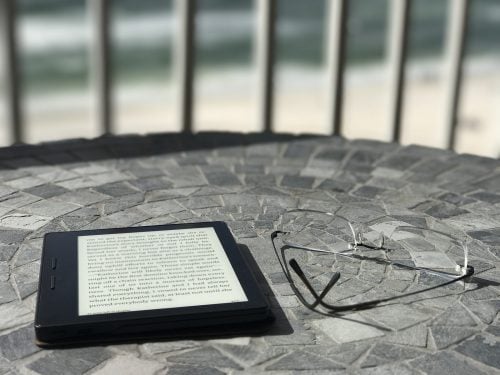 Amazon has launched a new mobile Kindle app for Android and iOS (there's also an update for the Kindle Windows app).
According to an early report over at MobileRead, the Kindle for Windows app (v1.21) includes a couple small features that help the app catch up with the previous versions of the Kindle mobile apps:
Ragged Right Alignment: You can now read using left-aligned (ragged right) text instead of full justification. This new alignment option can be selected from the Display Settings (Aa) menu in books.
Line Spacing: Further customize your reading experience by selecting from 3 different line spacing options. This new feature can be controlled from the Display Settings (Aa) menu in books.
You can find the app on Amazon.
Currently stuck somewhere between launch and delivery, the Android and iOS app features a new interface and a new search function. You should be able to find these apps in Google Play and iTunes, but the Android app is not available to all (I am still waiting to upgrade).
According the press release, the new Kindle mobile apps features include.
All-New Look–The Kindle app features a new look and feel inspired by books. Details include larger book covers, new fonts, a new app icon, and new light and dark background themes to choose from.
One-Tap Access–New bottom bar navigation automatically shows an icon of the book you're currently reading, making it easier than ever to get back to reading at any moment. The bottom bar also provides quick access to Kindle's most popular features allowing you to switch between the pages of your book, your library, your personal bookstore, and more.
Easy Search–The search bar is now always available throughout the app, so whether a book is in your library or among the millions of titles in the Kindle Store, it's easier than ever to find it.

Discover and Discuss Books with Friends and the Goodreads Community on Kindle for iOS

The new Kindle for iOS app also helps customers discuss and get book recommendations from their friends, authors, and other readers with the Goodreads community now built right into the app. Goodreads, an Amazon subsidiary, is the world's largest community of readers, with more than 65 million members.

"For as long as there have been books, people have discussed them with friends," said Otis Chandler, CEO and co-founder of Goodreads. "When you finish an amazing book, you can't wait to find out if other readers feel the same way. Readers trust their friends for recommendations, with around half of them saying they discover books through word-of-mouth. With the new features on Kindle, connecting with your friends and similar readers in the Goodreads community is now built into the app."

Reading is better when you can discuss it with friends. In Kindle for iOS you can now:

Find New Books to Read–Browse the new Community tab to keep up-to-date with what friends and readers you follow are reading. When you find a book you are interested in, you can add it to your Want to Read list for quick reference when you are ready to start your next book.
Connect with Readers Who Like Similar Books–To help you get recommendations from readers who like the same books, Goodreads also suggests people to follow, including authors and popular Goodreads reviewers.
Share Your Thoughts About Books You've Read–Post notes and highlights from your book for friends to see and comment on. Easily share when you start reading a book, as well as your rating/review when you've finished a book.

Starting today, the Community tab featuring Goodreads discovery and discussion features are available on Kindle for iOS (in the US only), and will be coming to Kindle for Android in a future release. To learn more about how Kindle helps you read anytime, anywhere visit www.amazon.com/kindleapps.
image by chrismccorkle2