Apple Doesn't Love iBooks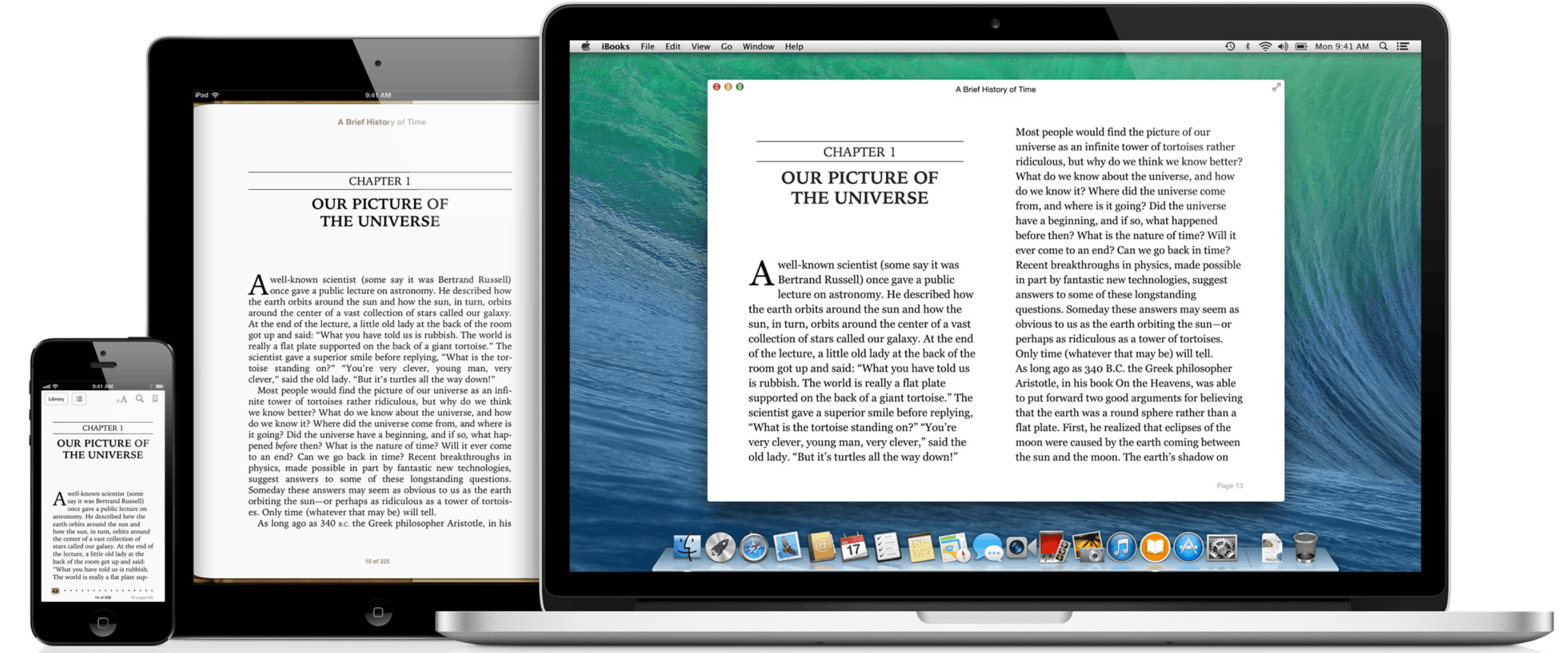 Every so often a pundit makes the prediction that _this_ will be the year that Apple gets interested in iBooks (and, for example, launch iBooks apps for Android), but as but as Daniel Steinberg pointed out yesterday it is clear from Apple's indifference to iBooks that they do not care about ebooks.
I've joked that if Eddie Cue loved reading the way he clearly loves music, then iBooks, the iBookstore, and iBooks Author would be amazing. Not only aren't they amazing, they aren't even good.

It's like they've assigned a committed carnivore to design the meals and cook for Vegans. You need someone who loves and understands vegetables and shares the commitment to not using meat or meat products.

How do you find someone who loves books and reading?

Don't worry, they'll tell you.
Steinberg starts with laying out how iBooks Author could have become a focal point for ebook production, that "iBooks Author could have been a trojan horse into the personal publishing business" had Apple made it easy for users to push to Amazon as well as iBooks.
He does have a point; easy uploading would have given iBooks Author an advantage over competing apps like Scrivener and Oxygen. (Then again, when was the last time Apple made apps which played well with Apple's competition?)
In any case, before Apple can care about being compatible with competing services, they would first have to care about user experience.
As has been pointed out before, Apple has an obsession with making sure rules are followed in iBooks:
Yesterday, I uploaded my latest version of my book to Gum Road and to iBooks. Within minutes I was getting email notifications of sales of my book on Gum Road.

An hour later my book was approved for sale on iBooks. This is remarkably quick. It used to take days. I looked online and my book wasn't on the iBookstore yet. Also, my name was still listed incorrectly.

Sigh.

In the tool for uploading your book to the iBookstore, the prompt for the author's name reads "Last Name, First Name". So I entered it that way. So my book appeared on the store as written by "Steinberg, Daniel H" and was not connected in any way to any of my other books. It turns out it's been like that for months – I just found out about it.

I called customer support and opened a ticket. The person was as nice as can be and said they couldn't change it but I could upload a new version of the book with my name corrected and then they could fix it.

So I called customer support yesterday after I uploaded the new version of my book to check that the name was fixed.

Derrick told me that it probably was but I couldn't be sure until the book appeared on the store.

But, I told him, iTunesConnect says my book's been approved – can't he check.

Well, he said, it has been approved but it might not appear on the store for a day and I should check back.

As I found out later when the puzzled emails started to pour in to my Inbox, my book hadn't been approved. In fact, the existing book was pulled from the store for violating Apple policy. The version that had been for sale on the store for two months incorrectly used the word "iBook" as in "When I released this iBook." Apple wants you to refer to it as a book. Using the word "iBook" in this context violates Apple policy and they had removed my book.

Then they went home.

I fixed the problem within minutes and uploaded it.

Apple rejected my upload. The version number wasn't larger than the version number of the current book for sale on the store.

But they had rejected version 0.3 so it wasn't for sale on the store. This was a correction that would be updating version 0.2.

No. Because they approved it before they rejected it my version had to be incremented.

So I incremented it and uploaded it.

I'm hoping that when they get into work this morning, they'll check that I fixed what I needed to fix and they'll sell my book again under my actual name.

We'll see.
While Apple doesn't have to remove that stick from their ass, it would be a good first step. They could then use the excess energy to improve how the iBooks unit functions, and then develop better software.
No, I take that back.
Do you know the one thing Apple would do first if they really cared about ebooks?
This move is so obvious that the only reason Daniel didn't think of it was that it goes against everything Apple stands for, but if Apple really cared about ebooks, if Apple really cared about its customers, then –
It would let its competitors sell ebooks in their apps for iOS.
Apple has blocked this feature since early 2011, even though it hurt the very folks who pay Apple for its hardware. (Furthermore, for a long time there Apple wouldn't even let content apps link to their websites – not even the help pages.)
Edit: A reader called me on my language. It would be more correct to say that Apple won't let anyone sell content inside an iOS app without paying Apple its 30% vig. That point really doesn't matter because Amazon can't afford the vig, and the point remains that if Apple cared about users then they would stop demanding the vig.
Apple clearly cares far more about making sure rules are followed than they care about users on either the supply side or the consumer side, and until that changes (or until someone senior at Apple cares enough to change the rules) iBooks will continue to be a frustrating experience.