ComiXology Hits 200 Million Downloads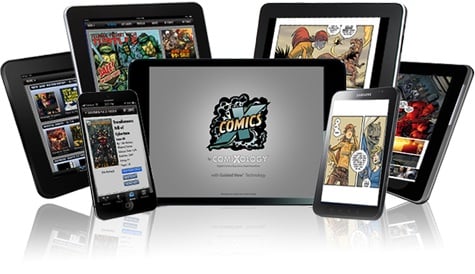 ComiXology maintained their position as the leading digital comics platform last week when they reached a new milestone. According to Crain's NY, the iTunes of comics passed 200 million downloads.
ComiXology got its start in 2007 not in digital comics, but in proving technical services to comic bookstores and fans. The first comiXology reading app didn't launch until July 2009. It took just over 3 years to reach 100 million comics downloaded (October 2012) and just short of a year to double that figure.
 ComiXology grew out of Mr. Steinberger's love of comic books and the enormous collection he told his wife he would finally sell. A Juilliard graduate enrolled in NYU's Stern School of Business at the time, he decided first to catalog the copies, and found there was no software available to help him.

Comics' disconnect with technology struck him as a business opportunity. He and two fellow M.B.A. students put together a proposal that won a Stern School business-plan competition in 2007.

ComiXology soon launched as a website that kept readers abreast of new releases and forged relationships with publishers, such as Manhattan-based giants DC Comics and Marvel, that would come in handy when it rolled out its iPhone e-reading application in 2009.
ComiXology was not the only digital comics reading app on the market when it launched in 2009 (nor are they alone in the market now). There were other comics apps for the iPhone with similar features, and other companies were experimenting on other platforms. Sony, for example, launched a digital comic app in late 2009 for the Sony PSP.
But comiXology came out on top, and that can probably be attributed to their relationships with comic book publishers. The 6 year old company now dominates a market and offers a catalog with more than 40,000 titles, including a number of exclusives. Marvel, for example, is under contract to distribute their single issue comics only through comiXology.