Missing in Action: the Kindle Paperwhite 3 "Ice Wine"
As Amazon's 18 June smartphone press event draws closer, I am reminded of another device which was rumored to be launching this Spring that has yet to see the light of day.
In late November 2013 TechCrunch broke the story on a rumor about the next Kindle Paperwhite. That device, which was supposed to have launched early in the second quarter, was going to sport a new super high resolution E-ink screen with a resolution of 300 ppi.
Code named Ice Wine,  the rumored KPW3 featured radical changes from the design of its predecessors, including a screen which was flush with the front of the ereader (and not recessed), page turn buttons,  and a rear shell which looked more like the back of the Kindle Fire HDX than of the existing Kindle Paperwhite. There was also mentioned of new software features including a new font and improve typography.
Alas, that device has not launched yet, and I don't expect to ever see it.
At this point I am reasonably sure that it doesn't exist. Sure, TechCrunch says they saw a prototype, but they also said that it was going to launch out of season (Amazon likes Fall Kindle launches) and TechCrunch said that it would use a screen which, to the best of my knowledge, doesn't exist.
According to my sources, E-ink doesn't have that higher resolution screen under development, much less production. My source told me in March that the next Kindle Paperwhite would have a new screen, but that screen would not have a resolution higher than the existing screen. Instead, the new KPW will have a more flexible and rugged screen based on the Mobius screen tech which launched last year.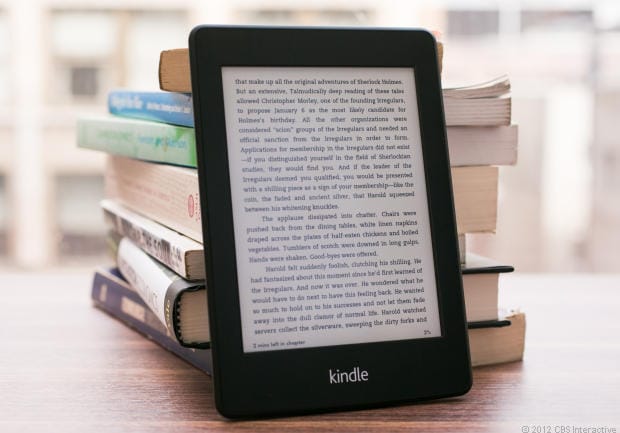 The existing Kindle Paperwhite uses Carta, E-ink's latest and best screen tech. It has a 6″ screen with a resolution of 1024 x 758, and it's rounded design looks almost identical to its predecessor. It lacks all of the design innovations mentioned by TechCrunch, and that should have given us a clue that the TC rumor wasn't true.
Not that I am criticizing anyone for believing the TC rumor; it matched so closely with what we wanted to be true that even I believed it without a second thought. That is a mistake which I do not intend to repeat.