Nook Touch has Bluetooth, now runs ADW Launcher (video)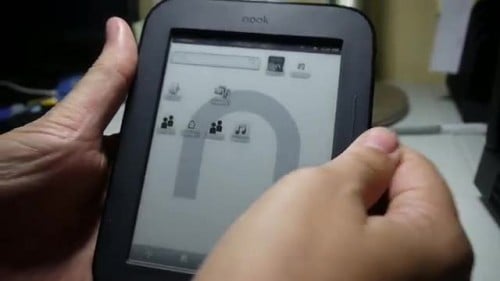 There's a particular thread over at XDA-Forums that I've been following today, and I'm a little astounded by what I've seen. the thread was started by a guy who's hacking his Nook Touch, and every so often he posts another update. BTW, that's the thread where I got the Nook Kindle video I posted earlier (via Mike Cane).
Zonyl has just posted that he has ADW Launcher running on his Nook Touch, which is great. It's going to make it a lot easier to run apps. But that's not all. he's discovered that the Nook Touch appears to have a Bluetooth chip installed and it appears to be working. He hasn't paired the NT with anything yet, so we don't know for sure if it works. But this is a very good sign.
Can you believe how many features B&N buried in their ebook readers?  The NC had Bluetooth and the NT had a hidden web browser as well as Bluetooth. At this point if someone told me that the NT also had a laser built in, I think I'd believe them.
BTW, that Bluetooth feature isn't mentioned in the FCC paperwork. I double checked.
Update: There's a reason why the Bluetooth isn't mentioned in the FCC paperwork. The Nook Touch doesn't actually have a Bluetooth chip. All it has is the software for the chip.
—
For more ebook news, subscribe to the RSS feed or the daily email newsletter.