Something is Happening to the Basic Kindle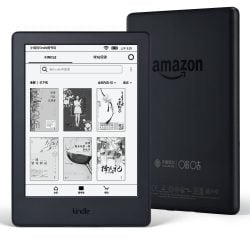 It appears Amazon is doing something to or with the basic Kindle, and no one is sure what's going on.
Edit: And the basic Kindle has been restored to the menu and the comparison page. Weird.
My competitor noticed that Amazon has removed the basic Kindle from its menus and from the comparison chart on the Kindle category page (it was still listed as of last week). Amazon is still selling the basic Kindle in both the kids bundle and by itself, but they are no longer bringing it to your attention.
While we don't know what is going on, exactly, I do have a few thoughts.
The basic Kindle was released in 2016. It is actually newer than the current Kindle Paperwhite and Kindle Voyage so replacing it would be rather odd.
But that is okay because we have seen nothing to suggest a replacement or update.  When Amazon releases a new model, they simply replace the existing model's image and data in the charts with info about the new model. They don't delete the old content first; in fact, with the Kindle Oasis, for the first several months they actually listed both models on the comparison chart.
This is also not a simple retirement. You can still buy the basic Kindle, and the menu still includes a link to the Kindle for kids bundle, which includes the basic Kindle.
So long as Amazon continues to include the Kindle for kids bundle in the menus (and use the basic Kindle in that bundle) what this looks like is not a retirement so much as Amazon having decided to downgrade the basic Kindle. The basic Kindle is no longer one of Amazon's main Kindle models; instead, it is the junior model intended for kids.
Or at least that is my take.
But let's be honest; we are well into using Morse code to interpret Jeff Bezos's eye blink territory here. No one outside of Amazon really knows what this means, and no one inside of Amazon is talking.
So really, your guess is as good as mine.