Google Chromebooks are Outselling Apple iPads in the Educational Market
Apple released their annual report last night, and mixed in with the generally good news were a few misleading statistics.
With revenues of $37.4 billion for the June quarter, Apple generated a profit of $7.7 billion dollars. Apple sold 35.2 million iPhones in the third fiscal quarter, up 13% from last year, and they sold 13.3 million iPads, down 9% from last year.
All in all Apple's news was mixed but not necessarily bad (not unless you are an analyst). But there are a few details that I would like to quibble over. In particular, during the earnings conference call following the release of the quarterly report, Apple CFO Luca Maestri said that:
In education, iPad remains the tablet of choice with 85% share of the U.S. education tablet market according to the latest published estimate from IDC. We've now sold 13 million iPads to education customers globally.
While that is strictly true, it's not the complete story. Yes, Apple leads the academic market for tablets, and schools are buying tablets by the truckloads to equip classrooms and launch 1:1 programs. But not all schools are buying iPads to give to students; they're also buying laptops, including Chromebooks.
Google has been interested in the educational market since 2011, and their primary focus is on a type of laptop called the Chromebook. Chromebooks run ChromeOS on what would best be described a cheap laptop hardware (although there are a few premium models like the Pixel) with an Intel CPU. Google has a number of hardware partners, including Acer, which lead the pack with 30% of the Chromebook market last quarter.
Google has been so focused on laptops that they only belatedly added tablets, including the Nexus 7 and the Samsung Galaxy Tab, to their Google for Education program in November 2013.
Given how Chromebooks and iPads are used in schools, they are direct competitors. So while Apple is dominating the educational tablet market, that is only because one of their leading competitors for school district dollars isn't focused on tablets.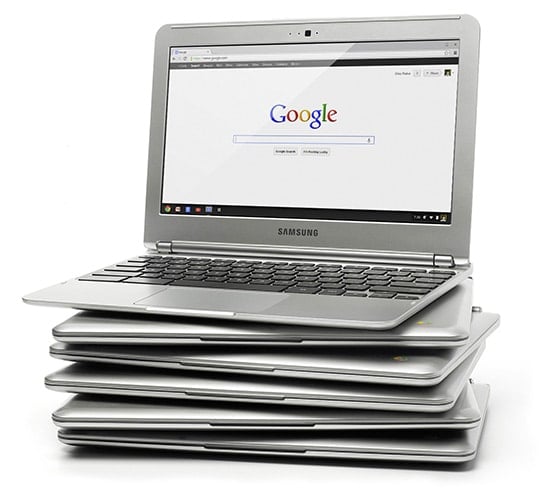 Google reported a few days ago that they sold a million Chromebooks were sold to schools last quarter (another 800,000 were sold to consumers). While that might not look nearly as impressive as Apple's 13 million iPads, the numbers suggest  that Google could be selling as many Chromebooks to schools as Apple is selling iPads.
We don't have specifics on how many iPads Apple sold to schools last quarter, we do know that Apple last reported in February 2013 that they had sold 8 million iPads to schools around the globe.
A quick back of the envelope calculation tells us that schools bought 5 million iPads in the 17 months since February 2013, which means Apple averaged under a million iPads sold to schools each quarter – an average which is less than the million Chromebooks sold.
So while Apple may be dominating the education tablet market, they're not dominating the larger educational gadget market. And that is the real story here, and it comes as no surprise.
Based on what I saw at the Computers in Libraries conference a couple months ago, Chromebooks are getting a lot more buzz in edtech at the moment than iPads. Clearly that has translated into sales. For example, only today a school district in MD announced that they would be spending $15 million to buy 40,000 Chromebooks.
But will it continue? I think so. Chromebooks are cheaper, they are supported by educational publishers, and iPads are great but they lack keyboards, which limits what you can do with them.
With analysts predicting 5 million Chrombooks sold by the end of the year, I am expecting that Chromebook sales will outpace iPad sales for at least the next year and possibly even longer.
Question
Have you used a Chromebook? What did you think?