Authors Continue to Go Hungry in Nook Press Payment Fiasco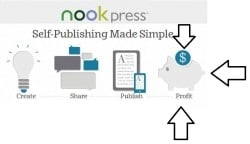 Last week numerous authors complained that Nook Press, B&N's self-pub platform, had missed their most recent payment.
While Barnes & Noble claimed on Monday that this issue had been resolved and that all of the delayed payments would be processed either Friday or Monday, that does not appear to have happened.
Some authors have gotten their much needed royalties, but I now have confirmation from two different authors who have told me that, as of Wednesday morning, they had not been paid.  That payment, which covered sales in the Nook Store in June 2014, was supposed to be sent out in late August or at the very beginning of September.
Due to what B&N described as a glitch in their system, only some authors were paid on time. Others, including authors Robert Swartwood, Georgette St.Clair, and IJ Parker, were left with no money and no explanation. As I reported on Sunday, several authors have said that Nook Press did not respond to emails on this issue.
And now it seems that at least some are still waiting on B&N. On the bright side, the number of unpaid authors is smaller than it was last week.
If you are an author with books at Nook Press, I would strongly urge you to check your bank statements and make sure your funds have been deposited.  If they have not then you should send an email to Nook Press and yell at them about it.
A two week delay in payment is simply ridiculous; the payment terms were 60 days or less, not 60 days plus however long it takes to fix the servers.
Have you been paid, or are you still waiting for the funds?