Instapaper Opens Its API, Gives Free Users More App Options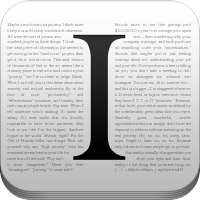 If you have a 3rd-party Instapaper app you've always wanted to try, now is your chance.
Instapaper announced on its blog yesterday that it was loosening a restriction on the Instapaper API, finally making it possible for free Instapaper users to use any 3rd-party app which supports Instapaper.
When the Instapaper API was first opened to developers 4 years ago, Marco Arment imposed the requirement that a reader had to be a paid subscriber to make use of any app that tied into Instapaper via the API. I'm told this was intended to prevent the cannibalization of sales of the Instapaper app for iOS. Now that that app is a free download, Instapaper's current parent BetaWorks sees no reason to keep the API restricted.
Of course, certain Instapaper features (search, TTS, speed reading) are still the exclusive province of paid subscribers, so they haven't completely removed the restrictions. But they have made the 3rd-party apps more attractive to free users.
I don't use Instapaper much, so I'm not familiar with the apps. If you know of a good one or one which does something unusual, I would appreciate the recommendation.