Kyobo Mirasol eReader Now on Clearance – 71% Off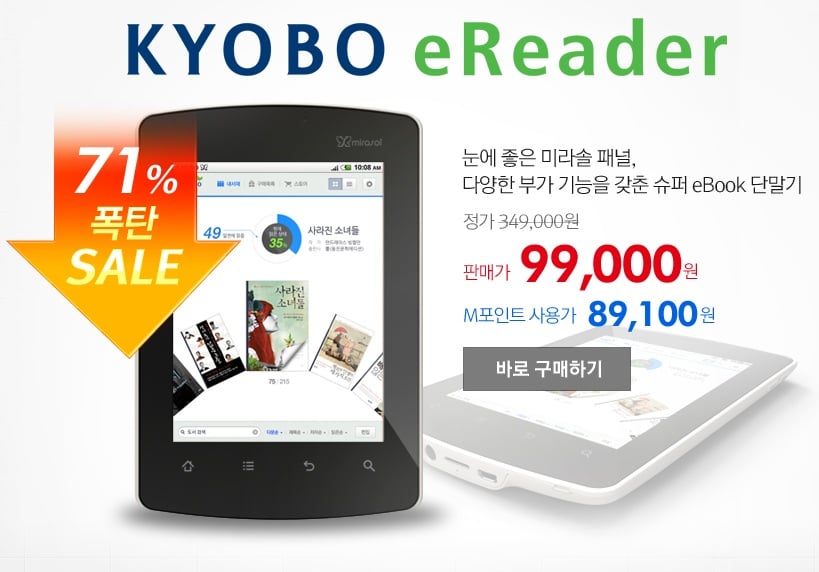 All good things must come to an end; that's a truism. Luckily it also applies to the less than good.
Kyobo Book Centre, South Korea's leading bookseller, has recently put their Mirasol eReader on sale at a drastic discount. I'm still waiting for confirmation from Kyobo or Qualcomm, but it looks to me like this ereader is on the way out. That's great; neither the software nor the screen tech were worth the original retail, which was more than $300 USD.
The price posted above is 99,000 won, or about $87 USD. That's a considerable discount off the original 350,000 won, and it leaves little doubt that this ereader is headed for the scrapheap.
Kyobo was the first company in the world to carry an ereader or tablet or tablet with a Mirasol screen, and they launched it in late November 2011. It generated a lot of attention at the time, but the excitement started dying off shortly after I posted my review. The bloom completely fell off the rose when all the tech blogs got a chance to see it at CES 2012. The screen frankly didn't live up to the previous several years of hype.
The original design for this ereader came from inside Qualcomm, with the reading app and other customizations added by Kyobo. It's based around a 5.7″ Mirasol screen. It runs a closed version of Android 2.3 Gingerbread on a 1GHz Snapdragon CPU.
The screen, now that took a while to develop and given what I've heard about the limited sales I'm not sure that Qualcomm has broken even on it. The Mirasol screen tech was originally developed by a company called Iridigm, which Qualcomm bought in 2004. After 8 years of investment that likely has totaled a couple billion dollars, Qualcomm  has little to show us beyond a paltry number of devices sold in a few small niche markets (South Korea, Taiwan, and China).
Now, Qualcomm did show off a new 4.3″ screen at SID Display Week last month, so there's hope that they can enter the smartphone market and recoup their costs. But there's no word yet on when that new screen will go into production.