OLPC Australia to Launch a Modular, Hybrid Laptop/Tablet Called the XO Infinity
One Education, OLPC's partner non-profit in Australia, has been quietly working for the past year on a new educational laptop which it plans to launch in the next couple weeks (this has been confirmed).
Details are still scarce, and the entire story is still quite secret, but based on what has leaked and the two teaser images posted online I am very excited. If you thought Google's Project Ara smartphone was a nifty idea, you're going to love the XO Infinity.
Based on the background image posted to One Education's email notification page (here), the OX Infinity is a hybrid laptop/tablet convertible:
As you can see, the design takes certain design elements now available in commercially available tablets and applies them to the XO laptop. A user will be able to use the XO Infinity as a laptop, or, pop the tablet out of the dock and use it by itself.
This is not the first tablet to come with a dock, and it's not even the first educational tablet to have one. Intel shipped a similar reference design last April.
But this could be the first educational device to combine a laptop/tablet hybrid design with modular components.
Do you see how the units shown in the image above have a colorful shell? If you pop the rear shell off, you might see something like this: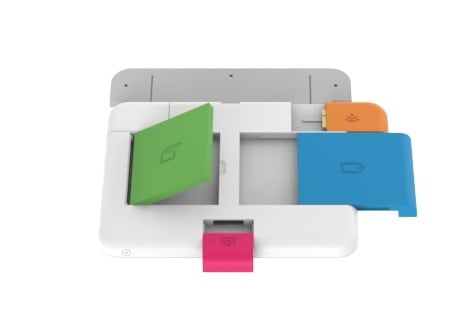 I found the above image buried on the One Education website. I do not know if that is what the XO Infinity will look like, but I did find the image via a search for the XO Infinity.
What we're looking at is a tablet with modular components. The green module is probably the CPU (and RAM, storage), the blue one is the battery, the maroon one a camera, and the orange one  is probably Wifi (or other connectivity).
In short, One Education has taken the XO infinity a step beyond the design of the original XO laptop.  Rather than simply be repairable, a child will be able to repair the XO infinity by pulling a module and plugging in a new one.
Or at least that is what I am speculating.
All of this is based on but a couple images which may or may not have anything to do with the actual XO Infinity.
Update: And here's a third image which shows the modular nature of the tablet from a different angle. As you can see, there's an extra module (which I think contains the screen).
But what I can report with absolute certainty is that I have been informed that the XO Infinity will be launched in the next couple weeks. Paul Cotton of One Education sent me this email statement last night:
We've been working hard at the XO-infinity for the last year or so, and things are finally getting to the point where we can show people. We're due to make the official announcement sometime in the next week or two, at which point we'll be able to talk about it all day, every day. Up until then though, we need to keep mum or our media partners may be upset with us.
Cotton also pointed me at the page on Medium where the official announcement will be posted, and he suggested that I sign up for email updates (here).
And when I told him I had the second image, he replied:
Hah, good find! That picture probably tells you quite a bit already, and tells you why we're so excited. We need to cover our tracks better 😉
But aside from that, I have no other solid info to report at this time – at least, not about the new device.
I do however have a few things to add about the history of One Laptop Per Child and its repeated mistakes in developing educational hardware.
I'm going to have to take you through a bit of history, but rest assured that I do have a point to make.
***
As originally conceived in 2005, the XO laptop was a low-cost, easily repairable educational laptop with a long battery life. But by the time it actually shipped in 2007, the laptop had a short battery life and cost a minimum of $200. When it was first available to the public, consumers could pay $400 in a "buy one, give one" program and take one of the devices home.
The XO underwent several hardware revisions over the next 8 years. It was followed up by the XO-2, an early failed attempt to replace the original with a better design, and the XO-3, a tablet version which was launched at CES 2012 and cancelled in December 2012.
Coincidentally, there was also an XO Tablet which ran OLPC's educational software on a commercially available 7″ Android tablet. It was released in 2013, and was going to be updated in 2014. The replacement tablet never shipped.
The original XO-1 was also updated, first with the addition of a faster and more energy efficient CPU (XO-1.5), and then again to the XO-1.75, which had an even faster ARM CPU and a slightly lower cost ($188). (There was also the XO-1.75HS, but that merely replaced the rubber keyboard with a more traditional KB with plastic keys.)
And of course let's not forget the current model, the XO-4. This model looks almost identical to the XO-1, only it sports a dual-core CPU, touchscreen, and swaps one of the 3 USB ports for an HDMI port. And as I reported yesterday, One Education is distributing a version of the XO-4 Touch. They call it the XO Duo, and it runs Android Jelly Bean.
And that brings us to the current day, and an edtech market which looks very different from the one which existed in 2005.
Many companies, ranging from Google to Apple to commercial device makers like Dell are invested in this market.
Google is promoting its educational platform; Intel is pushing a number of laptops, tablets, and other classroom hardware, Apple sells the iPad, and Dell (plus other companies) make tablets and laptops for the edtech market.
My point, folks, was to help you better understand the landscape of the edtech market, and to make this one final point.
Given OLPC's past failures and marginal successes, One Education would be well advised to find a partner.
I expect that the upcoming announcement will include at least one major tech company as a partner/sponsor. My leading candidates are Google and Intel, in that order.
Google's interest in Project Ara makes them a particularly good partner for One Education, but Intel would make a nearly as ideal partner.
But of course, that is pure speculation.
We'll have to wait and see what is officially announced.
Stay tuned.