Pocketbook Ultra's next eReader to Have Carta E-ink Screen and a Camera?
Richard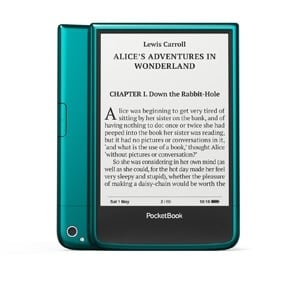 Palombo, writing over at eeevolution.it, has uncovered a couple images on a design website which may or may not be Pocketbook's next ebook reader.
Few details are available on the Pocketbook Ultra, but according to the description this device has a 6″ Carta E-ink screen, frontlight, touchscreen, and a camera. This device also has page turn buttons on the rear of the case rather than the front, and the camera may or may not have an LED flash.
There's no word on the CPU, storage, or the camera resolution, and in fact I am still waiting on confirmation that this wasn't the work of some ambitious design student, but if this ebook reader design is real then it's going to be the most interesting ereader launched in 2014.
The Ultra would be only the second ereader to get the Carta screen. This is the latest generation E-ink screen, and I was under the impression that it was exclusive to the Amazon Kindle Paperwhite. Kobo doesn't even have this screen, and we all know that they would have used it on the Kobo Aura if they could have.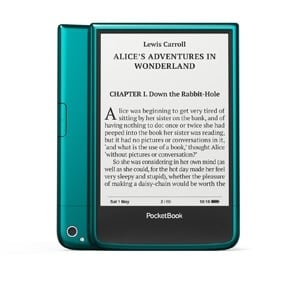 Furthermore, this would be the first ebook reader which included a camera as well as the ability to scan books and convert the image to text. This useful feature can be found on many a smartphone, but not on any ereader that I know of.
But is this a design that Pocketbook plans to release or is this merely a concept design which an independent designer created just to explore the idea?
I'm not sure. I have queried Pocketbook for confirmation, and I am waiting for someone to confirm that this is the real deal. While I hope that this is real, I have my doubts. Some details of the design, including the placement of the camera, make me wonder if this design is a independent project and not the work of Pocketbook.
Stay tuned.